Those who made the trek to Brady's National Photograph Gallery in the early 1860s never failed to come away impressed. "It is a grand gathering of human faces, human celebrities, renowned men and women whose names stand high on the role of fame," noted a reviewer in the November 1862 issue of The Eclectic Magazine.
The reviewer marveled at the array of notable figures of all professions who added their portraits to the Brady collection, and recommended Brady's Gallery as a must-see destination for any visitor to the city.
The throngs who marched into Brady's New York City and Washington, D.C., studios included uncounted numbers of soldiers. What inspired them to choose Brady is lost in time. It is easy to imagine they were lured by the thrill of sitting for a portrait photograph in the same spot as the rich and famous, or as a memento of a trip to the big city, or simply out of convenience.
Whatever the motivation, they added their own likenesses to the vast sea of Brady's faces. The cartes de visite they carried away made their way into photograph albums, perhaps displayed adjacent to a portrait of one of Brady's famous faces—Abraham Lincoln, Ulysses S. Grant, or David G. Farragut. They became the Facebook of the 1860s, and an illustrious gathering of soldier faces.
Representative cartes de visite are featured here.
First Command After West Point
Dapper in a broad-brimmed felt hat, 2nd Lt. George Warren Dresser of Connecticut stood for this early war portrait in the New York gallery. He graduated from West Point and received an appointment as second lieutenant in the 4th U.S. Artillery on May 6, 1861. Eight days later, he advanced to first lieutenant and left for Washington, D.C., where he drilled volunteers and participated in the First Battle of Bull Run.
He continued his service in varied capacities, including engineering duties during the Peninsula Campaign, an instructor at West Point, staff work in Chattanooga, Tenn., and field assignments in Virginia. He ended the war in New Orleans.
Dresser resigned in October 1865 and with brevets of captain and major. He became a civil engineer in New York City and New England, and editor of the American Gas-Light Journal. He died in May 1883 at age 45, just six weeks after the passing of his wife, Susan. Both lost battles with cancer—Warren in his face and Susan in her breast. They left five children under 20 years old at home.
Ostrich-Plumed Sharpshooter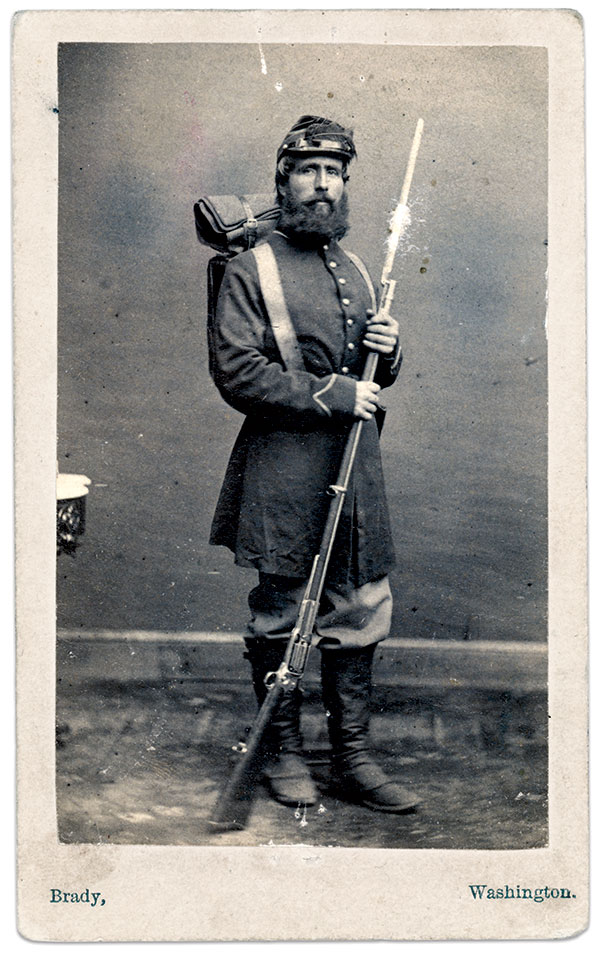 Sporting an ostrich plume in his cap, Charles Maltby of the 1st U.S. Sharpshooters posed in full gear with a Colt Revolving rifle in Brady's studio. A clerk in Colden, N.Y., a village south of Buffalo, Maltby served a nine-month term from November 1862 to June 1863. According to state muster roll abstracts, he reenlisted in the Seymour Light Infantry, which became part of the 178th New York Infantry, but no service record exists for him. The last time his name appears on a federal record is the 1870 census, where he is listed as a peddler in Colden.
In the Defenses of Washington with the Heavies
Charles Austin Easton, a corporal in the 9th New York Heavy Artillery, served his entire enlistment in the Defenses of Washington. In the summer of 1862, the 25-year-old from Sterling, N.Y., had joined Company A of the regiment and soon left for the capital city. His enlistment coincided with the recent death of his wife, Eliza, the mother of his two daughters.
Easton remained in uniform until April 1864 when he received a disability discharge at Fort Baker. Less than a month later, the 9th joined the Army of the Potomac on the Overland Campaign.
Easton remarried and moved to Michigan with his new wife, Paulina, and children. After her death in 1876, he married once more. His third wife, Emma, survived Easton when he died in 1903 at age 66.
"Advance the Right, and Press Forward; Don't Give Way!"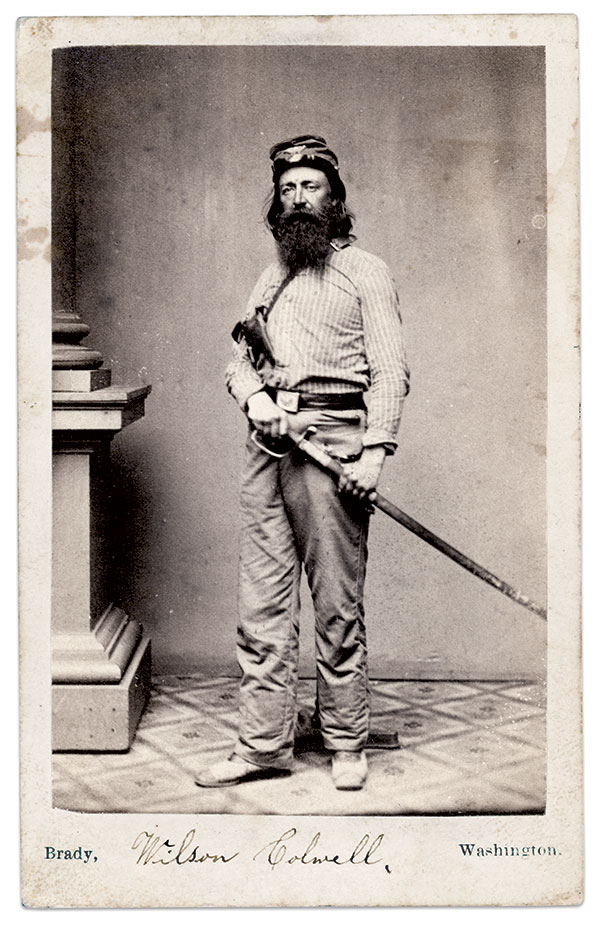 The 2nd Wisconsin Infantry fought in the thick of the action at First Bull Run, led by officers the likes of the man pictured here. He is Capt. Wilson Colwell of Company B.
An inscription on the back of the mount notes this is how the 34 year old looked during the momentous battle in July 1861. Born in Pennsylvania, he settled in La Crosse before the war, started a family, and became mayor of the town.
When the war came, Mayor Colwell left his office to become captain and commander of the La Crosse Light Guard, which mustered for army service as Company B of the 2nd. The regiment soon left for Washington, and Colwell brought his wife, Nannie, and young daughter, named for her mother, to the nation's capital to live while he fought at First Bull Run and elsewhere. In August 1862, Nannie gave birth to their second daughter, Maggie.
A month later during the Maryland Campaign, the 2nd and its brother regiments in the Iron Brigade participated in the Battle of South Mountain. The commander of the 2nd, Lucius Fairchild, deployed two companies, including Colwell's, as skirmishers. As Colwell led his men forward into action, a rebel bullet struck him down.
A report in the La Crosse Republican described the aftermath: "When he lay mortally wounded, and his life blood ebbing away, his last and almost dying words were 'Advance the right, and press forward; don't give way!" The report continued, "Then, as his faithful comrades were taking him from the field, he placed his arms round their necks and shoulders to better support himself, but his hold soon grew weak, weaker still; his arms slipped gently from their shoulders—his pulse grew still—'my poor, poor wife!'—and the cord of life was broken."
Col. Fairchild ended his after-action report with a tribute to Colwell: "His place can hardly be filled. He was a fine officer and beloved by the whole regiment."
The widowed Nannie eventually remarried and brought three more children into the world. She kept Colwell's sword, and before her death in 1934 handed it down to a daughter, Helen, from her second marriage. After Helen's death in 1965, the family donated the sword and other items to the La Crosse County Historical Society.
A tightly cropped version of this image appeared in the January-February 1998 issue of MI.
A Rhode Island Volunteer
William S. Smith, a private in the 1st Rhode Island Detached Militia, posed for his portrait in the D.C. studio in the war's early days. He is dressed in the practical pullover blouse with generous skirts designed by then Col. Ambrose E. Burnside based on his military experiences in the West. Also of note is Smith's state issued cap with the metal company letter C, blanket slung over his back, and a small revolver.
The Rhode Islanders spent their three-month enlistment in Washington, and fought in the First Battle of Bull Run. Smith survived his service and reenlisted for another three-month term in 1862 as a first lieutenant in the 10th Rhode Island Infantry. He left the regiment as a captain and disappeared from state and federal records.
This image, formerly owned by Michael J. McAfee, has been reproduced in several publications over the past 40 years, the first time, as a cutout figure in the July-August 1988 issue of MI. This is believed to be the first time it is shown uncropped with the full print area and Brady mount.
Sharpshooter Wounded at Antietam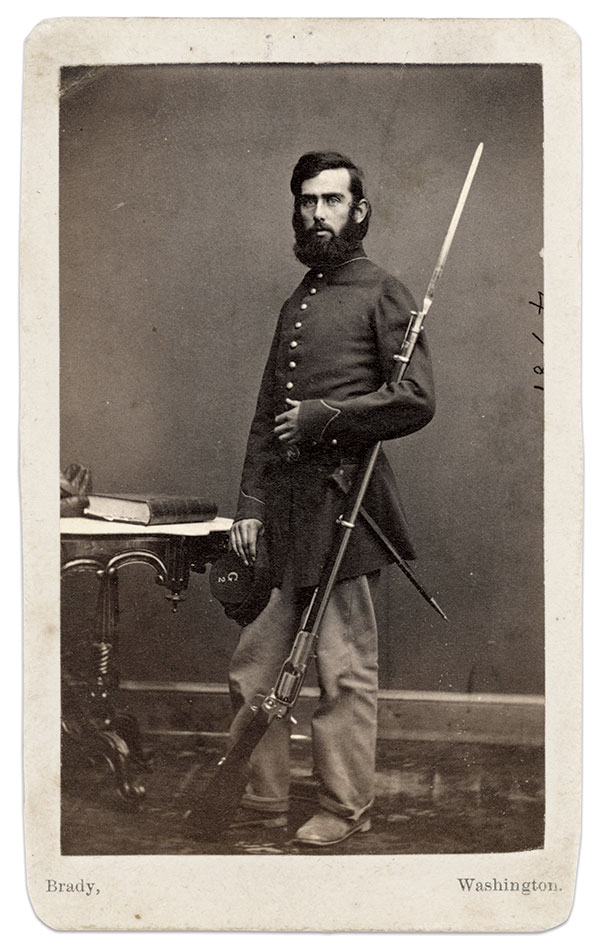 At Antietam, "The Second Sharpshooters were in it hot and heavy, with a loss of 66 killed and wounded of their always valuable men," stated the historian of the regiment. The casualty list included Pvt. Christopher Columbus Blake of Company G, who suffered a severe head wound. A native of Maine and resident of New Hampshire when he joined the sharpshooters in late 1861, the injury ended his military service.
Blake fully recovered. He married in 1866 and left New England for the Midwest— Iowa, Illinois and Kansas. He and his wife, Rachael, raised six children who lived to adulthood. Blake supported his family as a lawyer and newspaper editor, earning some notoriety as a weather prognosticator. He lived until 1917, dying at age 76.
Almost a century later, in 2011, his unmarked grave in Stull Cemetery, Douglas County, Kan., was recognized with a new stone in a commemoration ceremony. Attendees included descendants and the Lawrence, Kan., chapter of the Sons of Union Veterans. One of its members, according to a report in the Lawrence Journal-World, noted that the dedication ended with "Brother Blake, you are now relieved; we have your post."
Sergeant Doré Goes to War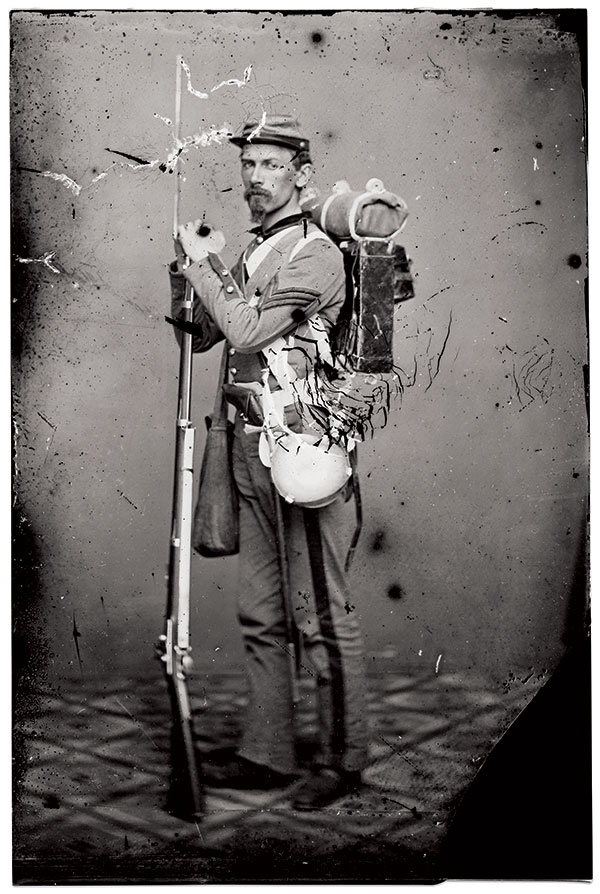 Sgt. Joseph Doré of the 7th New York State Militia posed for this portrait in the chaotic days following the bombardment of Fort Sumter in April 1861. A New York City native, he left behind his wife, Mary, who was pregnant with the first of three daughters, for a 30-day federal activation. In mid-1862 he responded to a second call for three months in the Defenses of Baltimore.
Doré remained with the 7th after the war, rising to first lieutenant of Company C by 1868. He resigned in 1871. About this time, Doré and his family moved to New Jersey, then relocated to Florida, where he became involved in the lumber industry. Doré died in 1905 at age 72.
This carte is credited to Edward and Henry T. Anthony from a Brady negative. The glass plate survived and is part of the Library of Congress.
D.C. Defender and Brown Water Navy Volunteer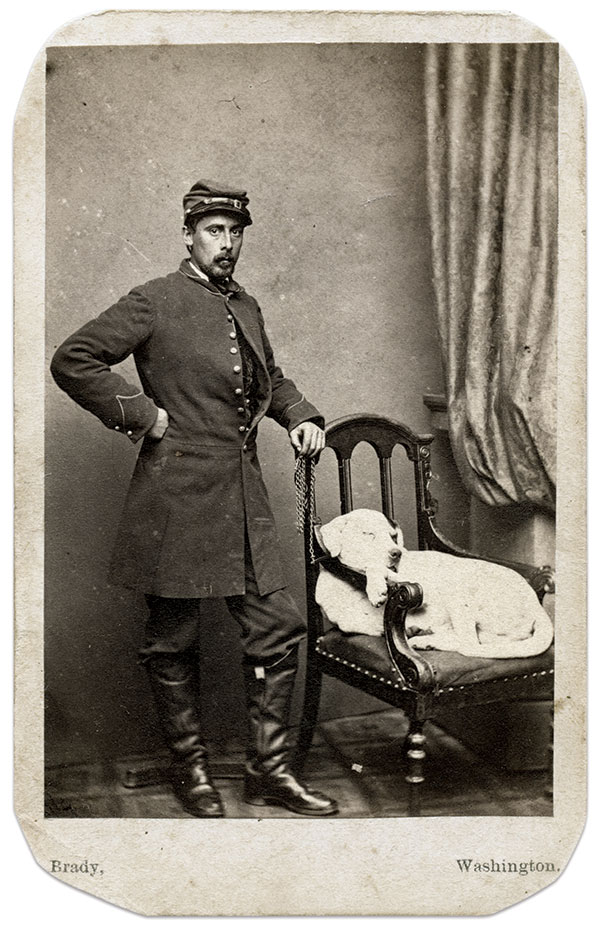 Charles Augustus Gardner, Jr., stands next to a canine friend curled up in a studio chair used by famous and not-so-famous figures. A mariner by profession, Gardner's two-year enlistment in the 2nd Maine Infantry was interrupted by a stint in the Navy. In early 1862, he answered a call for all able-bodied seamen from the ranks of the army to supplement manpower shortages on vessels. Gardner left the Defenses of Washington, where he posed for this portrait, for the Mississippi River and labored as a crewman aboard the gunboat Cincinnati. He participated in the May 1862 action in Plum Point Bend and returned to his regiment before the end of the year. Whether or not his faithful companion joined him in the Navy is unknown.
Gardner mustered out of the army in June 1863 and returned to Maine. He died in 1875 at age 35. His family attributed his death to disease contracted in the military.
Distinguished Conduct With the 14th Brooklyn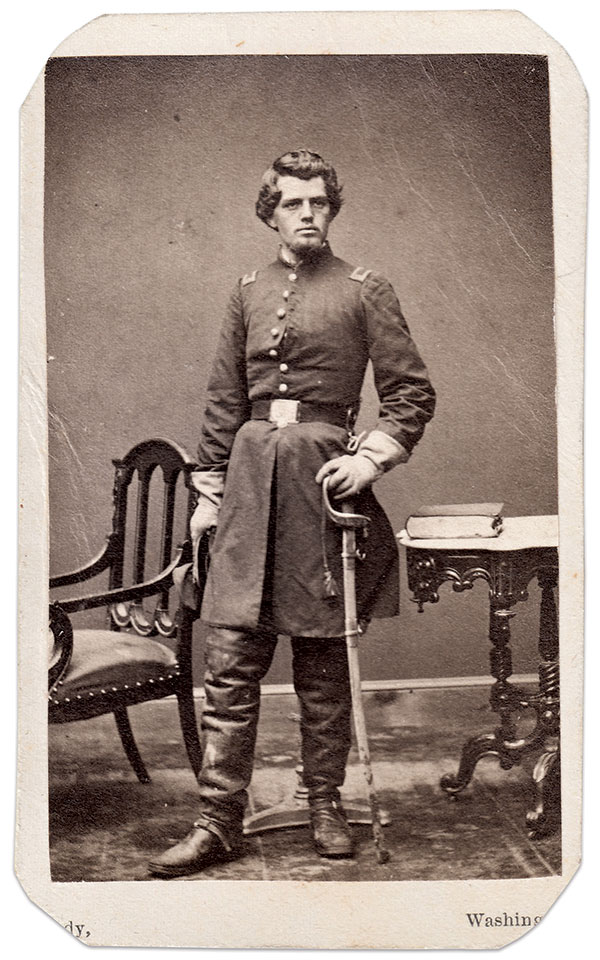 Native New Yorker Henry Thomas Head was associated with the 14th Brooklyn Infantry during his entire adult life. At the start of the Civil War, he served as its sergeant major, and advanced to first lieutenant and adjutant for distinguished conduct during the First Battle of Bull Run. His brother, Frank, the color bearer of the 14th, died in the engagement. Two years later at Gettysburg, his gallantry during the first day's fight resulted in a slight head wound by a spent musket ball and a promotion to major. He served at this rank through the end of hostilities.
Head returned to Brooklyn after the war and continued his service in the 14th, rising to lieutenant colonel. Consumption cut his life short at age 31 in 1870, leaving behind a wife, Pamilla, whom he had married in 1868, and a young son, Henry. His remains are buried in Green-Wood Cemetery.
Full Highlander
These Highlanders of the 79th New York State Militia likely visited the Brady gallery in Washington, while their regiment encamped on the grounds of Georgetown College in June 1861. They wear full Highland dress consisting of blue doublet with red trim and facings; "Cameron of Erracht" tartan kilts; large sporrans with three strands of black horsehair; red and white hose with red garters; and shoes with broad silver buckles. The Glengarry cap worn by the man in the center is missing the band with red, white and blue dicing, while he and the man to his right wear white leggings over their hose, previously believed only to have been worn by the post-war regiment.
SPREAD THE WORD: We encourage you to share this story on social media and elsewhere to educate and raise awareness. If you wish to use any image on this page for another purpose, please request permission.
LEARN MORE about Military Images, America's only magazine dedicated to showcasing, interpreting and preserving Civil War portrait photography.
VISIT OUR STORE to subscribe, renew a subscription, and more.