Walking in Colonel Mobley's Boots
New Civil War books with previously unpublished material are especially desirable. This is one of them. In Colonel Mobley: 7th Maryland Volunteer Infantry in the Civil War, Justin T. Mayhew shares the life experiences of Edward Mayberry Mobley (1825-1906) with students of the Civil War, and those interested in the history of Washington County, Md. He accomplishes both with the inspiration and assistance of mentors, friends, and the cooperation of the Mobley family.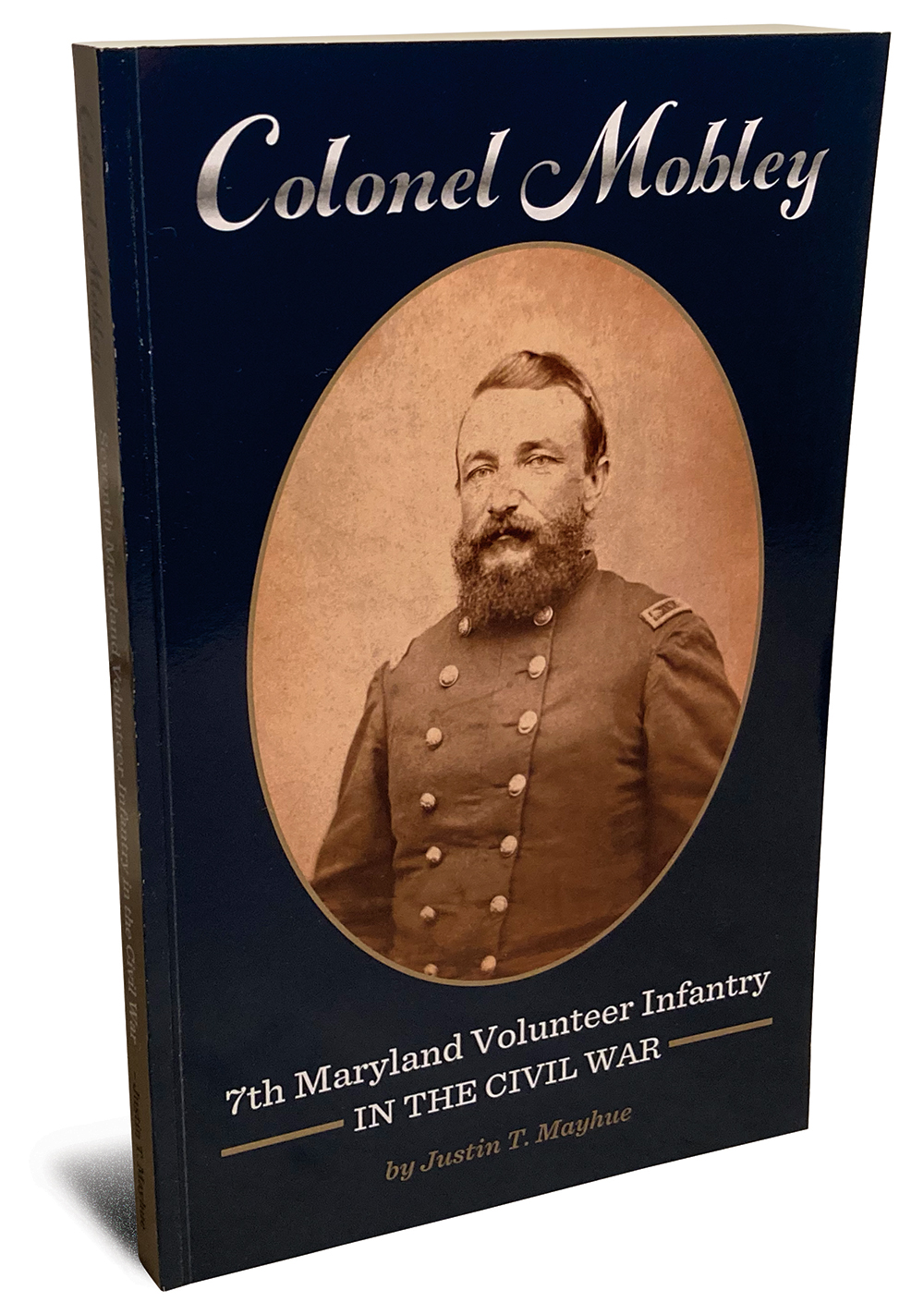 Mayhew also received help from the colonel himself. Mobley preserved papers connected to his military service in the form of more than 150 documents, 40 photographs and three diaries. Much of this material is published here for the first time. Of special note: Mobley's great-grandson, Charles Mobley, Jr., transcribed the diaries and categorized the documents.
Mayhew explores the colonel's life in seven chapters. The first and last are dedicated to Mobley's pre- and post-war life. The five middle chapters are excerpts of his wartime diary entries and letters, interspaced with helpful contextual notes, maps, photographs and other illustrations. Together, they tell Mobley's experiences as a sheriff and firefighter, and, from 1862 to 1865, as an officer. The contents reveal his rise from captain to major to brevet lieutenant colonel of his regiment. Also documented is his participation in the 1864 Overland Campaign, during which he suffered two wounds and almost died of disease.
Mindful that readers of the book may be new to 19th century military history, the author includes helpful definitions when appropriate. These and the other contextual elements reflect Mayhew's work as a certified battlefield guide at Antietam National Battlefield.
"I hope you take away from this book a greater appreciation of the sacrifices that were made by Mobley, his comrades and family during the most difficult times in our nation's history. I want you to feel as though you are walking in Mobley's boots," writes Mayhew in the preface.
In this, the author succeeds admirably.
Colonel Mobley: 7th Maryland Volunteer Infantry in the Civil War
By Justin T. Mayhew
168 pages
Self-published
Softcover (available through the author: 301-331-2449)
Fresh Insights into Civil War Prison Camps
Primary source material documenting the inhumane conditions in Civil War prisoner of war camps abounds. But, as S. Waite Rawls III, Retired President of the American Civil War Museum Foundation observes, "few have gone beyond the politics and logistics that led to those conditions to explain why these conditions arose and differed from camp to camp, not only North versus South but also within those regions."
Rawls makes this observation in the foreword of a new book, Military Prisons of the Civil War: A Comparative Study, by David L. Keller.
Keller, notes Rawls, goes where few historians dare to go by offering a careful and detailed analysis of how and why camp conditions deteriorated so quickly and with deadly effect.
To achieve this objective, the author uses a set of five factors to evaluate 26 camps in the Union (11) and Confederacy (15). They include the likes of Andersonville and Elmira, and lesser-known names, such as Millen, Ga., Cahaba, Ala., McHenry, Md., and more. This study also includes Camp Douglas in Chicago, where Keller serves as managing director of the Camp Douglas Restoration Foundation. His work here, his 2015 book, The Story of Camp Douglas, and two studies on Civil War prison camps for the National Park Service, makes him eminently qualified for this unique examination.
The keys to understanding the deplorable camp conditions are five factors that revolve around planning, personnel training and prison population outreach. None of the factors are new to today's generation. But their application to Civil War prisons is. Keller applies the factors to the camps, and provides supporting primary source accounts for useful context.
MI treated readers to a small part of this study in our Spring 2019 issue (see Military Anthropologist, page 4). To get the full picture, and to better your understanding of Civil War prison camps, Military Prisons is a must-have for your library.
Military Prisons of the Civil War: A Comparative Study
By David L. Keller
184 pages
Westholme Publishing
Hardcover and e-book (available through major booksellers)
SPREAD THE WORD: We encourage you to share this story on social media and elsewhere to educate and raise awareness. If you wish to use any image on this page for another purpose, please request permission.
LEARN MORE about Military Images, America's only magazine dedicated to showcasing, interpreting and preserving Civil War portrait photography.
VISIT OUR STORE to subscribe, renew a subscription, and more.