They Perished in the Potomac
Two German-born officers in the 20th Massachusetts Infantry died together in the Potomac. Alois Babo, a clerk who hailed from Rastatt in Baden of the then German Confederation, commanded Company C as captain. His second lieutenant, Reinhold Wesselheoft, was a bookkeeper and native of Weimar in Saxe-Weimar-Eisenach, also in the German Confederation. According to the regimental history, "Captain Babo and Lieutenant Wesselheoft undertook to swim the river without taking off their uniforms, their shoes, or their equipments, even pistols. Nevertheless they seemed to be doing well until, immediately after a volley was fired, one of them was heard to exclaim in German that he was shot, and that was the last that was seen of either of them until Lieutenant Wesselheoft's body was discovered thirteen days afterwards in the river twenty miles below. As there was no wound upon it, it is probable that Captain Babo was the one shot, and his devoted friend had lost his life in trying to save him." Babo's remains were never recovered.
Swim or Surrender
There came a moment during the retreat when Roland Edwin Bowen had to decide between two options: Surrender or swim the Potomac. He chose the latter. A private in the 15th Massachusetts Infantry, Bowen described what happened next in a letter home, "I throwed my Gun and all my Accoutriments, Coat, Shoes, Hat, Stockings, that Revolver that was presented to me and every thing I had except the following into the river. Pants, shirt, $13.00 and Watch, also a knife." He made his way into the water and began the strenuous swim, where "Men were drowning and crying for help all around me in large numbers." Bowen managed to make it to the opposite bank.
Though he avoided falling into enemy hands at Ball's Bluff, Bowen was not so lucky at Gettysburg. Captured by Confederates on the second day of the battle, he spent almost a year in prison. Soon after he gained his release and returned to the regiment, he was captured along the front lines of Petersburg. Bowen and a buddy escaped en route to Andersonville and made their way to safety.
Bowen survived the war and carried the watch pictured here, engraved with "Ball's Bluff October 21, 1861," until his death from consumption in 1883. He was 45 years old.
First to Die in Company H
Pvt. Morris L. Stradling held the grim distinction of being the first soldier killed in Company H of Sen. Edward D. Baker's California Regiment. His sergeant, Francis A. Donaldson, was standing nearby when he was hit. Donaldson ran down the regimental line to inform his superior, which suggests that Stradling's death was immediate. The sergeant remembered Stradling as "a man of magnificent physique and a fine soldier."
Failed Amputation
Charles D. Monroe, a corporal in Company B of the 15th Massachusetts, suffered a wound and fell into enemy hands during the fight. Though the exact nature of his injury is not known, it must have been in an arm or leg, as he died the next day in Leesburg while undergoing an amputation. He was about 28 years old and unmarried.

His remains were recovered at some point by Union forces and eventually buried at Arlington Cemetery—a fact not known to surviving family until 1870. That same year, his remains were disinterred, brought home to Fitchburg, Mass., and reburied in a local cemetery.
Home for New Years' Day
Life could not be better for Sam Giberson in the summer of 1861. The 27-year-old Brooklynite had jumped into the war just a few months earlier as a private in the elite 7th New York State Militia. After a 30-day stint, he became a lieutenant in the 42nd New York Infantry, in which he expected to make short work of the rebels. On Aug. 23, 1861, he wrote his mother that he intended to be home for turkey and all the trimmings on New Year's Day, "I will be home to eat dinner with you."

Then came Ball's Bluff. Captured by the Confederates, he spent New Year's Day 1862 in Richmond's Liggon Tobacco factory, which had been converted into a prison for Union captives. He gained his release just a couple months later, and eventually returned to his regiment with a promotion to captain of his Company I. His return was short-lived though, as he left the army before the end of the year.

Back in Brooklyn, he married, and became a U.S. Customs Inspector. He lived until age 81, dying in 1914. His wife and three children survived him.
Actor Prisoner
Known on the stage of New York City minstrel shows as Neil Gray, the comic opera singer used his real name when he joined the California Regiment in the summer of 1861—Cornelius B. Cammeyer. A private in Company H, he was among the Pennsylvanians captured during the battle. Hauled off to Richmond with other prisoners, he likely kept up morale with his comedic talents. He gained his release after several months and mustered out of the regiment in May 1862. Cammeyer went on to become a singer at Barnum's Museum and an actor on Broadway and in theaters across the East. He appeared alongside Edwin Booth, Charlotte Cushman and other stars. Cammeyer died in 1906 after he suffered a stroke. He was in his late 60s.
Caspar's Challenge
Though admired for his athletic abilities, the swim across the Potomac was a challenge for Capt. Caspar Crowninshield of the 20th Massachusetts Infantry. According to the regimental history, "The muscular Captain Crowninshield swam over, saving his sword and carrying his watch in his mouth. Thoroughly exhausted he lay down and slept under a haystack, and when he awoke he went off to camp, forgetting his watch entirely."
The following year, he bid farewell to his comrades to accept a captaincy in the 1st Massachusetts Cavalry. "His departure from the regiment was much regretted by his brother officers and by the men of his company, even the toughest of the latter shedding tears at his leaving," noted the historian of the 20th. Crowninshield went on to become colonel and commanded on the brigade and division levels. Recognized with a brevet rank of brigadier general at the war's end, he lived until 1897.
Modest Deacon, True Man
Stories abound of soldiers from the North and South who rose from their sick beds to fight a battle. Such was the case for 1st Lt. Leonard Wood of the 15th Massachusetts Infantry. A hardware dealer from Leominster, Mass., he left his hospital cot and plunged into the fight with his comrades in Company A. When the 15th received orders to retreat, the men were instructed to toss their weapons into the Potomac River. Wood held on to his and swam across with his weapons intact. In recognition of his bravery, he was promoted to captain and transferred to Company K to fill the vacancy created by the death of its commander, Moses W. Gatchell, who fell during the battle.
Wood led his company through the Peninsula, Antietam and Fredericksburg campaigns before resigning his commission in January 1863. He returned to civilian life and became active as a deacon in his church and in the temperance movement.
Years later during a veteran's reunion, committee organizers presented the remnants of the national colors carried by the regiment to Gen. Charles Devens, Jr. The committee expressed the sentiment that they had hoped to display the tattered flag with all its stars intact, but some were missing. Later on during the event, Wood delivered a few remarks about the Battle of Antietam. At the conclusion of his commentary, Wood threw open his coat to reveal, attached to his chest, "A strip of velvet, and laid thereon were two faded and soiled silken stars torn from the battle-flag of the 15th Mass. by the dreadful hail of bullets at Antietam."
Not long after the reunion, in 1886, Wood took his own life. At his own request, the stars were buried with him. Saddened senior officers in the regiment agreed, "No braver officer or truer man was in the old 15th than Leonard Wood."
Second Man Hit in the 20th
In the middle of the afternoon, Virginia and Mississippi troops attacked the Union right. They made initial contact with a skirmish line that included soldiers from the 20th Massachusetts Infantry. The first fire claimed numerous casualties, including Capt. John Chandler Putnam of Company H. He was, according to the regimental historian, the second man from the 20th to fall in the battle. A bullet struck him high in the right arm. Carried to Harrison's Island for treatment, he suffered an amputation at the shoulder.

Putnam returned to the regiment, but the strain of active duty prompted his resignation in September 1863. Down but not out, he joined the Veteran Reserve Corps as a captain and served in this capacity until 1865. After the war, he sold insurance in Boston until consumption ended his life in 1879 at age 43. The cause of his death was attributed to his war wound.
Prison Hardship
Among the Union men captured during the battle was William Henry Cox, a corporal in Company A of the California Regiment. Confined in Richmond, Va., the New Jersey native endured the hardships of prisoner life until paroled in February 1862. About a year later, he left the army with a disability discharge. In early 1864, Cox returned to the military as a first lieutenant in the 100th U.S. Colored Infantry, and served the rest of his enlistment in Nashville, Tenn., where he sat for this portrait on May 3, 1865. He barely outlived the war, dying of consumption in Philadelphia in 1870 at age 33.
A River of Federals
The Potomac River was full of federals that struggled against swift currents as rebel bullets spat the cold water all around them. Some of the men, including 2nd Lt. Charles Henry Eager of the 15th Massachusetts Infantry, grabbed on to whatever debris floated their way for support. In Eager's case, a tree-branch about 20-feet long and a 12-foot section of lumber supported him and four comrades.
Just six months earlier, on April 19, 1861, Massachusetts-born Eager had been in the hardware business in Baltimore when pro-secession rioters attacked soldiers of the 6th Massachusetts Infantry as they marched across the city en route to Washington. Several soldiers were killed and many wounded. Eager was profoundly affected. He closed up shop, returned to his hometown of Fitchburg, Mass., and enlisted.
At Ball's Bluff, Eager survived the trip across the Potomac and a nine-mile trek to safety in his socks, as both boots had been left in the mud on the Virginia side of the river.
He went on to become captain of his company and resigned due to poor health in early 1864. He lived until 1903, dying at age 72. A daughter survived him.
The Pinnacle of His Military Service
Company A of the 8th Virginia Infantry suffered six casualties during the action, including Pvt. John W. Shaffer, Jr. He was slightly wounded in the face by artillery shrapnel. A carpenter and farmer from Loudoun County, Va., Shaffer had enlisted in the regiment following the bombardment of Fort Sumter in April 1861. Pictured here in uniform, he holds what may be a Bible.

Ball's Bluff marked the pinnacle of his combat effectiveness. Though Shaffer recovered from his wound, he was often on the sick list, and, at one point, detailed on light duty to guard baggage. He remained in uniform until June 1863, when he deserted while passing through his home county during the early phase of the Confederate invasion of the North, which ended in disaster at the Battle of Gettysburg.

Shaffer remained in Loudoun County the rest of his days. He died at age 92 in 1929. He outlived his wife, Amanda, and was survived by three children.
His First and Last Battle
At some point during the fight, a bullet struck Joseph Henry Hapgood in the thigh and resulted in a serious wound. He spent the next six months recuperating at Fortress Monroe, where he lent a hand as a cook. He finally returned to his regiment in the spring of 1862, but soon fell sick and spent the next year-and-a-half in the hospital on light duty. He went on to serve stints in the Veteran Reserve Corps and the 5th Maryland Infantry. Hapgood left the army in the fall of 1865, returned to Massachusetts, learned the carpenter's trade and married. In the early 1870s, he and his wife, Nancy, wandered westward. Hapgood made a name for himself as a contractor and builder in South Dakota. He died at age 83 in 1922.
"Fondness for Military Life"
Ball's Bluff was the first of 32 engagements credited to Sgt. James May, right, of the 15th Massachusetts Infantry. A peacetime wood turner who hailed from a family of artisans skilled with lathes, May emerged from his baptism under fire unscathed and survived subsequent battles at Antietam, Gettysburg and elsewhere with the Army of the Potomac. His injury-free record ended on May 6, 1864, in the Wilderness when he suffered a concussion from a shell fragment. By this time, he had advanced through the ranks to become captain of Company B. The following month, he and most of his comrades were captured after Confederates outflanked the regiment near the Jerusalem Plank Road in front of Petersburg. May was one of 600 officers transported to Charleston, S.C., where Union and Confederate commanders waged a tit-for-tat battle using prisoners as human shields. May survived these grim events and gained his release in March 1865. He mustered out of the army soon afterwards.

Despite the horrors he endured on the battlefield and in prison, a biographer noted, "His fondness for military life led him to accept positions in the volunteer militia." He eventually ranked as colonel of the 10th Massachusetts. A cerebral hemorrhage ended his life in 1880 at age 51. His second wife, whom he married after the death of his first, and seven children survived. May was remembered as a gallant and brave officer.
Fateful Stumble
Louis Philip Raybold, a private in the California Regiment, suffered an injury due to a fall during the fight, and was captured by the Confederates. Sent to Richmond, he contracted measles and erysipelas, an acute bacterial infection, that left his face badly scarred. He was eventually paroled by his captors and discharged for disability in March 1863. His disfigurement did not prevent him from marrying and starting a family that grew to include three children. Raybold lived until 1926, dying at age 90.
Inspiration for one of the War's Most Popular Songs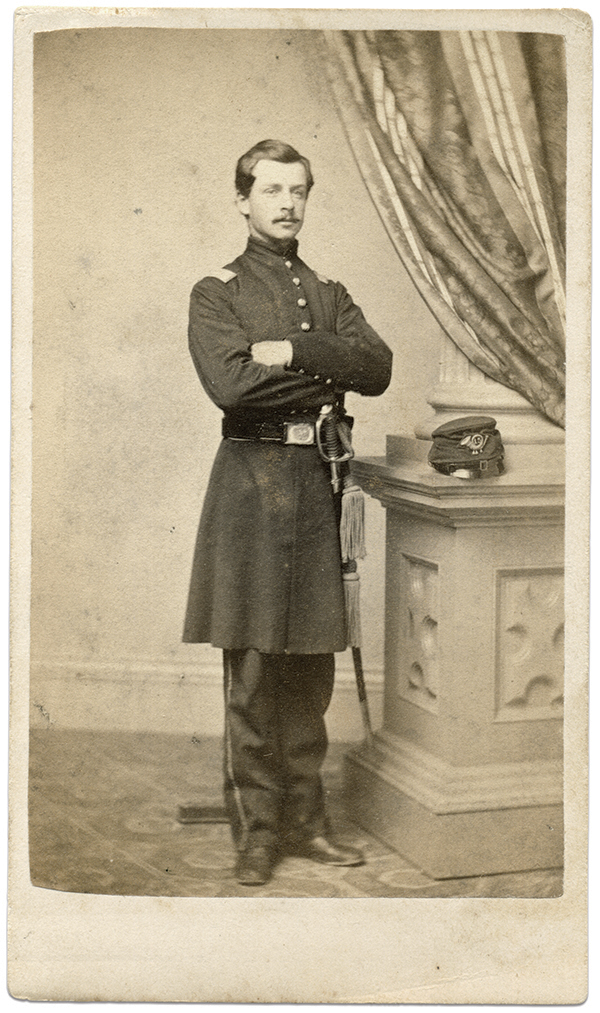 After the federal advance collapsed, 2nd Lt. John William Grout devoted his energies to saving his comrades in the 15th Massachusetts Infantry. He escorted a boatload of the wounded across the river to safety and then returned to the Virginia side. The regiment's colonel, Charles Devens, recalled an encounter with Grout about this time: "He stood leaning on his sword under a tree after I had been telling the men about there that they might take care of themselves and said, 'Is there any thing more I can do Colonel, any more that can be done for the men.' I said 'Nothing, Nothing,' and then told him and he understood from what I said that every one was at liberty to take care of himself."

As he made his way across the Potomac, near the middle of the river, a rebel bullet struck him in the back of the head. "Tell company D I could have reached the shore, but I am shot, I must sink!"

His body was discovered more than two weeks later and returned to his family in Worcester, Mass. Known affectionately as "Willie," the 18-year-old was popular in his company and held up as a role model for the regiment.

Grout's death inspired a poem, "The Vacant Chair," which was set to music and became one of the most popular songs of the Civil War and beyond, as evidenced by this 1909 album recording.
Changing Luck
Good fortune seemed to follow Benjamin Franklin Leith, a sergeant in Company E of the 8th Virginia Infantry. One of five boys born to a farmer in Loudoun County, Va., he was the only son to join the infantry. Brother Thodorick joined the 6th Virginia Cavalry, and the others were rumored to have ridden with Col. John Singleton Mosby's Rangers and Gen. J.E.B. Stuart's troopers. Leith had his baptism under fire at First Manassas, where he avoided injury. He also emerged unscathed from the fighting at Ball's Bluff. His luck changed on June 21, 1863 when he fell into enemy hands during the Battle of Upperville, Va., part of the Gettysburg Campaign. Paroled a few days later, he returned to the ranks. He suffered a serious leg wound at the Battle of Hatcher's Run, Va., on March 31, 1865. Taken to a hospital in nearby Petersburg, he became a prisoner of war again when the city fell to Union forces on April 3, 1865. He soon signed the oath of allegiance to the federal government and was released.

Leith returned to the farming life in Loudoun County, married, and started a family that grew to include four children. He died in 1919 at age 78. According to his obituary, he "was a gentleman of sterling character and one unflinchingly firm and steadfast in support of what he regarded as the duties of life."
Peculiar Sensation
After coming out on the losing end of an attack by the 8th Virginia Infantry and rebel cavalry, 19-year-old 1st Sgt. George Bowman Simonds of the 15th Massachusetts Infantry recalled: "I had not proceeded more than five rods on my retrograde march when I experienced a peculiar sensation in my right thigh. There was not much chance to doubt what hurt at that time; the balls were whistling on all sides, and I believed that I was carrying an ounce of lead besides the forty in my cartridge box. Such proved the case, for in a minute or two my shoe was full of blood and my pants saturated with same. Although wounded I still kept on, resolved to get back to friends or die."

Simonds made it to safety, recovered from his wound and returned to the ranks. He advanced to first lieutenant after the Battle of Gettysburg. Less than a year later, he was killed in action during the ferocious fighting at Spotsylvania Court House.
"Supposed to Have Been Shot"
Cpl. William M. Tanner was one of 14 gunners of the 1st Rhode Island Light Artillery called into action at Ball's Bluff. A sketch in The Union Army noted that the regiment was ordered "to cross the Potomac to Harrison's Island with the left section of Battery B, and with one gun, fourteen men and seven horses, crossed from the island to the Virginia side, and after severe labor succeeded in getting it up a steep hill seventy feet high." Disaster followed when the battery "was assailed by the rebels, and after returning a vigorous fire until all but two of the cannoneers were shot down, the gun had to be abandoned. The piece was captured."

A note on the back of Tanner's portrait indicates that he survived the slaughter, only to be lost afterwards: "Supposed to have been shot while swimming the Potomac at the retreat of Ball's Bluff." Tanner was 27.

His body was recovered and sent home to West Greenwich, R.I., for burial in a local cemetery. His gravestone is inscribed with the same words that appear on his portrait.
The Fate of Pvt. McCurdy
More than a week after the battle, news of the fate of Pvt. Samuel Albert McCurdy of the 15th Massachusetts Infantry appeared in his hometown newspaper. The Worcester Spy reported him on a list of more than 300 men from the 15th who were killed, wounded or missing. Turns out McCurdy, an 18-year-old shoemaker, was captured and taken with other prisoners of war to Richmond and later sent to Salisbury, N.C. He eventually gained his release and returned to the ranks. A leg wound at the Battle of Gettysburg ended his combat duty. In January 1864, he left the regiment and joined the Veteran Reserve Corps for a six-month stint. He resigned in the summer of 1864 and returned to Worcester, Mass. He died of heart disease at an old soldiers' home in 1905. McCurdy was 61.
"Stand in the Evil Day"
Two cousins in Company E of the 20th Massachusetts Infantry marched into action with the strong conviction that they fought for a just cause—the abolition of slavery. Second Lt. William "Willie" Lowell Putnam, left, and 1st Lt. James Jackson Lowell, below, were sons of wealth and privilege, the crème de la crème of high society. "A nobler pair never took the field," declared a friend and teacher. "The cousins were beautifully matched in person, mental accomplishments, and pure heroism of character."
Both spilled their blood at Ball's Bluff. Rebel lead struck Lowell in the thigh and left a wound that took him out of action for months. Another bullet ripped into the bowels of Putnam. When offered medical aid he spurned it, insisting that others with a better chance for survival receive attention. He succumbed to the injury the next day.
Putnam's death was mourned across the Bay State. Gov. John A. Andrew escorted the remains of the knightly youth to the family home in Boston. Putnam's sister Georgina answered the door. "Governor Andrew," she reportedly said, "we thanked you when we got Willie's commission. And we thank you now." The anguished governor wept.
Georgina and one of Lowell's sisters presented a silk memorial flag to the regiment on Christmas Day 1861. On one side was a pine tree, the state symbol, inscribed with "Ball's Bluff" and a biblical reference "Stand in the Evil Day."
Surviving cousin Lowell returned to the 20th in February 1862. Four months later, on June 30, he suffered a gunshot to the abdomen and fell into enemy hands during the Battle of Glendale, part of the Peninsula Campaign. He died a few days later.
Best Option: "Quick and Easy Death"
Lt. Col. Isaac Jones Wistar of the California Regiment suffered wounds in the right elbow and jaw during the early part of the battle. On each occasion, Col. Ned Baker was among the first by Wistar's side to check on the condition of his second-in-command. After a third wound, in the thigh, finally took him out of action, Baker helped Wistar up and guided him off the field. Wistar later recalled in his autobiography, "After it seemed to both of us that ruin was certain, in response to a remark that a quick and easy death was now the best thing left us, he quickly replied: 'The bullets are seeking for you, but avoid me.'"
Baker was struck down soon after he uttered these words.
Wistar recovered from his injuries and returned to the regiment as its colonel. Less than a year later, he suffered a wound in his left arm during the Battle of Antietam. He survived and advanced in rank to brigadier general and division command. But after a less-than-stellar performance during the 1864 Bermuda Hundred Campaign, he resigned. Wistar resumed his peacetime occupation as a Philadelphia attorney and lived until age 77, dying in 1905.
On the Conduct of Union Officers
More than a quarter century after the battle, 2nd Lt. Charles Albert Whittier of the 20th Massachusetts Infantry recalled the inexperience of the officers in his autobiography, Egotistical Memoirs: "The conduct of the battle, if there was any conduct, was as bad as can be imagined. Any lieutenant on that field could have done better six months later. No one seemed to know who was the commanding officer, and no one, so far as I have ever heard, had any distinct views as to what was to be done."
Whittier also noted a leadership issue. "Where the 20th was in line with slight rising ground in its front, it was told to charge to higher ground, the men to discharge their muskets, then drop on the ground, fall back, load and repeat the performance. No persistent advance seemed to be contemplated by anybody."
Whittier went on to become a major and aide to Maj. Gen. John Sedgwick, and witnessed his death near Spotsylvania, Va., on May 8, 1864. He continued as an aide to Sedgwick's successor, Maj. Gen. Horatio G. Wright. Whittier also played a small role during the drama at Appomattox, carrying correspondence back and forth between generals Robert E. Lee and Ulysses S. Grant. He ended the war with a brevet rank of brigadier general of volunteers and later served as an officer in the Spanish-American War. He died in 1908.
"I'll See You Damned First"
Milton Cogswell, the colonel of the 42nd New York Infantry, assumed command of Union forces after the death of Col. Ned Baker. A professional soldier educated at West Point, he led a desperate charge that appeared for a moment to break the rebel line. It disintegrated into chaos however, and ended in retreat. Cogswell fell into enemy hands and was brought before Brig. Gen. Nathan G. Evans, nicknamed "Shanks" for his noticeable knock-knees. The two had known each other at West Point. According to an eyewitness, Evans provided Cogswell with a draught of peach brandy, and, during the conversation that followed, offered to release him if he signed a parole not to fight again during the war. Cogswell, inspired by the drink replied in strong terms, "'I tell ye, Shanks, sha'n't take my parole on any such terms; I'll see you damned first, Shanks.'"
Cogswell spent a month as a prisoner of war in Richmond. His effort to save the federal force at Ball's Bluff was among the few bright spots in the debacle, and he was recognized for his actions with a brevet rank of major. He resigned his volunteer commission in 1863, and remained in the regular army until 1871. He died suddenly of apoplexy in 1882, and was buried in Arlington National Cemetery.
First of Four Battle Wounds
Nelson Vantyle Stanton, a corporal in Company H of the 15th Massachusetts Infantry, suffered a gunshot in the face at Ball's Bluff. Judging from this portrait taken after he became an officer in early 1863, the injury was minor. It was the first of four wounds however, that the Maine-born painter received during his three years in uniform. At Gettysburg in 1863, rebel bullets struck him in the left side and arm. In 1864, artillery shrapnel wounded him in The Wilderness and Spotsylvania. He managed to survived all his injuries and muster out with his surviving comrades in July 1864. He ended his service as first lieutenant and regimental adjutant. Back in civilian life, he rose to become senior partner in the firm of Stanton and Farnham, a monument and granite works. He died in 1899 at age 57. His second wife, Ella, and a young son, Nelson E. Stanton, survived him.
"The Observed"
Isaac Harris Hooper's first taste of soldiering as a private in the 13th New York State Militia for three months in early 1861 was relatively uneventful. The experience however helped him land a second lieutenancy in Company K of the 15th Massachusetts Infantry.
Captured at Ball's Bluff, he kept a diary of his four-month imprisonment. This excerpt includes his arrival in Richmond, a quote from Shakespeare's Hamlet and meeting Republican Congressman Alfred Ely, who famously rode out of Washington to witness the First Battle of Bull Run and fell into Confederate hands: "The train unloaded, we were placed in the center of a strong guard and marched through the principal streets, 'the observed of all observers.' Eventually the men found a resting place in the lofts of one tobacco warehouse, and the officers a house on the ground floor of another warehouse. There we found the officers captured since the commencement of the war. There we found Mr Congressman Ely of N.Y. and they received us with open arms and warm hearts, lending us blankets and cots to rest upon, and giving us out of their scanty store such delicacies as they had to eat."
Hooper survived another stint as a prisoner of war and battle wounds at Fredericksburg and Petersburg. He ended his service as the regiment's major and died in 1873 at age 33 of consumption contracted while a prisoner.
Hellish Red Sun
First Lt. Amos Bartlett, a schoolteacher prior to his enlistment in the 15th Massachusetts Infantry, recalled in vivid prose the chaotic retreat of the regiment:
"Through the thick clouds and dense columns of smoke and fire, the great red sun was seen, like a God of War, slowly setting. It was a hellish sight. I did not hear any order to retreat, but saw the men en masse going down the cliff and I went with the crowd. Part way down, I joined Lieut. [J. Evarts] Greene in an attempt to rally the men and regain the Bluffs; but we were soon driven down. Reaching the shore I saw a big scow loaded with men; the scow went down, and with it the men. Many sank, and their groans and cries were heartrending. Looking at them I said to myself — 'Fools! Bull Run!' I felt small — ashamed. Up to this time I had heard no order to retreat, nor any hint that every man should take care of himself. I had fears for my own safety, but was desperately afraid I would not be brave."
Bartlett eventually swam to safety across the Potomac. Lt. Greene was captured, eventually released, promoted to captain and survived the war.
Bartlett was also promoted to captain. At the Battle of Antietam on Sept. 17, 1862, he suffered a wound when a shell fragment struck but did not penetrate his left breast. He was discharged due to disability a few months later and returned to Massachusetts. He lived until 1912.
Every Man for Himself
Charles Devens, Jr., was not a good swimmer. As colonel of the 15th Massachusetts Infantry, it fell to him to lead his men when the order came to retreat across the Potomac River. "Every man may now take care of himself; be sure that you throw your muskets into the river; that you do not give up your arms to the enemy, but as any man who thinks he can save himself by the river, or in any other way, has my leave to do so," he stated after the battle in sworn testimony before the Congressional Joint Committee on the Conduct of the War.
Devens moved to the rear of the regiment and prepared to navigate the Potomac. "I was going to get rid of my sword. With that I unbuckled it and threw it into the river as far as I could," he told the Committee. "I took off my coat, which I was rather anxious to have saved, because I had been struck once with a bullet which had flattened a button; but I did not deem it prudent to keep it. I stripped nearly to the buff, and went into the river with a lieutenant and two of the men. We found a bit of log floating, and with the help of that we swam to the island, landing not on Harrison's island, but on a small island which is substantially part of that island, but lower down. Using this log to assist myself, we were more liable to float down than if we could have swam directly across. It was entirely dark before I got over."
Devens survived and was exonerated of any wrongdoing by the Committee. He became a brigadier general and commanded on the division level. On April 3, 1865, his troops were the first to occupy Richmond after the Confederate capital was abandoned. He went on to serve as Attorney General in the cabinet of President Rutherford B. Hayes. Devens died in 1891 at age 70.
Terrible Swift Sword
Henry H. Alden was not supposed to fight at Ball's Bluff. A captain in the 42nd New York Infantry, he was ordered to remain with the reserve. Alden asked his colonel, Milton Cogswell, if he might lead the advance, and if that was not possible to march in the ranks of the advance as a private. Cogswell could not resist Alden's enthusiasm and relented. According to a biographer, Alden "led the advance of the regiment, and, being officer of the day, was in full uniform, with his scarf over his shoulder. Before crossing, he addressed his men, telling them that they were going into action for the first time—to behave like men: 'Keep cool,' said he, 'obey my orders, follow me, and follow that'—drawing the elegant sword just presented to him by his company."
The New Yorkers soon collided with Mississippi troops. Alden ordered a volley, which was promptly executed. The rebels returned fire. One bullet, fired by a sharpshooter concealed in a tree, struck Alden in the right breast, passed through his body and exited his left. Death was instantaneous.
The attack faltered and the federals fell back, leaving Alden's body behind. His comrades eventually recovered the remains under a flag of truce and were disgusted by what they found. "He had been killed on the spot, yet his right side showed three bayonet thrusts, which had been dealt upon his lifeless body. His cap, sword, sash, buttons, belt, and shoulder-straps were gone, his pockets rifled," his biographer noted. His death was widely mourned, and his heroism celebrated.
Standstill Fight
For a brief time during the battle, remembered Lt. Col. George Hull Ward, the fighting along his front ground to a standstill. His boys in the 15th Massachusetts Infantry were trading volleys with Virginians and Mississippians on the other side. But Ward, a pre-war militia brigadier considered one of the finest officers in Massachusetts, knew that the tide was turning against the federals.
Ward recalled, "I had been to the right and was returning to the left of our regiment, when about opposite the center I was struck with a musket or rifle ball in the left leg about half way between the knee and the ankle. The ball passed through sideways and broke the bones in a shocking manner."
Transported across the Potomac to Harrison's Island, an eyewitness remembered the grim scene: "As it became dark, the wounded were crowded together in and about the two farm houses, which were used as hospitals. 'No light had been provided or could be found until Surgeon Haven discovered two inches of candle in an old bottle, by the light of which Lieutenant-Colonel Ward's limb was amputated.' 'It was a sad sight to see a brave officer in that position.' More candles were afterwards found in a closet."
The surgeon, Samuel F. Haven, Jr., did his work well despite the primitive conditions. Ward eventually recovered, slapped on a prosthetic leg and returned to full duty—much to the delight of the men in the regiment. "Ward was a born soldier, of fine physique and commanding presence, quick in movement and speech, a gentleman in manner; his sunny smile shown through the repose of his manly face," noted one comrade.
Ward went on to become the colonel of the regiment. On the second day of the Battle of Gettysburg, he suffered a gunshot in his good leg during the heavy fighting near the Codori farmhouse. He died the next morning. Ward was 38.
"A Most Narrow Escape From Instant Death!"
More than a month after the battle, on Nov. 29, 1861, noted author and man of letters Oliver Wendell Holmes, Sr., wrote a letter to a friend that described the wounding of his son, 1st Lt. Oliver Wendell Holmes, Jr., of the 20th Massachusetts Infantry. "He was standing in front of his men when a spent ball struck him in the stomach and knocked him flat, taking his wind out of him at the same time. He made shift to crawl off a little, the colonel, at whose side he was standing, telling him to go to the rear. Presently he began to come right, and found he was not seriously injured. By the help of a sergeant he got up, and went to the front again. He had hardly been there two or three minutes when he was struck by a second ball, knocked down, and carried off. His shirt was torn from him, and he was found to be shot through the heart—it was supposed through the lungs. The ball had entered exactly over the heart on the left side, and come out on the right side, where it was found—a minié ball. The surgeon thought he was mortally wounded; and he supposed so, too. Next day, better; next after that, wrote me a letter. He had no bad symptoms, and it became evident that the ball had passed outside the cavities containing the heart and lungs." The elder Holmes added, "He is now thriving well, able to walk, but has a considerable open wound, which, if the bone has to exfoliate, will keep him from camp for many weeks at least. A most narrow escape from instant death!"
Young Holmes eventually returned to his regiment and suffered two more battle wounds—at Antietam in 1862 and near Fredericksburg in 1863—before he mustered out in July 1864. He is best known as a U.S. Supreme Court Justice. Holmes lived until 1935, dying at age 93.
Deliberate Murder
A week after the fight, Col. Edward Winslow Hinks of the 19th Massachusetts Infantry vented his frustrations for the Union debacle in a letter to a fellow soldier. "Our men fought for victory, and they now demand to know why they were not victorious," he stated, and then pointed out deficiencies in transportation, supply, support and generalship that added up to "deliberate murder."
Hinks had spent the battle opposite Ball's Bluff at Edward's Ferry, where he directed transportation across the Potomac River. The conspiratorial views he held suggest he believed false news reports and other misinformation spread immediately after the fight. Hinks "shared a common, but mistaken, assumption that the action at Ball's Bluff was a deliberate and pre-planned attempt on Leesburg. It wasn't," notes historian James A. Morgan. "But that was a widely held view as people tried to understand what happened." The views of Hinks and others, based on distorted reports that gained credibility by repetition, ultimately found a scapegoat in Charles P. Stone.
Hinks suffered two wounds the following year, during the Peninsula Campaign at Glendale and again at the Battle of Antietam. Promoted to brigadier general, he spent the majority of the rest of the war on court martial and recruitment duties. He joined the regular army and retired as a colonel in 1880. He lived until 1894.
The Scapegoat
The North needed a scapegoat upon which to hang the scarlet letter of shame for the humiliating defeat along the Potomac. Trouble was, no single individual could be blamed for the inexperience and miscommunications that led to the battle. Therefore, the Congressional Joint Committee of the Conduct of the War found someone—Charles Pomeroy Stone. A West Point educated officer brevetted twice during the Mexican War, elements of his division participated in the Ball's Bluff massacre. Immediately afterwards, charges of conspiracy and treason leveled at no one in particular were eventually pinned on Stone. Meanwhile, a handful of congressmen determined to avenge the death of Sen. Ned Baker. A damning (and fabricated) letter printed in the New York Tribune that suggested Stone was friendly towards the rebels sealed his fate.
In early 1862, Stone was arrested and imprisoned by the government for unspecified charges, but freed 189 days later without trial or explanation. He was eventually exonerated. The damage to his reputation effectively ended his military career. Stone is best known after the war for serving as chief engineer for the construction of the Statue of Liberty. He died in 1887, soon after its completion.
"Hold on a Minute"
Despite the strenuous urging of his fellow officers, Col. William Raymond Lee of the 20th Massachusetts Infantry refused to leave the Virginia side of the Potomac while any of his wounded remained. One of two Lees who enrolled at West Point in 1825 (the other was Robert E. Lee, a distant relation), he and others were stranded after all the boats were destroyed. He started on foot upriver to find a crossing, accompanied by a handful of officers and men. An attempt to construct a raft of fence-rails fastened together with sword-belts failed, and two other crossings ended without success. By this time, Lee, 54, was exhausted. According to the regimental history, the party "soon came to a place supposed to contain a picket of the enemy, which they tried to avoid by climbing over a gate of a farmyard, but they had got only half over when they were hailed. 'Who goes there?' As the hail came from a company of rebel cavalry whose carbines were pointed toward them, they promptly replied loud enough for them to hear, 'Hold on a minute, and we will get down,' which they did, and surrendered."
Lee was held prisoner until exchanged in April 1862. He returned to his regiment and led his men through the battles of Antietam and Fredericksburg. Soon after the latter fight ended, Lee declined brigade command and resigned his commission. He later received the brevet rank of brigadier general of volunteers in recognition of his service. He died in 1891 at age 84.
To Die Another Day
Caught up in the retreat of Union forces, Justus Collins Wellington emerged unscathed from the fight, though he literally paid a price for it. According to a sister, he "had some money ready to send before the battle but lost everything [as he] swam the Potomac to save his life." Wellington had planned on sending the money to his family to supplement the wages he had earned as a shoemaker in West Brookfield, Mass., prior to his enlistment as a private in Company F of the 15th Massachusetts Infantry.
Wellington's service ended abruptly a year later at the Battle of Antietam, when he was one of 70 soldiers from the regiment killed in action. He was 24. His parents and five siblings survived him.
Protecting the Remains of the Fallen
The grim task of caring for the remains of Pennsylvanians left behind after the inglorious retreat fell to Asst. Surg. John Barclay Crawford. A physician from Wyoming, Pa., he arrived at the battlefield on April 18, 1862, with specific orders to bring home the remains of fallen Keystone State boys. "I found the bodies of our killed in that engagement deposited in various places; some in isolated graves, all of which are in good condition," he stated in a report written the same day. But most of the bodies, Crawford discovered, had suffered from water damage. "They had been but superficially covered with earth, and some of the bodies were exposed. Some had been mutilated."
He added, "Finding that the condition of them all admitted of no recognition of their identity, I concluded that my proper course was to leave those which were undisturbed in the places where I found them; to reinter the detached portions of bodies in the places from which they had been removed; to cover them properly with earth and stones, and guard, so far as could be done, against their future exposure." He did what he could to protect the remains, and hired a local man to care for the gravesites.
Crawford went on to serve in Virginia and South Carolina with the 41st and 52nd Pennsylvania infantries, until his own poor health prompted his resignation in May 1864. He returned to his home and practice. He lived until age 67, dying in 1894. A daughter survived him.
SPREAD THE WORD: We encourage you to share this story on social media and elsewhere to educate and raise awareness. If you wish to use any image on this page for another purpose, please request permission.
LEARN MORE about Military Images, America's only magazine dedicated to showcasing, interpreting and preserving Civil War portrait photography.
VISIT OUR STORE to subscribe, renew a subscription, and more.