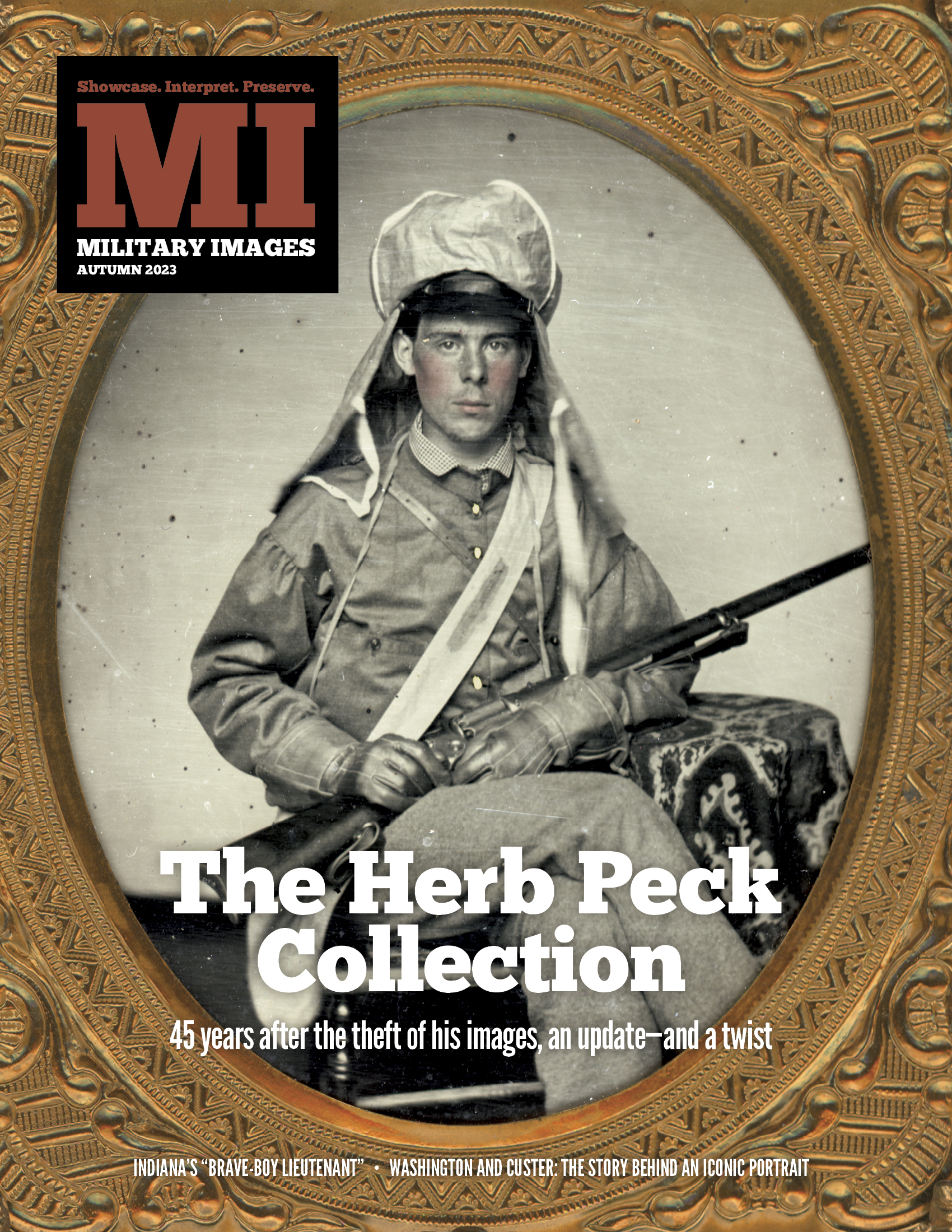 Our story about the 1978 theft of Confederate and antebellum images from Herb Peck's Nashville home received an outpouring of attention and action. This is a testament to the compassion of the community of collectors, the dedication of law enforcement, the perseverance of Felicity and Tim Peck, and the diligence of Bruce Jackson, the family's special agent.
Within days of posting the story online (typically two weeks before the print edition is mailed), collectors who saw the posters reached out to begin the return process. MI Senior Editor Kevin Canberg spread the word on social media with a Facebook page dedicated to Herb's images. Kevin Kilcommons started a Pinterest page to track stolen images.
As of this writing in early November, 14 images have been identified: Ten returned to the family, two in process of recovery, and two others that have surfaced but their current location is unknown. Bruce notes that a number of the collectors who returned images sent "personal notes to Felicity in praise of Herb's contribution to the research and assistance of this genre. Those letters mean a great deal to Felicity."
I want to correct an error in the story: I noted 114 stolen images. The number is 117. I counted several negatives as one when there were two images in the single negative.
For those of you wondering about the future of the recovered images, Bruce explains:
"One of the first questions asked by the image holders is 'Can I buy the image?' Our initial response has been based on sympathy for those caught in this dilemma. As time moved on, it became very obvious that many people have an interest in the sale of the recovered pieces. In order to provide a platform for all interested parties to have equal opportunity, we have decided to place the collection with an auction company. Not only does this give everyone an equal chance, it allows the market to set the price and relieves me of that burden. And of course, it will save the time and effort of making shows over the long term to sell all of them. I do want the fraternity to understand that position taken by myself is not to further punish the owners but to eliminate all possibility of any favoritism."
Ronald S. Coddington
Editor & Publisher
Note: Fakes, Forgeries and Frauds
Over the last four years, Perry Frohne has armed us with knowledge and tools to combat counterfeit images through his column, Fakes, Forgeries and Frauds. Perry shared his wit and wisdom based on years of tracking fraudulent activity. In his first column (Autumn 2019), Perry declared, "I hope this introduction can help you develop a sixth sense—that inexplicable gut feeling that makes us hesitate, pause and consider." He added, "This pause is what I call my 'Fake Radar.' Learn to trust that feeling and you will be better prepared to purchase with confidence. You will make errors—we all have—but that goes with collecting anything of value. I believe that this sixth sense is the most important tool in your collecting toolbox."
Perry has fulfilled his mission and is turning his attention to other writing projects for MI and the occasional column about fakes. I'm grateful to him for helping us activate our Fake Radars.
SPREAD THE WORD: We encourage you to share this story on social media and elsewhere to educate and raise awareness. If you wish to use any image on this page for another purpose, please request permission.
LEARN MORE about Military Images, America's only magazine dedicated to showcasing, interpreting and preserving Civil War portrait photography.
VISIT OUR STORE to subscribe, renew a subscription, and more.