By Ronald S. Coddington
Aide de camp John Augustine Washington III brimmed with anticipation as he saddled up for his first-ever reconnaissance on Sept. 13, 1861. Resplendent in gray uniform and plumed hat, the tall and graceful lieutenant colonel with chestnut hair, bushy beard and brown eyes had lobbied his commanding officer for this opportunity.
General Robert E. Lee finally gave his permission. "He was always anxious to go on these expeditions. This was the first day I assented," wrote Lee from his headquarters in western Virginia. A day earlier, Lee ordered a two-pronged assault against Union forces at Cheat Mountain and a camp at nearby Elkwater. The attack fizzled due to poor communications and inclement weather.
Now, as Lee pondered his next move, he ordered the eager Washington to scout out the enemy's right flank near Elkwater.
Cognizant of his inexperience and enthusiasm, the general assigned a knowledgable officer to accompany him—his son, Maj. W.H.F. "Rooney" Lee.
Lee dispatched two cavalrymen with Washington and Lee, and they rode off on the mission.
Only three returned. Washington was not with them.
Blakely and Mount Vernon
One hundred thirty miles east of Elkwater lay Blakely, a stately manor located a carriage ride from Charles Town. In 1821, a year after its construction, Washington entered the world with a distinguished ancestry as the great-grandnephew of George Washington, the nation's first president. His father, John Augustine Washington II, had followed in the family footsteps as a planter. His mother, Jane Charlotte Blackburn Washington, hailed from a Virginia family with military connections to the Revolution.
Young Washington, nicknamed Gus, spent his early years at Blakely. In 1829, at age seven, his father inherited Mount Vernon, George Washington's estate. His tenure as owner ended three years later with his death at age 42 from heart disease. Mount Vernon passed to his wife, Jane.
Washington spent considerable time away from home gaining an education from boarding schools in Virginia and Pennsylvania. One of them, in Alexandria, Va., is noteworthy. Run by venerable educator Benjamin Hallowell, the school attracted elite students preparing for higher education. They included Robert E. Lee, who studied mathematics with Hallowell for a month before entering West Point.
In the autumn of 1837, Washington, now 16, happened to be at Mount Vernon for the installation of a sarcophagus to replace the original containing the remains of George Washington. Created and donated by Philadelphia mason John Struthers based on a design by his business partner William Strickland, the sarcophagus was crafted from Pennsylvania marble. On October 7, Struthers supervised the replacement inside the family vault on the grounds of Mount Vernon. Working by candlelight, workers stripped away the deteriorating original sarcophagus and discovered that the wood and lead inner coffin had partially collapsed. A section of the lead-lined lid was pulled back to reveal the head and chest of the Father of the Country.
An eyewitness recalled, "The eye sockets were large and deep, and the breadth across the temples, together with the forehead, appeared of unusual size. There was no appearance of grave clothes. The chest was broad, the color dark with the appearance of dried flesh, adhering closely to the bones. We saw no hair, nor was there any offensive odor from the body. A hand was laid upon the head and instantly removed." The lid was restored to its original place, and six men completed the transfer of the coffin and body to the new sarcophagus.
Washington left Mount Vernon the following year to complete his education at the University of Virginia, and graduated in 1840. He returned home and pitched a business proposition to his aging mother: He would take on daily operations and overall management of Mount Vernon. The proposal had significant advantages. His mother would be relieved of the all-consuming tasks associated with running a plantation in her declining years. Washington would be there for her, be employed in the family business, and gain valuable experience that would benefit him when the estate passed to him.
Jane Washington agreed and entered into a seven-year contract with her son to pay him $500 annually. She also provided him with 22 enslaved persons.
Washington came to realize the significant challenges of maintaining an historic home and grounds with far fewer resources than the first president.
Tourists, speculators, Southern women,
and the mission to preserve Mount Vernon
On April 27, 1855, the steamboat Thomas Collyer docked at White House landing on the neck of land just south of Mount Vernon. The Collyer and its captain, Samuel Gedney, made regular daylong excursions to and from the capital city carrying tourists to explore Mount Vernon, glimpse Washington's Tomb, and take in the atmosphere of the hallowed grounds.
This time, Capt. Gedney carried special guests. President Franklin Pierce, his wife Jane, and their entourage arrived, unannounced and unexpected, with Gedney as their guide. According to a news report, "The President was handsomely received by Mr. John A. Washington, the youthful but deserving proprietor of the honored residence of the Father of his Country. The private rooms were cheerfully thrown open to the family of him who now fills the chair occupied by the immortal Washington. A beautiful bouquet from the garden of Washington was presented to Mrs. Pierce by Captain Gedney." The tour continued of the grounds and Tomb before the party returned to the steamer for the return trip.
Newspapers across the country published the account of President Pierce's pilgrimage to one of the republic's holiest shrines. Though a high-profile tourist, he was but one of the uncounted masses of curious patriots and international visitors who invaded Mount Vernon by steamer and carriage to pay their respects to the man who led his army to victory over Britain and steered the ship of state as America's first chief executive. His name and deeds were cherished by Americans, as evidenced by the large number of boys and men named George Washington and girls and women named Georgiana. And, with thousands of veterans of the Revolution or their widows collecting pensions, many citizens had a direct, living connection to those who breathed the Spirit of '76.
In fact, tourists had visited for decades, even during the lifetime of President Washington. "I have no objection to any sober or orderly person's gratifying their curiosity in viewing the buildings, Gardens, &ca. about Mount Vernon," he wrote in his last years.
The President's once pristine residence and well-kept gardens and grounds suffered over time. Tourists of the 1840s and 50s traipsed around an estate in visible decay. The main house, built more than a century earlier, required significant funds to maintain its 21 rooms measuring 11 thousand square feet. The land, which once provided a significant source of revenue, had been carved up by various inheritances from 8,000 to 1,200 acres. Over-planting depleted its once fertile soil.
The decline of agriculture and steady stream of tourists added to Washington's increasing financial burdens and deprived the family of privacy. In September 1855, only several months after President Pierce's visit, Jane Washington died and Mount Vernon passed to her son.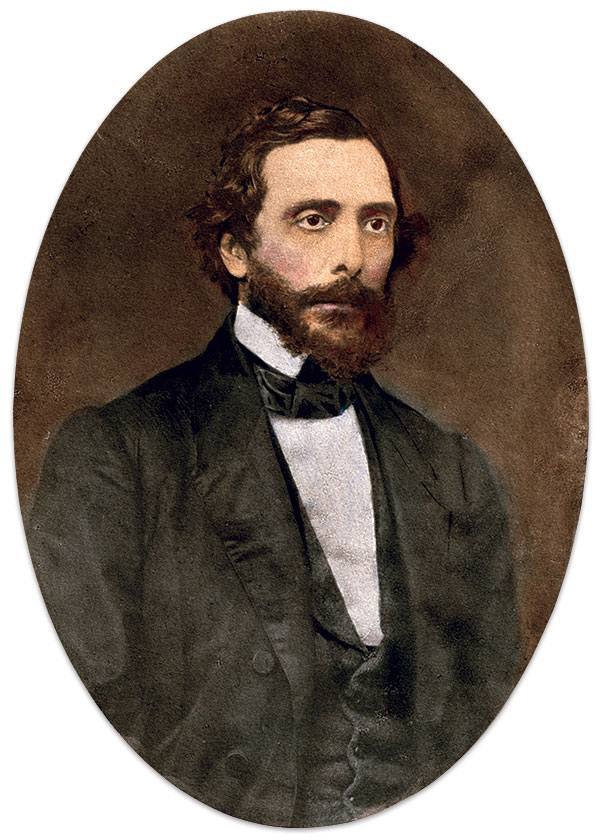 Washington, now 34 and married with five children and two more before the end of the decade, faced an uphill battle to preserve Mount Vernon. He raced against time and dwindling resources to make ends meet. Various schemes to add new revenue streams, including one to make souvenir Mount Vernon canes from harvested trees, slowed but could not reverse the tide.
The sale of Mount Vernon had been a hotly debated topic for years. In 1843, a newspaper reported that the house, tomb and grounds were available for purchase. Though this proved to be a rumor, speculators were interested in the property. In his 1916 book Mount Vernon: Washington's Home and the Nation's Shrine, historian Paul Wilstach stated that Washington rebuffed entreaties by private parties as early as 1848 and turned down offers for as much as $300,000, or about $11 million today (adjusted for inflation).
Wilstach noted that Washington declined to sell to speculators due to a "higher sense of its patriotic national quality." He signaled his willingness that the federal government or the state of Virginia would take ownership, and openness to negotiating a deal.
But the antebellum federal government, small and limited in its scope, was not prepared to provide public money to acquire and care for Mount Vernon. Federal funding and a governmental framework to support the acquisition and preservation of national historic sites would not take shape until the early 20th century.
Virginia followed suit and declined to intervene.
While Washington held out hope for a governmental lifeline, help arrived from an unexpected source: Ann Pamela Cunningham, a 37-year-old South Carolinian who suffered chronic pain from a horseback-riding accident during her youth. Her mother, Louisa, regularly shuttled by steamer from the family home in the Palmetto State to Philadelphia, where Cunningham received medical treatments. On one trip in 1853, as the steamboat passed by Mount Vernon, Louisa noted the dilapidated condition of the home. She wrote to her daughter with an idea that organized women could salvage Mount Vernon.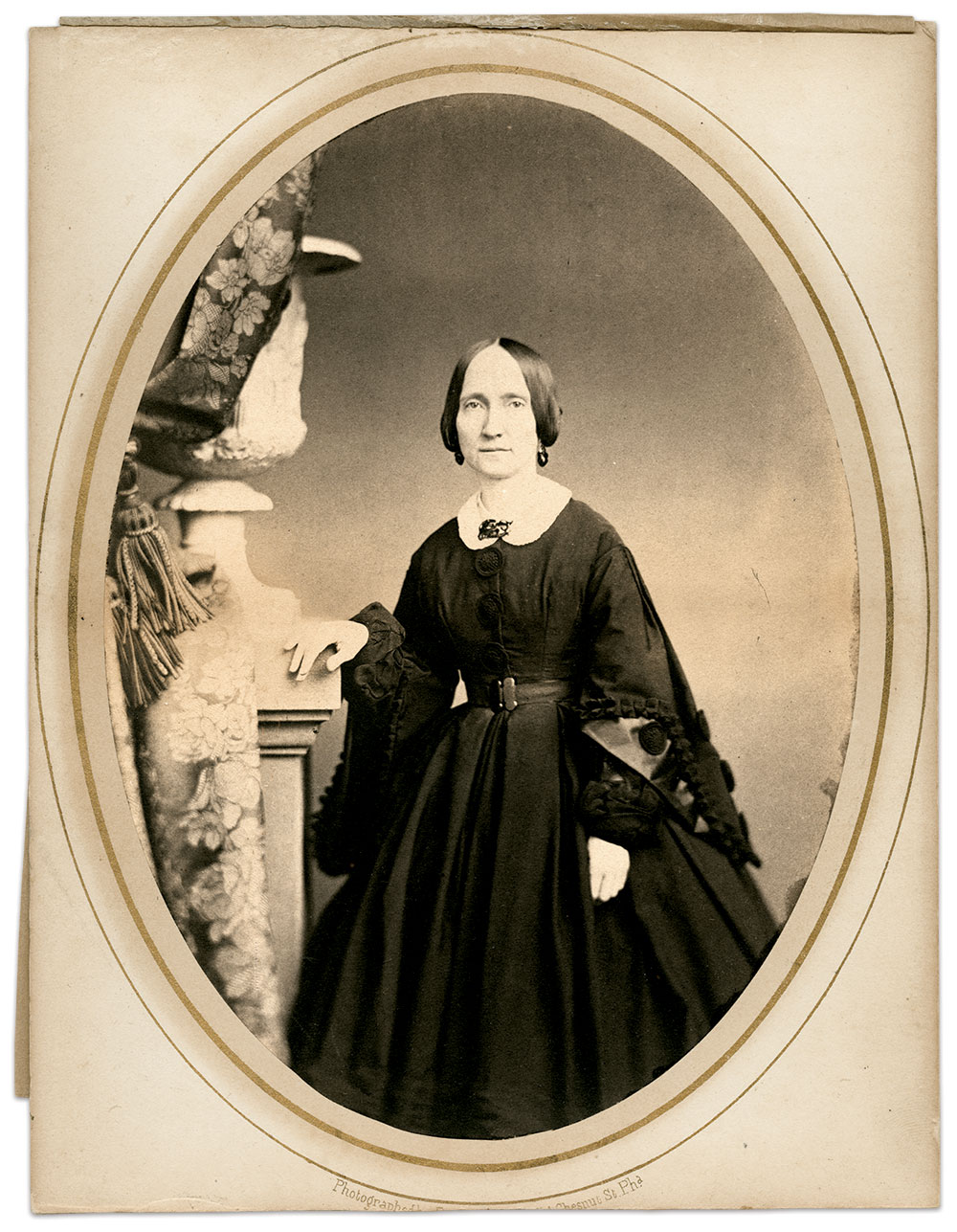 Cunningham followed up on her mother's suggestion. On Dec. 2, 1853, her call to action, signed "The Southern Matron," appeared in The Charleston Mercury. "Ladies of the South, can you be still, with closed souls and purses, while the world cries 'Shame upon America,' and suffer Mount Vernon, with all its sacred associations, to become, as is spoken of and probable, the seat of manufacturers and manufactories, noise and smoke, and the 'busy hum of men,' destroying all sanctity and repose around the tomb of your own 'world's wonder?' Oh, it cannot be possible!"
"Ladies of the South, can you be still, with closed souls and purses, while the world cries 'Shame upon America.'"
Cunningham's appeal, aimed at strong Southern women and capitalizing on fear of the Northern industrial juggernaut, worked. Her message ignited passions and launched a movement. Overcoming Washington's initial skepticism and working with the Virginia legislature, Cunningham and her supporters secured a state-approved charter for the Mount Vernon Ladies' Association of the Union (MVLA) and set about fundraising. In March 1858, Virginia's House of Delegates authorized the purchase of Mount Vernon with 106 yeas and two nays, and the Senate unanimously approved the bill. A month later, Cunningham, as MVLA Regent, assisted by vice regents and lawyers, met with Washington in Richmond and sealed the deal. They agreed to a $200,000 sale price with a downpayment of $18,000 and four years to pay the balance.
Cunningham and the MVLA continued to raise funds, attracting at least one major donor. Statesman Edward Everett contributed $10,000 to the cause in 1858. He wrote of the first President, "Washington was the greatest of good men and the best of great men. (Everett would be forever associated with another president at the dedication ceremony of the Soldiers' National Cemetery at Gettysburg.)
The sale of Mount Vernon relieved Washington of a heavy burden that would most likely have ended with the loss of the home and financial ruin. Washington also achieved his higher aim to preserve Mount Vernon for Americans to pay tribute to his great-granduncle.
Publicly, commentators heaped praise and scorn on the last Washington to own Mount Vernon. Some pointed to his dignified character for negotiating a positive outcome for the estate. Others never forgave his early efforts to commercialize Mount Vernon, branding him "The speculator in the bones of 'the Father of his Country.'"
Waveland and war
In the summer of 1859, as deepening political and ideological divisions pushed America to the brink of war, teams of workers at Mount Vernon repaired outbuildings, stabilized the main house, and rediscovered and restored lost paths on the grounds.
Fifty miles west in Fauquier County, Va., renovations were underway on another stately home: Waveland, a Greek-revival mansion built two decades earlier. Funds to improve it came from the new owner, Washington. Flush with cash from the Mount Vernon sale, he had purchased this prime real estate the previous year. Washington also expanded his generational holding of enslaved persons from 29 souls in 1850 to 63 men, women and children in 1860.
Washington looked forward to a new chapter in life, free of the worries of his ancestral home.
Then tragedy struck. On Oct. 9, 1860, his wife, Eleanor Love "Nelly" Washington, died in childbirth. She was 38. Her passing left Washington a widower with seven children between the ages of one and 16.
Nelly would never know the turmoil that soon engulfed the country. The election of 1860. Secession. Fort Sumter..
Washington did not wait for Virginia to secede before casting his lot with the Confederacy, leaving Waveland on April 30, 1861, to join the army. On May 13, 1861, General Orders No. 15 from the headquarters of the Provisional Army of Virginia announced Washington's appointment as a lieutenant colonel and aide de camp on Lee's staff. Washington was one of two assistants. The other, 22-year-old Lt. Walter Herron Taylor, described Washington as a "pious Christian and gallant gentleman."
Northern newspaper editorials skewered Washington after news of his Confederate army appointment went public. They already despised him as the original speculator in the bones of Washington. The New-York Tribune opined that he "will probably attempt to steal back Mount Vernon, including the tomb and remains of Washington." When a false rumor spread that Washington had stolen the remains of the first President, The Morning Democrat in Davenport, Iowa, proclaimed, "If it be true the American people will not be apt to rest long until summary vengeance having been visited upon his dastardly carcass. The blood of this country cannot, will not, shall not stand anything of that character. Let him beware."
Another writer attacked the MVLA's Cunningham as a swindler and secession spy. "She carries a warrior's heart in her bosom, and is doubtless as ready to see this conflict go on as Beauregard and Davis," announced The Press of Philadelphia, referencing one of the Confederacy's most prominent generals and its president.
By contrast, the Richmond Dispatch praised the newly-minted aide for standing up "to preserve to us that liberty secured to the whole country by the efforts of his distinguished relative." The symbolism of a descendant of George Washington serving as a Confederate army staff officer could not have been lost on Lee, other senior leaders, and the public. It is easy to imagine that some saw it as an omen of ultimate success of the Southern war for independence, a second American Revolution.
"I don't know when I shall leave this region, or indeed whether I ever shall do so, as of course my chances are the same as those of other men, and I know that some of us will never get away."
Washington's first months in uniform were relatively easy as Lee remained in Richmond as an advisor to President Davis. Duties included a tour and evaluation of the defenses of Norfolk and an inspection of Gen. Joseph E. Johnston's Army of the Potomac, later known as the Army of Northern Virginia.
At the end of July, following Johnston's momentous victory at Manassas, Lee departed Richmond, accompanied by Washington and Taylor, for western Virginia. Lee, on his first field assignment of the war, had orders to protect railroads, recapture lost territory, and quell the growing movement towards statehood.
On Sept. 6, 1861, Washington wrote to a friend, "I don't know when I shall leave this region, or indeed whether I ever shall do so, as of course my chances are the same as those of other men, and I know that some of us will never get away."
Less than a week later, on September 12, Union forces on Cheat Mountain and Elkwater turned back Lee's two-pronged advance. The next day, Washington, Rooney Lee, and two others rode off in the direction of Elkwater to reconnoiter the enemy's right flank.
A reconstruction of eyewitness accounts, reports by newspaper correspondents and postwar recollections—some conflicting— reveals a probable scenario of what happened as the foursome navigated the mountainous terrain.
At Elkwater, Hoosier pickets end the reconnaissance
The Union army breathed a collective sigh of relief after its initial repulse of the enemy at Cheat Mountain. Still, everyone remained on high alert for the Confederate's next move. Union soldiers on picket in advance of the frontline kept a watchful eye for enemy activity. When a report circulated that Lee prepared for another attack with his full force on September 13, Union commanders moved quickly to strengthen the picket posts.
Reinforcements included the 17th Indiana Infantry's Company E, composed of volunteers primarily from Columbia City in the northeastern section of the state. The captain of Company E, Columbia City photographer George William Stough, promptly marched his men out of camp and joined the rest of the picket line.
While they waited, a fresh report came in that a body of cavalry rapidly approached down Brady's Gate Road, a narrow mountain pass. Captain Stough and Company E went off to investigate. The company marched about a mile along a stretch of valley when Stough detached an advance guard of ten men commanded by Sgt. John Jacob Weiler to follow along a mountain slope to better survey the area while he and the rest of the company followed in support.
Sergeant Weiler and his detachment advanced a short distance from the main body of Company E when they encountered a party of men on horseback, three of them riding in advance and rounding the point of a mountain spur—no more than 35 or 40 yards away. Weiler and his men paused for a moment to determine whether they were friend or foe as the gray uniforms were similar to those worn by a brother regiment, the 6th Ohio Infantry. In an instant, they realized these men were rebels, not Buckeyes.
By this time the Confederates, two officers and two troopers, unaware of danger, closed to within about 20 yards. As they wheeled their mounts to make a hard right turn along the trail, Weiler and two of his men, Corp. William Letchworth Birney and Pvt. William F. Johnson, armed with Springfield smoothbores or Enfield rifle muskets, took aim and squeezed the triggers.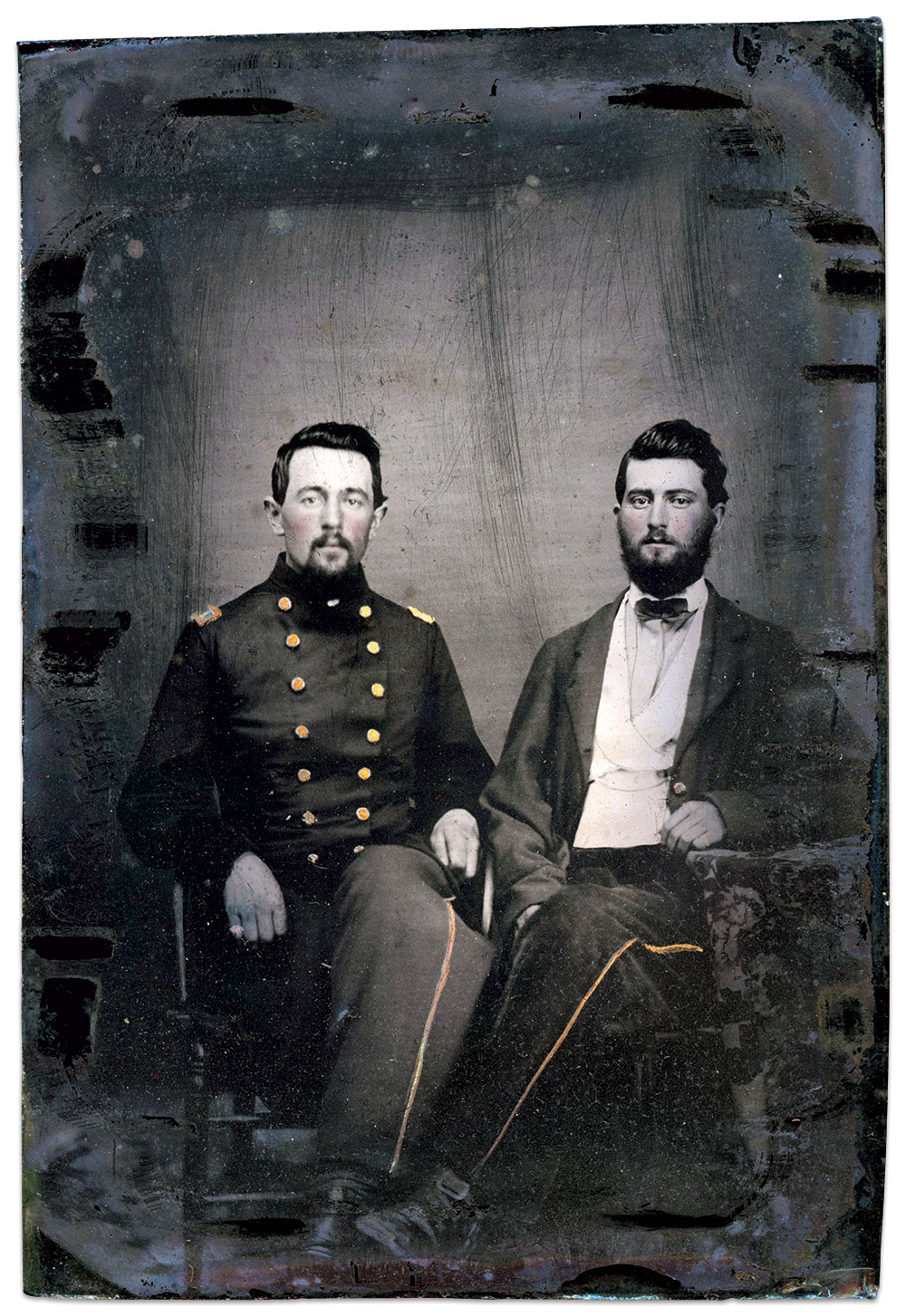 The volley of leaden missiles struck with deadly accuracy. Bullets tore completely through the upper body of one Confederate officer, toppling him from his saddle. One or more of the same bullets struck the horse of a second Confederate officer. The animal buckled and collapsed and its rider crashed to the ground. A moment later, the second officer sprang up, jumped on the uninjured horse of the first officer, and fled with the other uninjured men.
Orderly Sergeant Cyrus J. Ward responded to the sound of bullets and dashed over to the desperately wounded officer. Others joined him. They found the man gasping for breadth, raised upon one hand and attempting to draw his revolver in the other.
Any efforts by him to resist capture proved futile as his life was quickly slipping away.
Ward and others carried the officer back to the main body of Company E, unfolded a stretcher and placed him on it for the journey back to the camp at Elkwater.
The dying officer called for water at some point. One account notes that a soldier opened his canteen and offered a drink, but the man died before the vessel touched his lips. Another account states that a soldier ran to a nearby creek to fetch water, but did not return in time.
Company E returned to camp with the corpse and sent word to its commanding colonel, West Point educated Milo Smith Hascall, that they had killed a rebel field officer. Hascall and a few others soon arrived and inspected the body. They easily discovered the man's identity, for his name had been written on his gauntlets, a handkerchief, a napkin, and haversack.
John Augustine Washington III was no more.
Recovery and return
of his remains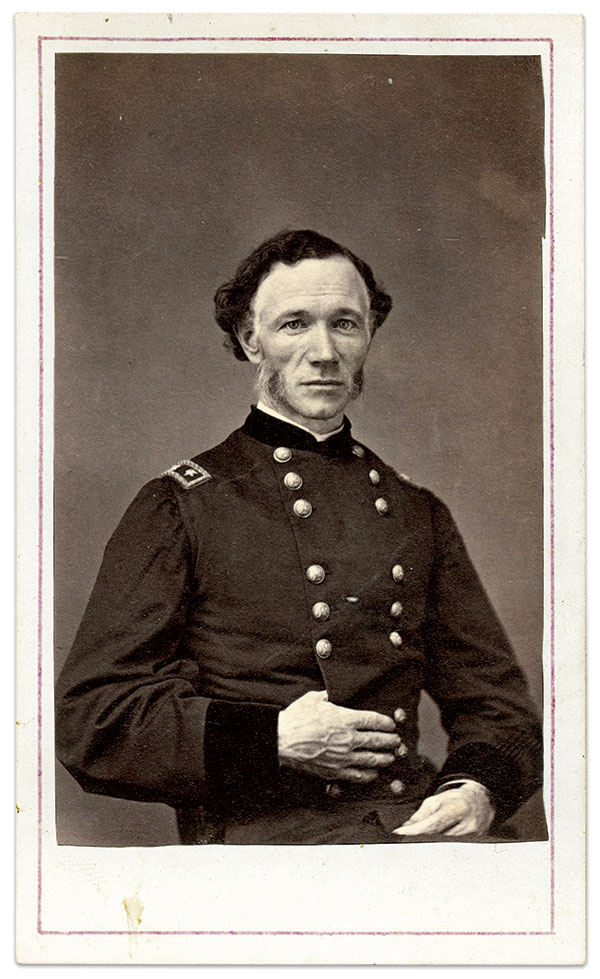 Word that Hoosier pickets killed Washington spread rapidly through the ranks and up the chain of the command to Brig. Gen. Joseph Jones Reynolds. A West Pointer who graduated in the same class as Ulysses S. Grant, his 10th Indiana Infantry had played a key role in the defeat of Lee the previous day. Reynolds ordered the body be transported to the camp hospital. One of his staffers, Quartermaster Capt. John Levering, recalled that minutes later an ambulance bearing the body, accompanied by 200 or more soldiers, arrived in front of the hospital. The ambulance rolled silently on to the grounds as the men remained behind.
Attendants removed Washington from the ambulance on a litter and carried it into the hospital for inspection. Someone, likely a surgeon, unbuttoned Washington's bloodstained coat and rifled through his clothes and haversack. Levering described what they found:
"A fine specimen of a man, perhaps thirty-five to forty years old, five feet ten inches in height, clear skin, fine features, with raven hair, whiskers and mustache. Three balls had struck him fair in the back, and within a few inches of each other, passing clear through, coming out at his breast. He had a splendid pair of pistols, a heavy knife, a fine opera glass in leather case, an old fashioned gold watch, with heavy gold chain, fine spurs, &c., about $80 in gold and three-quarters of a dollar in silver, a map of the country below us, with farms, their locations, &c., a letter, through one end of which, a ball had passed. We gave back the private property, keeping as contraband the pistols, knife, glass, map, and small powder flask."
The following day, September 14, a small group of Confederates bearing a flag of truce approached a Union outpost and shared a message from a distraught Lee addressed to Brig. Gen. Reynolds. Lee requested a report of Washington's condition, if alive and a prisoner, or, if dead, to return his body.
Messengers conveyed the request to the hospital, where attendants loaded Washington's corpse into an ambulance. Weiler drove it with a guard under a flag of truce led by Col. Hascall to the outpost.
Hascall greeted the ranking Confederate officer on the scene, Lt. Col. William Edwin Starke. A native of Virginia without a formal military education, he had become a prosperous cotton broker in Alabama and Louisiana. Starke impressed Gen. Lee in recent months and gained his friendship and respect. Another officer accompanied Starke: Rooney Lee.
Starke shared the letter and Hascall reported Washington's fate. "Starke was very deeply affected, and for some moments was unable to speak at all," reported a correspondent for a Cincinnati newspaper, who added, "He finally said, 'Col. Washington's temerity killed him; he was advised not to go where he did, but was on his first expedition and extremely anxious to distinguish himself.'" Starke's words indicates his awareness of Gen. Lee's concerns.
Levering noted—with far less tact—how Starke was made aware of Washington's death: "Our ambulance carried the report to them," adding, "Thus has gone the name of Washington; the last inheritor, a traitor to the Government, the great 'Father of his Country' labored to construct; in open rebellion against it; dodging the valiant men who are endeavoring to perpetuate it, he is shot in the back. 'Tis a text for a volume."
Hascall and Starke shook hands and parted ways.
There is no evidence that Starke and Lee visited the scene of Washington's death. If they had, the officers would have found a carving on a large, smooth-barked beech: "Under this tree, on the 13th of Sept. 1861, fell Col. John A. Washington, the degenerate descendant of the Father of his Country."
Vile traitor, blessed martyr
Rumors of Washington's killing were reported in late editions of newspapers the same day he met his end. Confirmation of his death soon followed, fueling a tidal wave of reactions.
Correspondents in the Northern press who had recently pilloried Washington for selling his ancestral home and turning traitor to the Constitution celebrated his demise without mercy.
One Ohio newspaper noted, "The miserable creature who had been speculating in the bones of his illustrious [great-grand] uncle, whose name he was unworthy to bear, in all probability has met his just deserts. He was a miserly, mean man, and well designed in every respect to oppose and destroy the heritage which the great Washington labored so hard to secure."
A Wisconsin newspaper stated, "John A. Washington was a disgrace to Virginia, and dying, his death disgraced her sacred soil. Of him can it be said that he died unwept, unhonored and unhung. My wish is that the memory of the great immortal Washington will not be insulted by laying the bones of the wretched namesake upon any portion of Mt. Vernon. The distance between the burial places should be continents. He deserves no resting place in the United States, save it be at Charleston, South Carolina."
The Indiana Journal boasted, "John A. Washington disgraced the name he bore, and we are proud that Indiana has the honor of sending to the battle-field a soldier that killed so vile a traitor. The soldier who performed the deed should have 'honorable mention' on the historic page of the Hoosier State."
The Southern press held out hope that Washington was alive until his remains arrived on a train in the Confederate capital on September 19. The Richmond Dispatch portrayed Washington's reconnaissance as a daring ride within short distance of the enemy invaders of his home state, observing: "He has fallen a blessed martyr in the just and sacred cause of his country, and a grateful people will enroll high his name among those who have fallen in defense of the dearest rights."
Lee expressed his profound sorrow and grief to a friend on September 14, the same day he received Washington's remains: "The Country has met with a great loss in his death. Our enemies have stamped their attack upon our rights with additional infamy by killing the lineal descendant and representative of him who under the guidance of Almighty God established them and by his virtues rendered our republic immortal."
Two days later, Lee informed Washington's eldest daughter, Louisa, who had so recently lost her mother, of her father's death. "My intimate association with him for some months has more fully disclosed to me his great worth than double so many years of ordinary intercourse would have been sufficient to reveal. We have shared the same tent, and morning and evening has his earnest devotion to Almighty God elicited my grateful admiration. He is now safely in heaven, I trust, with her he so loved on earth. We ought not to wish him back."
Epilogue
Brigadier General Reynolds took custody of items found on Washington's body deemed contraband. He distributed them as war trophies to Weiler, Birney, and Johnson. Reynolds held back one revolver, which he sent to Secretary of War Simon Cameron in Washington, D.C. Cameron replied, "I shall always prize it as a memorable relic of the present glorious struggle for freedom and the Union."
Cameron confirmed Reynolds disposition of the other items, "To the brave Sergeant Weiler, of the Seventeenth Indiana Regiment, who enjoys the honor of having made this notorious rebel leader bite the dust, you will, in the name of the War Department, present the other revolver and articles found upon the traitor's person and retained in your care."
Sergeant Weiler advanced through the ranks to major of the 17th, which traded its Springfields and Enfields for Spencer repeating rifles as part of a conversion to mounted infantry. The regiment became part of Col. John T. Wilder's famed "Lightning Brigade" and distinguished itself in the war's Western Theater. Weiler participated in more than 60 engagements, including a skirmish at Sims Farm, Tenn., on Oct. 7, 1863, in which he suffered wounds in the arm and shoulder. He survived the war. Upon his death in 1919 at age 80, he still possessed the Washington relics. They were among his most treasured possessions.
The other two Company E men with Weiler on the fateful day in 1861 had different fates.
Corporal Birney joined Weiler as an officer, ranking as a first lieutenant at the war's end. He became a physician known affectionately as "Doc" and settled in Missouri. In 1888, he challenged Weiler's account of the shooting of Washington in a letter published in the popular veteran's newspaper, The National Tribune. A fellow officer replied in Weiler's defense. Birney died in 1911 at age 76.
Private William F. Johnson did not survive the war. He lost his life on Oct. 7, 1863, in the Union victory at the Battle of Farmington, Tenn., the culminating engagement of Confederate Maj. Gen. Joe Wheeler's raid into Tennessee to disrupt enemy supply lines for besieged federals in Chattanooga. Johnson was about 19 years old.
Captain Stough outlived Johnson by three weeks. Wounded and captured at the Battle of Chickamauga while serving as major of the 88th Indiana Infantry, Confederates transported him to Libby Prison where he succumbed to his injury on October 28 at age 37. He left behind a wife and three children.
Six months after Washington's death, Col. Hascall received his brigadier's star and went on to command at the brigade and division levels with the armies of the Cumberland and Ohio. He resigned his commission in the fall of 1864 and became a banker and real estate agent. He died in 1904 at age 64.
Reynolds added a second star to his shoulder straps and led a division before advancing to commander of the 19th and 7th Corps. Following the war he remainded in the regular army as colonel of the 3rd U.S. Cavalry. His military career ended in 1876 after a court-martial found him guilty of charges connected to a failed campaign that culminated in the Battle of Powder River. Reynolds died in 1899 at age 77. His remains rest in Arlington National Cemetery.
General Lee did not order a second advance on Union forces at Cheat Mountain following the reconnaissance at Elkwater. Some suggest the death of Washington influenced his decision not to continue. Instead, Lee set his sights on taking the offensive into the Kanawha Valley of western Virginia, but President Davis recalled him to Richmond on October 30. Dispatched to the Department of South Carolina, Georgia and Florida, he oversaw the development of defenses. Lee returned to field duty in June 1862 to replace Gen. Joseph E. Johnston after he suffered a wound at the Peninsula Campaign Battle of Seven Pines. Lee led the Army of Northern Virginia through the surrender at Appomattox. With him at the end was his trusted aide, Walter H. Taylor (1838-1916). His 1877 book, Four Years with General Lee, documented his wartime experience.
Major Rooney Lee's brush with death at Elkwater was the first of many close encounters with the enemy. In early 1862 he received an assignment to the command of Maj. Gen. J.E.B. Stuart and distinguished himself on the Virginia Peninsula and other campaigns with the Army of Northern Virginia. He ended the war as a major general in command of a cavalry division, and surrendered with his father at Appomattox. He died in 1891 at age 54.
After meeting the truce party bearing Washington's remains, Lt. Col. Starke returned to his duties and before the end of the year became colonel of the 60th Virginia Infantry. He advanced to brigadier general and brigade command following the Peninsula Campaign, during which he suffered a minor wound. A few months later at the Battle of Antietam, Starke became one of six Confederate generals killed. He was about 48.
In death, Washington proved a lightning rod for criticism in a warring country where both sides claimed his great-granduncle as a founding father. He left a legacy to his seven children, all of whom lived to adulthood, of not facing the financial liability and burden of Mount Vernon. Under the management of Regent Ann Pamela Cunningham, the MVLA cared for the home, tomb and grounds until poor health caused her to relinquish her duties. She died in 1875 at age 58. The MVLA continues its preservation mission today—more than 170 years after Cunningham's appeal to the ladies of the South.
Special thanks to Contributing Editor Phil Spaugy for his research assistance and invaluable insights, and to two members of The George Washington Library for their help: Dawn Bonner, Manager of Visual Resources, and Dana Stefanelli, Director of Special Collections.
References: Hoover, Sallie Wellford Scott. "Col. John Augustine Washington, C.S.A." Confederate Veteran (March 1926); Robert E. Lee to Edward C. Turner, Sept. 14, 1861, The George Washington Presidential Library at Mount Vernon; Costello, Matthew Ryan. "'The Property of the Nation': Democracy and the Memory of George Washington, 1799-1865." Marquette University Dissertations (2009); Open letter by Benjamin Silliman describing the "Disinterment of the remains of Washington," Dec. 8, 1863, The George Washington Presidential Library at Mount Vernon; Wilstach, Mount Vernon: Washington's Home and the Nation's Shrine; The Sun, Baltimore, Md., July 1, 1843; The Charleston Mercury, Dec. 2, 1853; Egner, Kate. "Ann Pamela Cunningham." Washington Library Center for Digital History (mountvernon.org/library/digitalhistory/digital-encyclopedia/article/ann-pamela-cunningham); Daily American Organ, Washington, D.C., March 19, 1856; 1850, 1860 U.S. Census Slave Schedules; Richmond Enquirer, May 17, 1861; The Morning Democrat, Davenport, Iowa, May 16, 1861; Chicago Tribune, June 29, 1861; Taylor, Four Years with General Lee; Washington, John A. "John Augustine Washington, III at al." Jefferson County Historical Society Magazine (2007); Keifer, The Battle of Rich Mountain and Some Incidents; Souvenir of the Seventeenth Indiana Regiment; Freeman, R.E. Lee: A Biography; The Salem Advocate, Salem, Ill., Oct. 3, 1861; Copy of eulogy of Col. John Augustine Washington III from the Richmond Dispatch, undated, The George Washington Presidential Library at Mount Vernon; Robert E. Lee to Edward C. Turner, Sept. 14, 1861, The George Washington Presidential Library at Mount Vernon; The Californian, Salinas, Calif., Oct. 8, 1919; Lang, Loyal West Virginia from 1861 to 1865; The National Tribune, Washington, D.C., Nov. 10, 1887, and July 23, 1891.
Ronald S. Coddington is Editor and Publisher of MI.
SPREAD THE WORD: We encourage you to share this story on social media and elsewhere to educate and raise awareness. If you wish to use any image on this page for another purpose, please request permission.
LEARN MORE about Military Images, America's only magazine dedicated to showcasing, interpreting and preserving Civil War portrait photography.
VISIT OUR STORE to subscribe, renew a subscription, and more.