By Mark Elrod
Two brothers from New York City are armed with Harpers Ferry Model 1855 Rifles and attired in full marching-order military accouterments in the distinct military uniforms of their regiments. Sergeant Charles Gustavus Smedberg, left, is dressed in the uniform of the 7th New York National Guard, popularly known as the Silk Stocking Regiment. Standing next to him is his brother, William Renwick Smedberg of the National Rifles, a pre-war District of Columbia Militia unit, and part of its 3rd Infantry Battalion.
William left the National Rifles when the government disbanded it in June 1861 for suspected disloyalty to the Union, as many of its membership had departed for the South. Shortly thereafter, William, a clerk in the capital, enlisted in the regular army and obtained a first lieutenant's commission in Company F of the 14th U.S. Infantry. He went on to serve throughout the war, breveted major for gallantry at Gettysburg and lieutenant colonel for The Wilderness Campaign. He continued his regular army service and left the army in 1870.
Charles returned to New York with the 7th after its 30-day federal activation ended. In May 1862, he joined Company H of his brother's regiment. He received a second lieutenant's commission on June 1, 1862, and died exactly a year later from disease.
The U.S. Model 1855 Harpers Ferry Rifles are the earlier brass-mounted versions fabricated at Harpers Ferry between 1857 and 1858 with the high-wall adjustable ramp-and-ladder rear sights. William wears a U.S. 1855 Rifleman belt. Based on information found on government Orders for Supplies (OFS) No. 591 dated Dec. 30, 1859, 75 of these rifles were requisitioned and sent from Harpers Ferry to the Columbiana Arsenal in Washington for issuance to the D.C. Militia.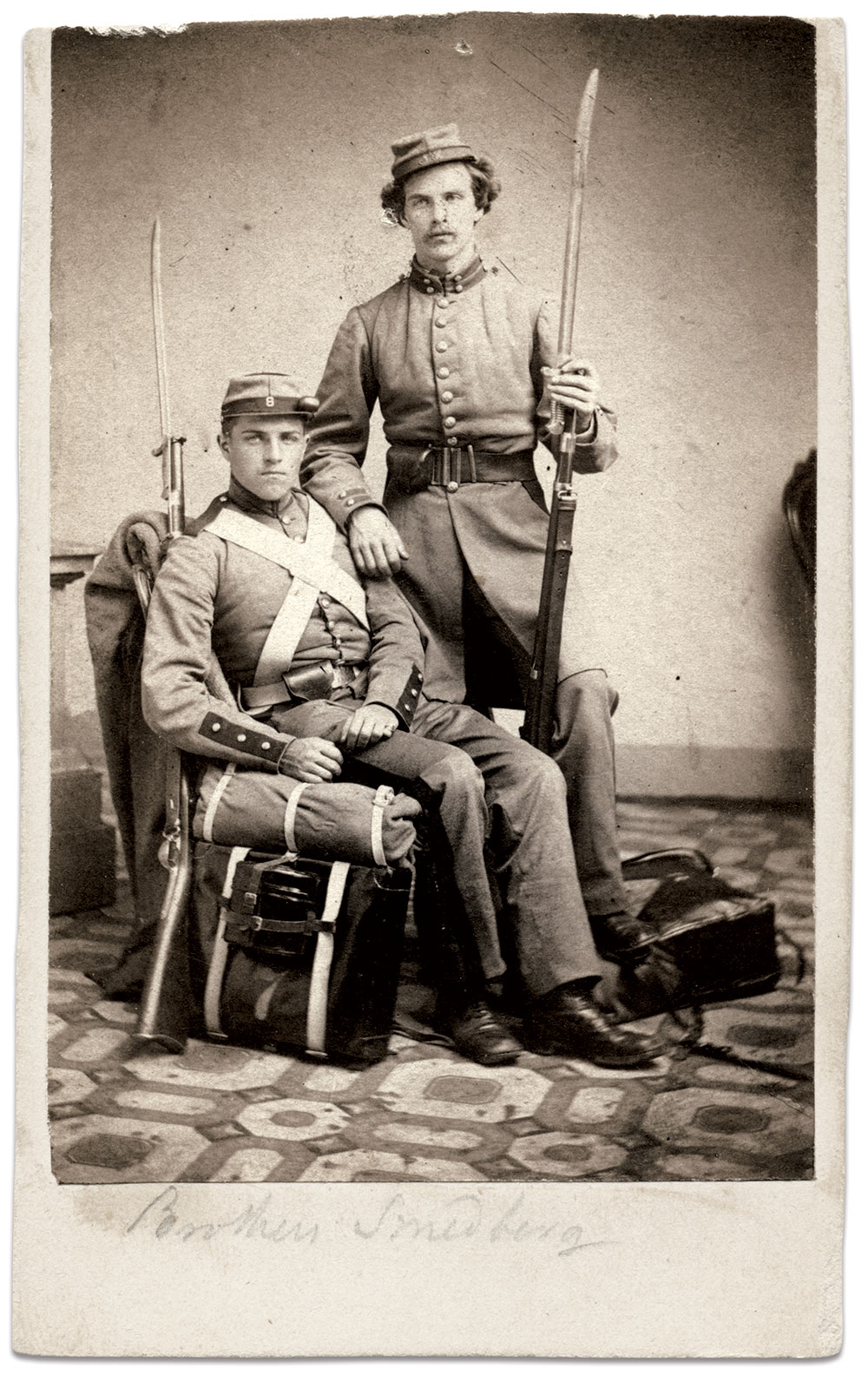 The specific OFS for these weapons states that they were equipped with "globe detachable front sights," which denotes them as of the early brass mounted weapons with the high wall ramp and ladder long-range rear sights. This detail suggests that William's rifle is probably one of the early of this kind received in the OFS, as opposed to one of the latter all iron mounted types received by D.C. Militia units from the second OFS issued in February 1861.
Both OFS (January 1860 for 75 rifles and February 1861 for 500 rifles) were forwarded from Harpers Ferry through the Washington Arsenal to the Columbiana Armory and its superintendent, Samuel Byington (the grounds on which the armory and arsenal were located are today's Fort Lesley J. McNair).
Following the disbandment of the National Rifles in June 1861, William and his comrades turned in their rifles, which were eventually re-issued to the 39th New York Infantry, also known as the Garibaldi Guard.
Mark Elrod, a retired U.S. Army master sergeant and Vietnam combat veteran, served in the prestigious U.S. Marine Band ("The President's Own"). An historian and authority on military bands, instruments and martial music, he collects instruments and early to mid-19th century American military firearms.
SPREAD THE WORD: We encourage you to share this story on social media and elsewhere to educate and raise awareness. If you wish to use any image on this page for another purpose, please request permission.
LEARN MORE about Military Images, America's only magazine dedicated to showcasing, interpreting and preserving Civil War portrait photography.
VISIT OUR STORE to subscribe, renew a subscription, and more.