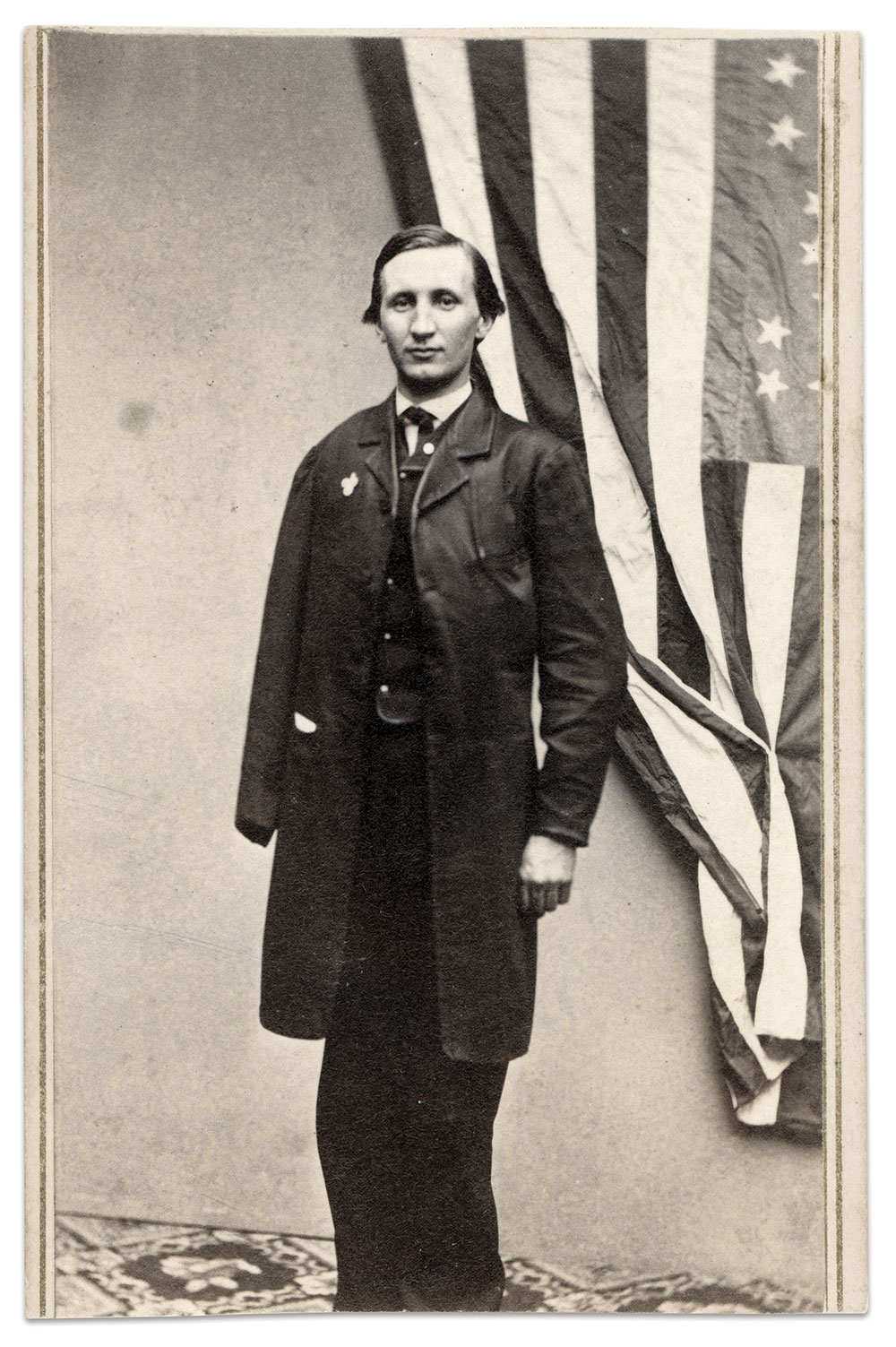 Sergeant William Augustus MacNulty, a native of Maine who served in Company A of the 10th New York Infantry, suffered a devastating wound at the Battle of Fredericksburg. A Massachusetts newspaper noted that he "fought in every battle with the army of the Potomac until December 13th, 1862, when his good right arm was struck from his body on the heights of Fredericksburg. We cannot fill again the empty sleeve of the gallant soldier; we can in no way make up his life-long loss, but we can prove by our acts that he has not made this great sacrifice for an unworthy or ungrateful people."
The newspaper, the Fall River Daily News, printed these words as part of an announcement of a benefit on MacNulty's behalf held on March 9, 1864. This portrait was made during his visit to the town. He wears a civilian frock coat with a badge attached to the chest and a military vest to which is pinned what may be an identification disc or other medallion. His pose, in front of the Stars and Stripes, speaks to his patriotism.
MacNulty's benefit was combined with another event described by the Daily News as "a series of illustrated lectures with the aid of the Stereophan, an instrument imported from England." The report continues: "By the aid of this instrument, stereographs or photographs from nature or art, two to three inches in diameter, are magnified as to present a surface of 600 square feet, and so brilliantly illuminated as to bring objects scarcely notable on the smaller photograph out in bold relief."
In the latter 19th century, lantern slides performed a similar function, as did motion pictures on the big screen in the early 20th century.
The show watched by MacNulty and Fall River citizens featured a number of scenes from around the world, including Europe, Greece, Turkey, Java, Egypt and the Holy Land, the new moon, statuary, and three Civil War views: the ironclad New Ironsides, Antietam's Burnside Bridge and burying the dead at Antietam.
In 1865, MacNulty married Abigail Prout Wiggin and started a family that grew to include six children. He went to work in Washington, D.C., at the Post Office Department's chief inspector's office, and died in 1920 at age 84. His remains rest in Arlington National Cemetery.
Most Hallowed Ground is part of the Arlington National Cemetery (ANC) Project. Established by Jim Quinlan of The Excelsior Brigade, its mission is to identify all Civil War veterans on the grounds.
For more information, contact Jim at 703-307-0344.
SPREAD THE WORD: We encourage you to share this story on social media and elsewhere to educate and raise awareness. If you wish to use any image on this page for another purpose, please request permission.
LEARN MORE about Military Images, America's only magazine dedicated to showcasing, interpreting and preserving Civil War portrait photography.
VISIT OUR STORE to subscribe, renew a subscription, and more.