On July 23, 1861, two days after the Battle of Bull Run, Lt. Col. Frank Wheaton wrote the official report of his 2nd Rhode Island Infantry. He lamented the loss of his colonel, John S. Slocum, and major, Sullivan Ballou. Wheaton ended by thanking overall Union army commander, Brig. Gen. Irvin McDowell, "for having assigned us the advance on our way to meet the enemy and the lead in the fight and the rear in the retreat."
This line is characteristic of Wheaton's tireless warrior spirit. An 1867 biographical sketch summarized his service: "Few officers were so continually in the field as General Wheaton. He commanded either a regiment, brigade or division, in every battle in which the army of the Potomac was engaged after its organization, from the first battle of Bull Run in 1861, to the surrender of Lee's rebel army in 1865." He participated in 41 engagements and had but seven days at home in Rhode Island.
Active with the sword rather than the pen, it fell to others to record the facts of his life. Born in Providence in 1833, he dropped out of Brown University and joined a western boundary survey team. In 1855, he accepted a first lieutenant's commission in the 1st U.S. Cavalry. In July 1861 he became lieutenant colonel of the 2nd Rhode Island and advanced to colonel following the deaths of Slocum and Ballou. Wheaton received several brevets, including one for Fort Stevens, part of the Defenses of Washington, where, in July 1864, he ordered the advance that prompted Confederate Lt. Gen. Jubal Early to withdraw his corps.
Wheaton returned to the regular army after the war, serving on the Western frontier until his retirement in 1897 as a major general. One admirer declared that Wheaton "has smelled burnt powder and heard the whistle of about as many bullets as any man in the regular army."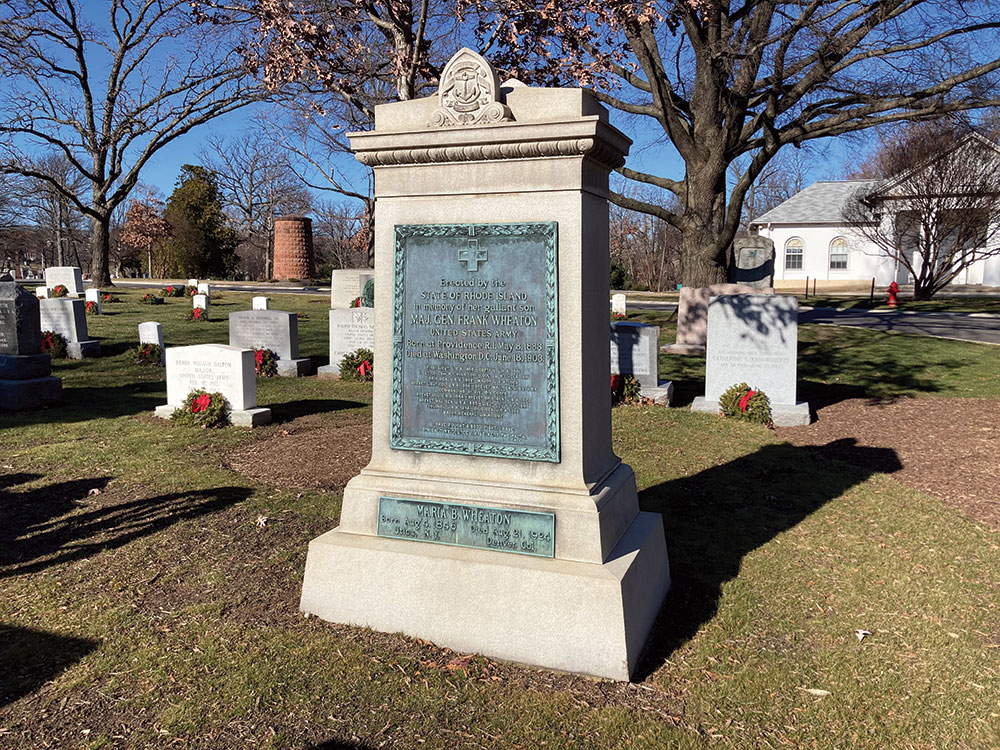 Wheaton died in 1903 of a brain hemorrhage at age 70. He outlived all six of his children and two wives with Virginia connections: Sarah, the daughter of Confederate Gen. Samuel Cooper, and Emma, who descended from founding father George Mason. Wheaton's third wife, Maria, survived him. She joined him at Arlington following her passing in 1924.
Most Hallowed Ground is part of the Arlington National Cemetery (ANC) Project. Established by Jim Quinlan of The Excelsior Brigade, its mission is to identify all Civil War veterans on the grounds. For more information, contact Jim at 703-307-0344.
SPREAD THE WORD: We encourage you to share this story on social media and elsewhere to educate and raise awareness. If you wish to use any image on this page for another purpose, please request permission.
LEARN MORE about Military Images, America's only magazine dedicated to showcasing, interpreting and preserving Civil War portrait photography.
VISIT OUR STORE to subscribe, renew a subscription, and more