By Henry A. Pomerantz
The Civil War ushered in an extraordinary boom for photographers. These entrepreneurial artists utilized their unique skills to capitalize on business opportunities presented by the rapid growth of military personnel. They set up operations in local towns and villages, training and winter camps, and along railroad stations and river ports. This pattern of following soldiers occurred in every Northern state.
Illinois was no exception. The local economy of every city, town, and village could support at least one photographer. In larger cities some established multiple locations, while others merged with competitors. In downtown Chicago, a "Photographer's Row" was located within a short walking distance from the main Union train station, City Hall, and local hotels. They provided convenient access for soldiers eager to have their likenesses taken and sent home to their families and loved ones.
During this period, the carte de visite became the photographic format of choice. Uncounted millions of these affordable paper prints pasted to card stock mounts documented a generation of military men. An overwhelming majority of the photographers had the name and location of their galleries imprinted on either the front or backside of the mount. It was an inexpensive means of promotional advertisement.
More than a century later, collectors rediscovered these imprints, or "back marks." The names and addresses are valuable clues in establishing the customer's identity. This information, combined with written inscriptions and a meticulous analysis of the contents, including facial features, uniforms, equipment and backdrops, is significant to photo sleuths.
In 1988, the late George F. Witham of Memphis, Tenn., published Catalogue of Civil War Photographers: A Listing of Civil War Photographers' Imprints. The catalog was the first known compilation by state. His work inspired me to submit and edit additional photographers, especially Illinoisans. This helped in producing the revised second, third and fourth (in 1994) booklets.
I have continued the project of identifying Illinois photographers and have compiled a statewide directory which currently includes more than 550 entries. The list includes 14 women, all of whom identified themselves as "Miss" or "Mrs." Representative cartes de visite produced by several of these women are showcased here.
Identified
photographers
Mrs. W.B. Andrus, Amboy

Mrs. M.A. Cutler, Dixon

Mrs. S. Durham, Prairie City

Miss Mollie Henley, Dongola

Miss Emily Labb, St. Anne

Mrs. R. Mamy, Richmond

Miss Jennie McWhirt, Prairie City

Mrs. C.J.T. Misick, Marengo

Mrs. W.A. Reed, Quincy

Mrs. Rheems, Bellevue

Mrs. Rhodes, West Rockford

Mrs. A.H. Robinson, St. Charles

Mrs. Kate Thompson, Plymouth

Mrs. S. Wiseheimer, Dongola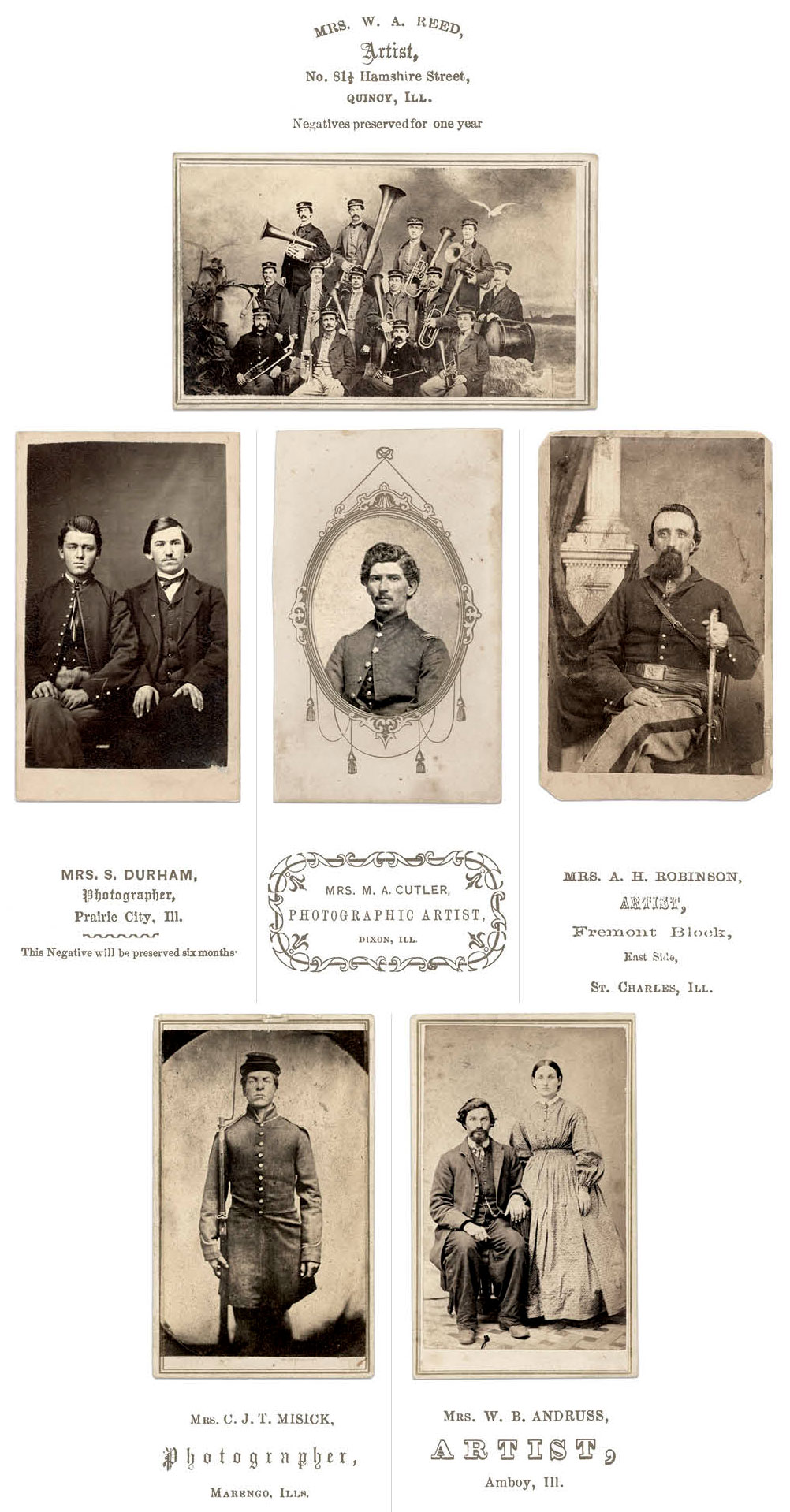 Notes:
The image by Mrs. Reed is composite of the band of the 146th Illinois Infantry. The band's principal musician, Wilbur Fisk Heath (1843-1914), sits on the left. The regiment marched in the funeral procession of the late President Lincoln in Springfield in early May 1865. Heath composed a dirge played by the band during the solemn occasion. He vowed never to perform it again, but relented in 1901 after the assassination of President William McKinley.
The subject of the portrait by Mrs. Robinson is Allen Cornelius (1831-1913), who served in the 17th Illinois Cavalry and spent most of his two-year enlistment rooting out guerrillas in the Department of Missouri.
Henry A. Pomerantz is a retired educator and longtime Illinois Civil War historian. His previous MI contributions include stories about Hugh Judson Kilpatrick and Quartermaster James L. Donaldson.
SPREAD THE WORD: We encourage you to share this story on social media and elsewhere to educate and raise awareness. If you wish to use any image on this page for another purpose, please request permission.
LEARN MORE about Military Images, America's only magazine dedicated to showcasing, interpreting and preserving Civil War portrait photography.
VISIT OUR STORE to subscribe, renew a subscription, and more.