An admirer of Eli F. Chittenden summarized his professional life as a printer and editor this way: "He was in love with the business and never was contented when not engaged in it." Judging by this collage of portraits of him, the observation was spot on.
Born in Ohio, Chittenden resided in Shelbyville, Ill, at the start of the war. He enlisted in Company B of the 14th Illinois Infantry in May 1861, and received a disability discharge in March 1863. During part of this time, Chittenden published the Skirmisher, a camp newspaper.
The portrait on the left side of this carte de visite pictures Chittenden upon his enlistment in a new uniform and equipment. The portrait on the right side is a tableau of him surrounded by the tools of his trade against a backdrop of the Stars and Stripes. His knapsack, haversack and canteen sit at the base of the printing press. Taken together, the two images tell the story of a patriotic printer-soldier.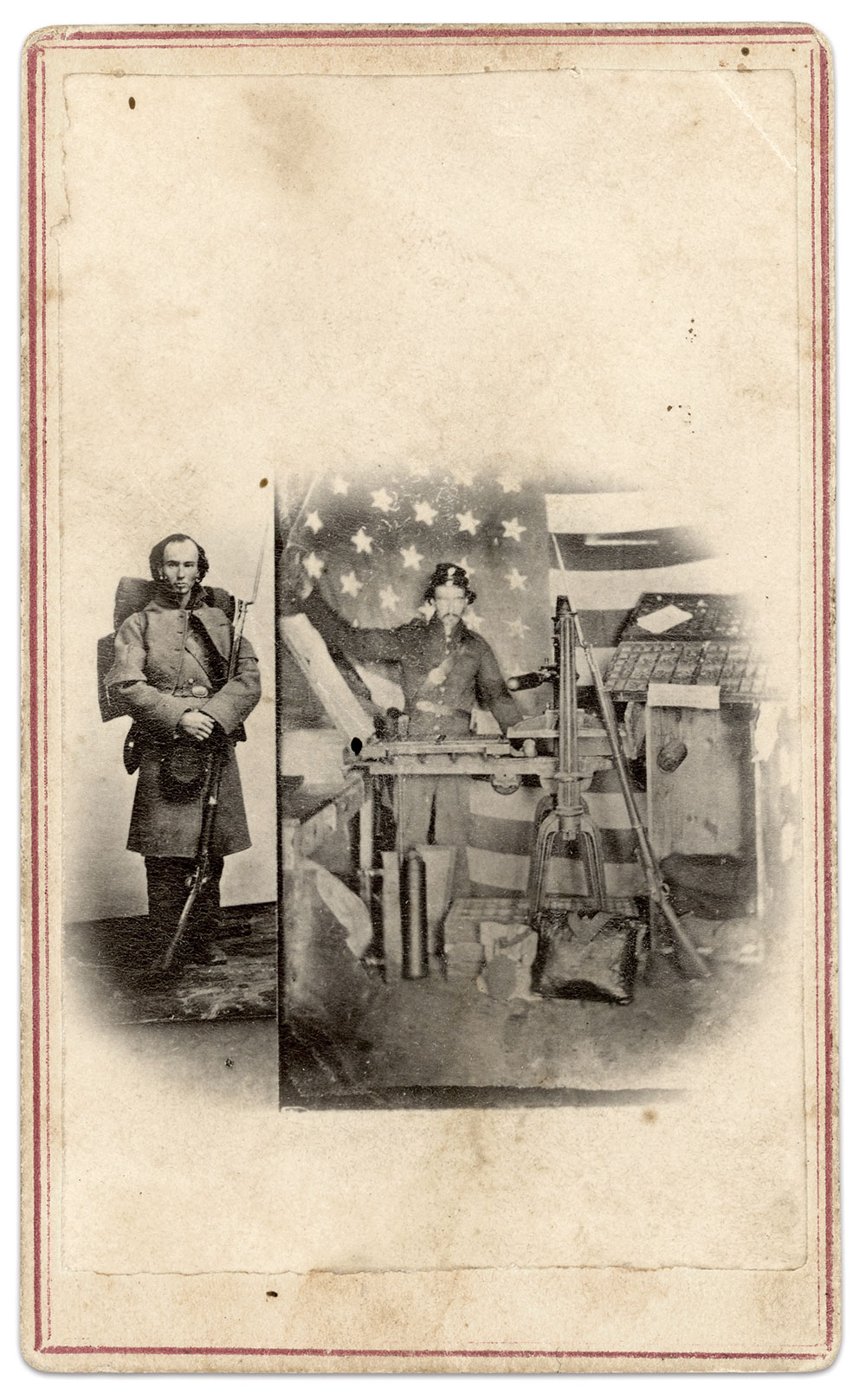 In the early 1870s, Chittenden moved to York County, Neb., where he published several newspapers. His passion for printing may have cost him his wife, who deserted him. The loss affected him deeply. "Chittenden was a tender, generous man, naturally cheerful and hopeful, and though walking in the shadows the sunshine of his character pierced the gloom and made him companionable and interesting." He died in 1912 at age 80.
SPREAD THE WORD: We encourage you to share this story on social media and elsewhere to educate and raise awareness. If you wish to use any image on this page for another purpose, please request permission.
LEARN MORE about Military Images, America's only magazine dedicated to showcasing, interpreting and preserving Civil War portrait photography.
VISIT OUR STORE to subscribe, renew a subscription, and more.