By Jeff L. Rosenheim
In the summer of 2013, The Metropolitan Museum of Art presented an omnibus exhibition Photography and the American Civil War. The show marked the 150th anniversary of the Battle of Gettysburg and featured more than 250 of the most poignant photographs from the war. Among the earliest was a small but unforgettable field portrait from 1861 of a jaunty young enlistee from the 4th Michigan Volunteer Infantry named Richard L. Cramer (fig. 1). [1] Lent to the museum by Michael J. McAfee, the recently deceased curator of history at West Point Museum, the print appears on a card mount with Mathew Brady's standard Washington studio imprint, which he had used before the start of the war. But it also features the series title "Illustrations of Camp Life."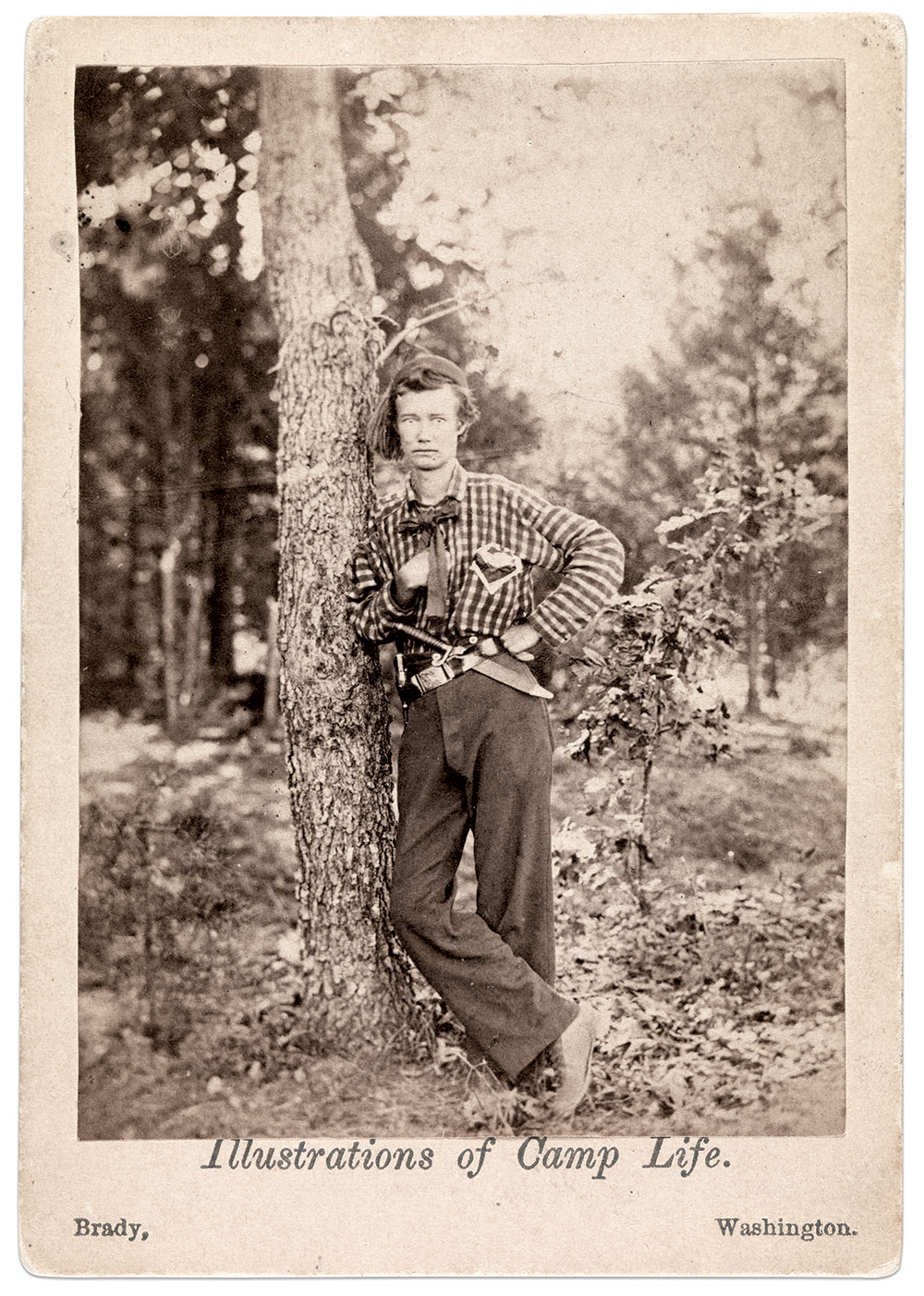 Now, almost a decade later, and in celebration of the 200th anniversary of Brady's birth (in 1822 or 1823), I offer the following thoughts on this portrait and several other exceptionally rare and often overlooked war photographs on similar "Illustrations of Camp Life" mounts.
With the support of Military Images magazine and a host of its friends and patrons, I made an informal survey between mid-December 2021 and late January 2022 of as many private and public collections as was possible in search of "Camp Life" photographs. I also pored over a vast number of Civil War publications and on-line auctions with searchable databases. It is perhaps not surprising to readers of this magazine that as of this writing I can count so few surviving examples—only 44 photographs with "Illustrations of Camp Life" imprints. The following analysis is a provisional report on this ongoing investigation.
My research began with the portrait of Richard Cramer. Astute readers of Military Images will note that this is not the first appearance of the photograph in the magazine. It graces the cover of Volume 16, Number 3 (November-December 1994). Bob Zeller also featured the portrait in The Blue and Gray in Black and White, his superb 2005 history of Civil War photography. The soldier's likeness (not the original mounted print) has also been reproduced rather poorly in many other publications courtesy of a photographic copy negative (LC-B8184-10368) made in 1961 by the Library of Congress from a previously unidentified source. [2]
From the expert analysis of McAfee, we know that Cramer mustered into service at Adrian, Mich., on June 20, 1861. He was 18 years old and one of thousands of other inexperienced enlistees who arrived in Washington in the first weeks of July 1861 to protect the seat of government and serve the nation. McAfee particularly appreciated this young patriot, who he referred to as "the quintessential raw recruit of the Civil War…[and] a symbol for a nation blundering into four years of bloody chaos." [3] In his handsome checkered battle shirt and hand-on-hip stance, the Wolverine did not likely pose for Brady, but for one of Brady's many field operatives. [4] The photograph dates from before Cramer's departure for Bull Run in mid-July 1861. The Michigan soldier paid 30 cents for his likeness—the price is inscribed on the verso—which he posed for only a few days before he and so many others first witnessed the horrors of the battlefield. One of the luckier soldiers, Cramer would serve with his regiment until Feb. 16, 1863, when he was discharged for disability. He died in Michigan in 1894.
This affecting portrait and all the others on "Camp Life" mounts are intriguing to historians and collectors of early Brady-marked Civil War photographs for many reasons: they often reveal a high level of aesthetic finesse and present environmental details (actual camp life) and military accoutrements not often found in later field portraits; they seem to date exclusively from May 1861 to spring 1862; and, interestingly, they are also physically distinct, ever so slightly larger than the traditional Civil War carte de visite, a format that varies in size but is almost always between 3 ½ and 4 inches tall, and 2 1/4 and 2 ½ inches wide. "Camp Life" photographs and mounts are typically wider on the horizontal dimension (the narrow side). When not typically cut down (to fit into standard cdv albums), the cards measure approximately 4 1/8 x 2 7/8 inches.
For many years now, two fundamental questions have troubled me: Why the size discrepancy, and did any source negatives survive for these early Civil War photographs? In December 2021, I discovered in the National Archives the original glass negative (fig. 2) used to make the Cramer print. It has been preserved there since 1940. [5] I now have reliable proof that Brady's gallery produced the majority of these early field portraits on "Camp Life" mounts not from two-part stereoscopic negatives, as I had previously suspected, but from 4 x 10" glass plates exposed in the field as three connected vertical images each measuring approximately 4 x 3 1/3 inches. If one looks carefully, one can even see the notations Brady's photographer (or an assistant) scratched into the overlapping space between the center and right portraits. This perfectly confirms McAfee's research. While I have not yet broken the numeric code—it may be as simple as "7" for July, and "113" for the individual soldier or group—it seems likely that in time some talented researcher will be able to do so.
The National Archives holds in its collection many similar and related three-part glass negatives of early war field portraits, which provide a useful explanation for the slightly wider size of the "Camp Life" prints and their mounts. These atypical negatives were created almost simultaneously on cut-down 8 x 10 inch sheets of glass and exposed in a standard multi-lens wet plate camera. [6] Or they were generated sequentially with a modified camera designed with a shifting or "repeating" back apparatus. [7] Figures 3-5, reproductions from National Archives negatives, show additional members of the 4th Michigan, the same regiment in which Richard Cramer served. Again, the plates are inscribed in the margins. Unfortunately, as of this writing, I have not yet been able to find corresponding prints. Nonetheless, I have little doubt that one day they will be discovered. Figure 6, another handsomely composed and detailed camp scene, depicts a Sgt. Thompson and other members of the 33rd New York Regiment, possibly on laundry day, or after a rainstorm.
Brady's surviving National Archive negatives indicate that his operatives primarily used the atypical three-part format mostly for studio portraits of high-profile clients at the 625 Pennsylvania Avenue gallery, and more rarely in the field. This makes sense, as there was little financial benefit for the gallery to produce multiple negatives of generally non-illustrious subjects early in the war. An extensive survey of the 6,000+ Civil War negatives at the National Archives and even more at the Library of Congress confirms that Brady's studio made two-part (stereos), three-part, four-part, and eight-part portrait negatives. The most famous three-part negative is perhaps Brady's late-war portrait of Lincoln made on Jan. 8, 1864 (fig. 7). It is well known to collectors, and often seen printed as a standard sized carte de visite released by E. & H. T. Anthony with Brady's National Portrait Gallery imprint. [8]
One of the many pleasures of historical research in 2022 is that every month more and more Civil War photographs are being digitized and published online. From forensic research conducted during this initiative, it now seems certain that these imprinted "Camp Life" mounts overlap in date with other slightly oversized mounted prints from Brady's Washington studio. See, for example a dated card in the Library of Congress collection with extensive period inscriptions recto and verso (fig. 8). While in less than perfect condition (and typically trimmed), the carte de visite is revealing as it is dated May 1861 and released on Brady's standard studio portrait mount without the "Illustrations of Camp Life" imprint centered below the photograph. Further research may confirm that the "Camp Life" series imprint was added by Brady's studio assistants after the earlier first printing of the slightly oversized "Brady, Washington" card mounts. [9]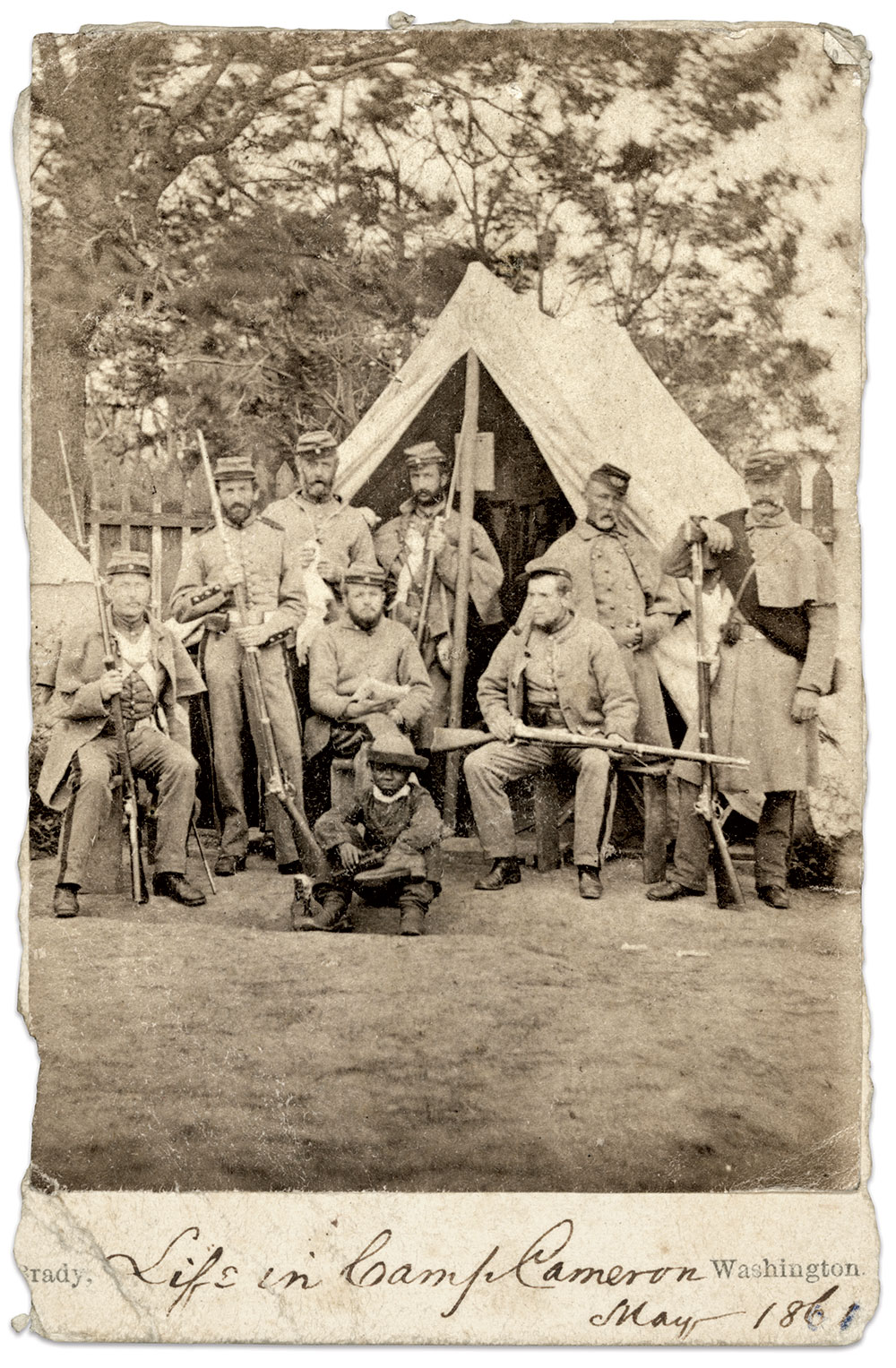 By mid-summer 1861, there were 74 forts and 22 batteries ringing the District of Columbia, making it one of the most fortified cities in the country, if not the world. The construction, operation and guarding of all these facilities proved good business for Brady, whose photographers transported their unwieldy and heavy camera equipment out of the brick-and-mortar gallery to generate these alluring field photographs. The earliest surviving "Illustrations of Camp Life" photographs that I discovered date from May 1861; the latest are from March 1862. My provisional census counts 39 portraits and five views made in the following Washington, D.C., area camps and forts: Camp Brightwood; Camp Butterfield; Camp Stone; Minor's Hill; Upton's Hill; Fort Gaines; Fort Runyon; and Fort Woodbury where Richard Cramer and the 4th Michigan were encamped. In time we should be able to add to this short list and to confirm precisely when in 1862 Brady abandoned this fascinating if short-lived photographic series. [10]
Gallery of Photographs: "Illustrations of Camp Life"
As can be seen in the portfolio here (figs. 9-18), Brady released "Camp Life" photographs with at least two different typographic styles: one with capital and lowercase letters (as in Cramer's photograph), the other all capital letters. The gallery also created a third style (with all capital letters) used exclusively for landscape format photographs (figs. 13-14). These seem to be the rarest of all. Only six are known as of this writing. [11] One of these horizontal format photographs (fig. 14) asks an interesting question as it is the only "Camp Life" print for which a close variant intriguingly appears on a published E. & H.T. Anthony stereograph, War Views No. 2404 or 2406, and for which the original stereo negative pair survives in the Library of Congress (LC-B811-2405 a/b).
Ironically, the likely demise of the "Illustrations of Camp Life" series was caused by the war's duration and Brady's field photographers' success at generating collectible views of battlefields, front-line encampments, and, yes, human carnage. Despite their often-gruesome nature, these photographs appealed to a wide range of buyers motivated in part by the newspaper coverage, which consistently praised Brady's foresight and moxie. As his archive of negatives grew every day that war was waged, Brady saw the opportunity to expand the physical size of the prints he released to the public, as well as to increase their price. More importantly, he took advantage of the historical moment to sell general war views to individuals not actually depicted in them.
With the war continuing for a second year and little prospect for its end anytime soon, Brady inaugurated a new and far more expansive series in late spring 1862 titled "Brady's Album Gallery (fig. 19). These oft-discussed and well-collected photographs are numbered and titled, card-mounted photographs made primarily from half-stereo negatives, a good number of which survive. The standard size for the mounted cards is 4 ½ x 6 inches. Many, if not all of these photographs, were also sold as cartes de visite. Per a provisional examination of the copyrights and titles on the "Album Gallery" cards, the earliest confirmed picture date seems to be May 1, 1862 around the time Brady seems to have mostly ended the production photographs on "Illustrations of Camp Life" mounts. [12] The relative chronology between the two series is somewhat confirmed by the recent discovery of an "Illustrations of Camp Life" card mount that was repurposed by a Brady studio printer for an "Album Gallery" photograph. [13] In this exceptional example, the standard "Album Gallery" caption label for General Caldwell and Staff, at Fair Oaks, No. 441, is affixed to an imprinted "Camp Life" card and covers most all of the preprinted text (fig. 20).
Barring the manifestation of a period list it seems unlikely that historians will be able document every "Illustrations of Camp Life" photograph released by Brady's gallery. Nor will we find all the negatives from which they were made as tens of thousands of Civil War negatives were destroyed after the war—some, it is often said, were reused as scrap glass for greenhouses. [14] It will also remain difficult to identify with a date and name each individual and regiment depicted on the surviving "Camp Life" photographs—even those reproduced here. But in this anniversary year of Brady's birth two centuries ago, we can nonetheless celebrate the photographer's remarkable achievement and legacy. What survives from Brady's devoted effort to record what became the crucible of American history is a rich and complex legacy. One small part of it are the early war images presented to the public as "Illustrations of Camp Life." These rare and intimate photographs delight the eye and reward our close attention. They will keep us active in the field, ever searching for new discoveries and more knowledge.
— Jeff L. Rosenheim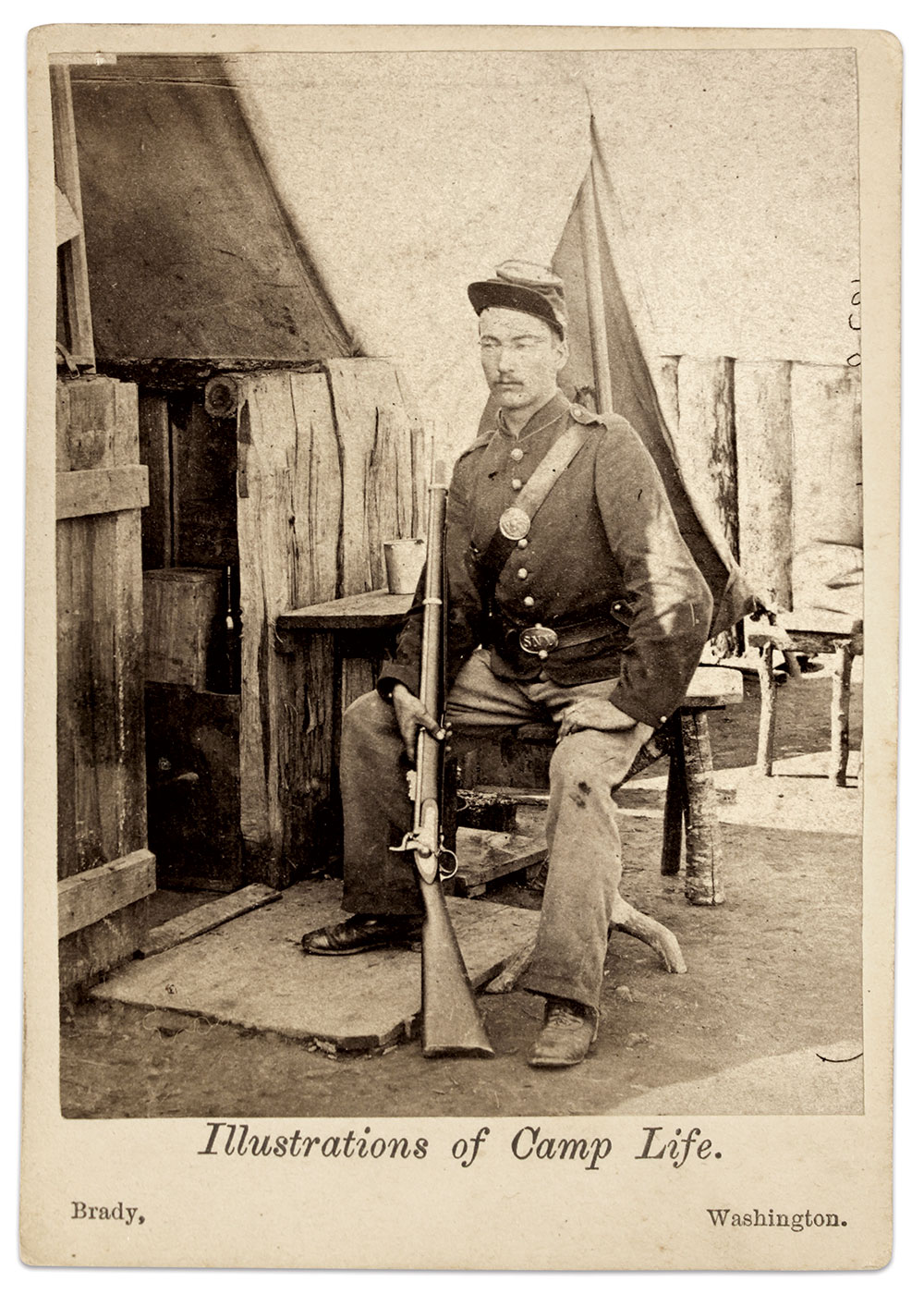 Jeff L. Rosenheim isCurator in Charge of the department of photographs of the Metropolitan Museum of Art. He is a specialist in American photography and curated the Met's 2013 traveling exhibition Photography and the American Civil War. He has authored or co-authored more than 20 books and lectures frequently in in the United States and abroad.
Notes
1. Jeff L. Rosenheim, Photography and the American Civil War (New York: The Metropolitan Museum of Art, 2013), pl. 70.
2. There is also an unmounted print in the collection of the Medford Historical Society & Museum in Massachusetts, which almost certainly is a post-war production. See 1948.1.36 .
3. Michael J. McAfee, "Fourth Michigan Volunteer Infantry, 1861-1864," Military Images, Vol. 16, No. 3 (November-December 1994), p. 37.
4. It should not be assumed that every Civil War photograph mounted on a Brady imprinted card was composed in the camera by Brady himself. Due to his failing eyesight as early as 1851, he left this work to the artists he employed and operated this aspect of his business like a typical modern picture agency. For now, the maker of the Cramer portrait remains unknown, but may have been the team of George N. Barnard and C.O. Bostwick who worked in 1861 for Brady, and also directly for the publisher Edward Anthony. Together, these photographers for hire produced among the war's first field portraits released in the popular stereographic format. See Anthony's inaugural "800 series" of group portraits of the Seventh Regiment at Camp Cameron. Curiously, the first number appears to be 811.
5. See NARA 111-B-5348. The physical history of the 6000+ glass negatives from Brady's studio and how they eventually arrived at the National Archives is rather fascinating. The following is quoted verbatim from the Archives website, assessed by the author on Jan. 30, 2022: "After the Civil War, business for Brady's studios gradually declined, until in July 1874 Secretary of War William Belknap purchased part of Brady's collection of negatives (ca. 2,250 plates) at public auction for $2,500 because of Brady's bankruptcy. In April 1875, the War Department purchased 3,735 plates directly from Brady under express Congressional authorization to "acquire a full and perfect title to secure and purchase the remainder now in possession of the artists [for] $25,000." The plates languished in the War Department's War Records Office until, in 1886, they were transferred to the Supply Division. In 1888, the collection was transferred to the War Department Library, in response to numerous requests for its use. During this period, in 1897, the War Department produced a catalog listing, by subjects and personalities, of all the images found on Brady's plates. In 1921, the Office of the Chief Signal Officer secured custody of the collection in order to make duplicate prints and provide copies to the public. At the same time, the Signal Corps produced a personality index for the collection. This 1921 date has been used by the National Archives to establish the beginning date for this series of records. In 1940 the Brady collection was accessioned by the National Archives."
6. Per Allen Weiner, a collector/dealer of 19th-century camera equipment, 3-lens cameras were not in common use during the Civil War, or are so rare as to be exceptional. Most Civil War cameras did not have mechanical shutters and the operator mechanically covered the lens after the exposure. Telephone conversation with the author, Jan. 30, 2022.
7. Research suggests that 3-part negatives made with a repeating back apparatus allowed photographers to repose their sitters between exposures. See for example Brady's studio portrait of General John Sedgwick: NARA 111-B-4087. Two frames of the officer killed in the Battle of Spotsylvania Court House are in profile, one is full face.
8. See Brady's 3-part studio negatives of Hannibal Hamlin (111-B-3553) and the Prince of Wales (111-B-3637), among many other illustrious visitors to his Washington gallery.
9. In early 1862, if not before, Brady's Washington studio switched to a standard size carte de visite mount and changed their imprint style to just "Brady" centered beneath the image. It also eliminated "Washington."
10. The Minnesota Historical Society holds a period copy print of an "Illustrations of Camp Life" photograph of officers of the 1st Minnesota Volunteers at Camp Stone near Edwards Ferry, Virginia. The date is March 16, 1862. See Locator No. E425.12 r5.
11. One of the 6 depicts a group of identified wounded soldiers at war's end. It is a posed portrait executed inside a studio. I have not seen this example in person, but it seems to be an anomaly as it is the only interior portrait discovered on an "Illustrations of Camp Life" mount, and the only late war example.
12. Brady's studio concurrently released larger-format photographs in two other series he titled Brady's Photographic Views of the War and Incidents of the War. See Rosenheim, Photography and the American Civil War, Chapter 6.
13. As of January 8, 2022, the collector/dealer Mike Medhurst was offering for sale this "Album Gallery" photograph.
14. Ken Burns, "The Painful, Essential Images of War," The New York Times, Jan. 27, 1991.
SPREAD THE WORD: We encourage you to share this story on social media and elsewhere to educate and raise awareness. If you wish to use any image on this page for another purpose, please request permission.
LEARN MORE about Military Images, America's only magazine dedicated to showcasing, interpreting and preserving Civil War portrait photography.
VISIT OUR STORE to subscribe, renew a subscription, and more.