Folk art and the humanistic side of the Civil War have long captivated Matt Oswalt.
"Photography is a natural extension of these interests," notes Oswalt, who began collecting soldier images a decade ago.
Born and raised in Itawamba County, Miss., Oswalt traces his ancestry to soldiers who took up arms on both sides of the conflict. His fourth great-grandfathers illustrate the divided loyalties. William S. Oswalt, a sergeant in the 42nd Mississippi Infantry, lost his life during the Pickett/Pettigrew/Trimble charge at Gettysburg. Anderson Prestage, a private in the Union 1st Alabama Cavalry, survived his war experience.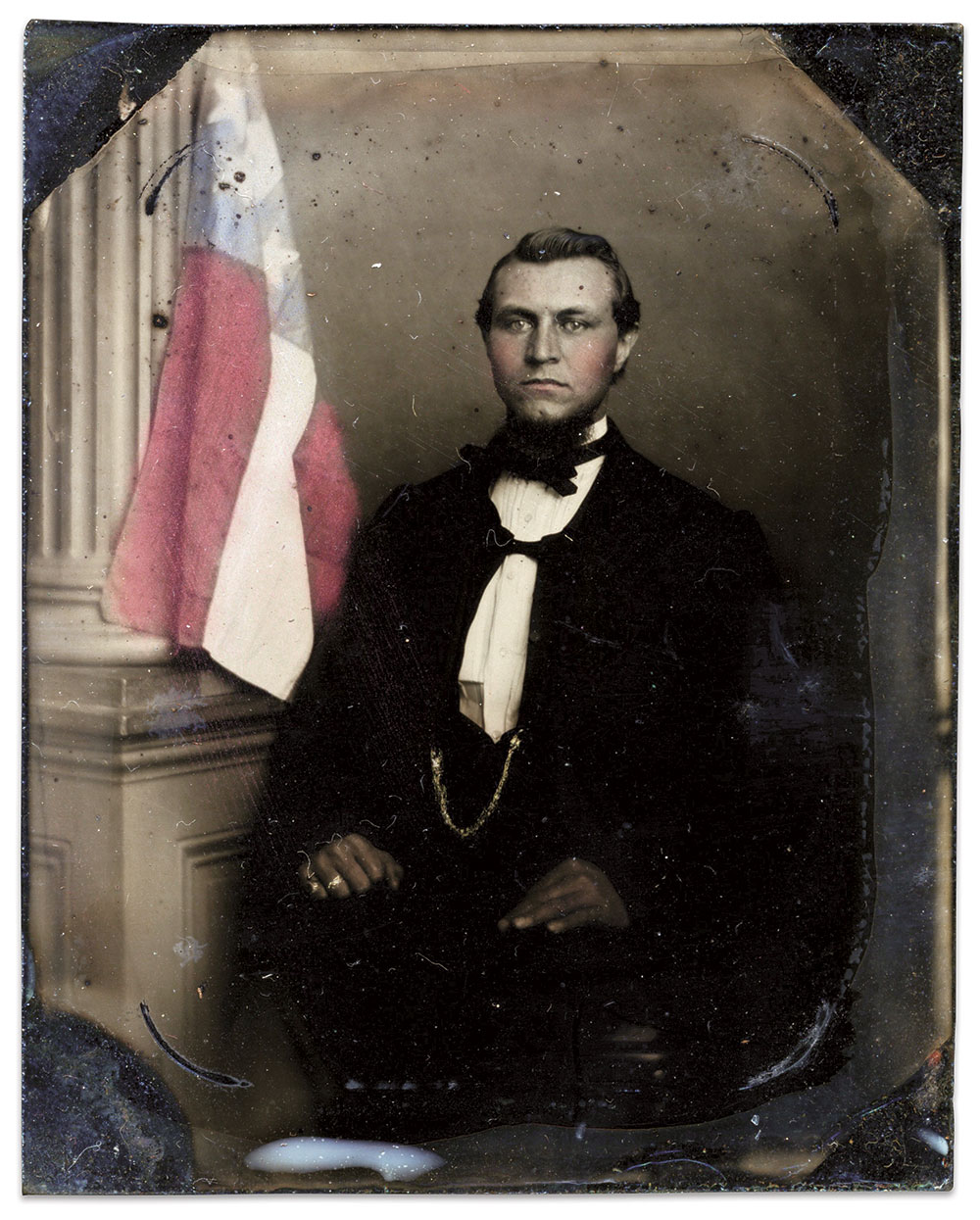 Oswalt also has a connection to Lt. Gen. John Bell Hood, a fourth cousin six times removed.
Two singular events shaped Oswalt's fascination with the war. The first, a road trip with his parents to Shiloh National Military Park, occurred at age 8 or 9. A few years later, at 15, Ken Burns' The Civil War bolstered his interest.
Some years later, Oswalt began collecting photographs. He purchased his first military image, a carte de visite, in 2011. The following year, he added his first hard plate of a soldier.
That first hard plate, a tintype, caught Oswalt's attention because an inscription on the pad of the case noted the soldier had been killed at Chickamauga. The soldier, Thomas Morton Brown, had served as a private in Scogin's Battery, also known as Gibson's Church Bell Battery of the Griffin Light Artillery, from Pike County, Ga.
Oswalt also purchased a daguerreotype of Brown's twin sister, Martha Frances Brown Milner. "I really enjoy collecting images in which family members are also in the grouping," observes Oswalt. He adds, "I generally search for photographs of soldiers with unique uniforms and Mississippians. I also am an avid collector of bible flags and secession cockades, so I am especially attracted to images of soldiers or citizens with these items."
This representative group captures the flavor of Oswalt's collecting tastes. His Mississippians are not included here—look for them in a future issue.
This Confederate holds an artillery short sword,
its pommel resting on his thigh and blade against his breast. Its sheath is visible to the side. The soldier is dressed in a dark, single-breasted frock coat and lighter pants with a distinctive yellow tinted stripe highlighted by a dark border. A gray cap with chinstrap complete the picture. The chair and table are consistent with images by noted Richmond, Va., photographer Charles R. Rees, though it is unsigned by him.
Sporting a cockade on his lapel and gripping an Allen & Wheelock revolver, this earnest young man is prepared to defend himself against all comers. The Sheffield knife sticking in the photographer's table adds to the effect. Though his identity and loyalties are not currently known, the painted background featuring a castle at the water's edge is a clue to where this portrait was made.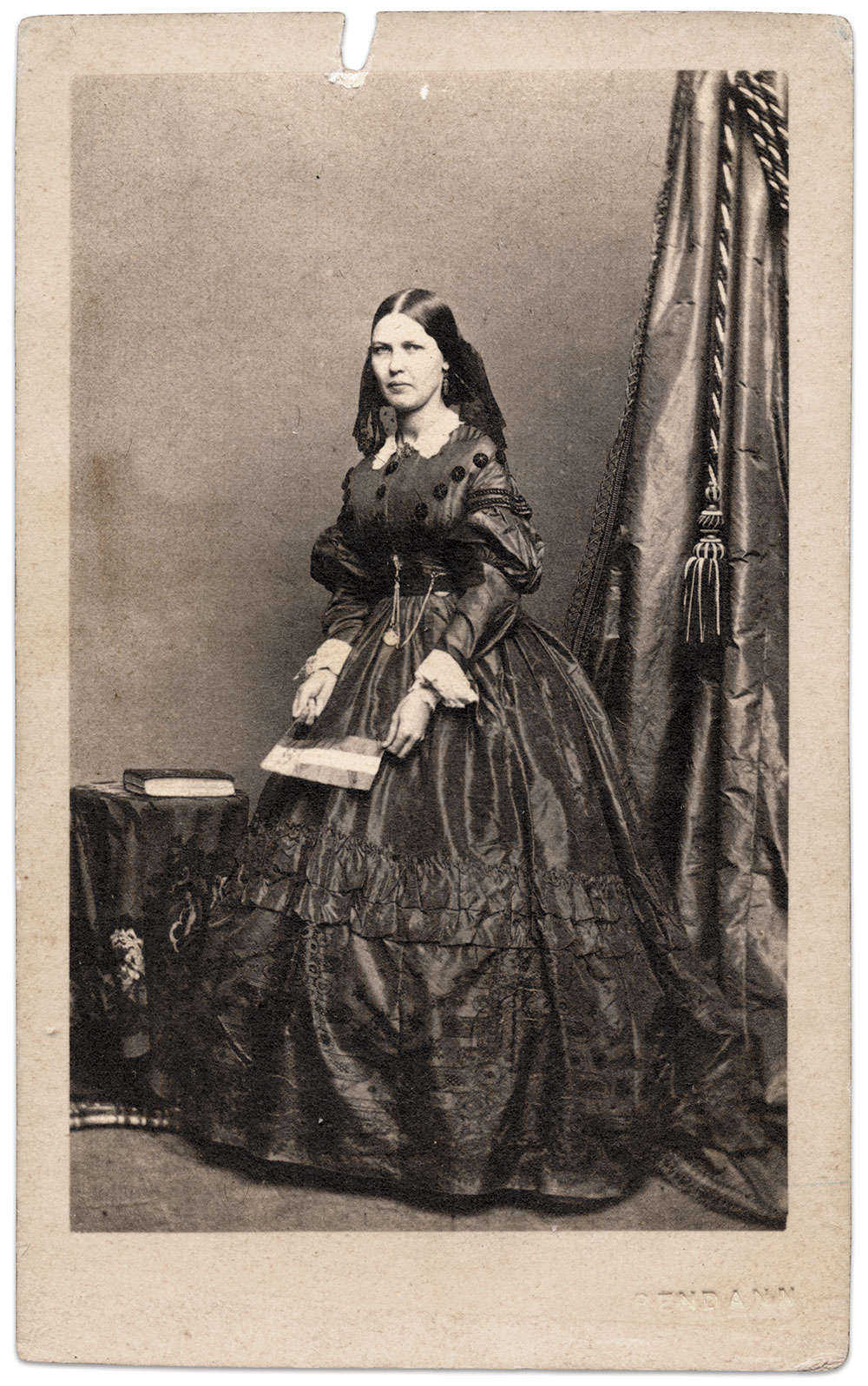 A woman expresses her loyalties in the form of a rare 11-star First National Confederate miniature flag. This portrait was discovered in a carte de visite album in the United Kingdom. The album included another lady posed with the same flag.
The image was printed directly on the cardstock mount, which is embossed "Bendann." According to Maryland photography authority Ross J. Kelbaugh, Daniel Bendann opened a gallery in Richmond, Va., in 1856, after working for photographer Jesse Whitehurst. In 1859, Bendann was employed as a photographer for the Baltimore and Ohio Railroad. This same year, he opened a studio with his brother, David, in Baltimore. This image is believed to have been produced in the Baltimore gallery.
William Thomas Simrall is pictured as a prisoner of war at Camp Douglas in Chicago. Born in Lexington, Ky., he enlisted as a corporal in Company B of his home state's 8th Cavalry in 1862. He rode with Brig. Gen. John Hunt Morgan on the Ohio Raid that ended with the capture of the bulk of the troopers at the Battle of Salineville on July 26, 1863. Morgan managed to escape, only to fall into enemy hands later that day.
Union authorities transported Simrall and other prisoners to Camp Chase, Ohio, and on to Camp Douglas in late August. Simrall remained there until February 1865, when he was sent to Point Lookout, Md., to be paroled. He signed the Oath of Allegiance to the federal government in Kentucky in May 1865.
Simrall went on to receive a degree from Louisville Medical College and establish a practice in Mt. Sterling, Ky. He also served as a physician for the Chesapeake and Ohio Railroad. Dr. Simrall died in 1934 at age 92. His wife, Clara, and two daughters survived him.
Photographer Daniel F. Brandon (about 1825-1877) established a presence at Camp Douglas in 1862. According to a story in the Feb. 19, 1863, edition of the Chicago Tribune, "He has taken the likenesses of several thousand persons in camp—Federal and rebel—which have been sent by mail to their relatives and friends all over the country. There are few men whose labors have gladdened more hearts than his, in this particular line."
A Confederate soldier and his family sat for this portrait in the Richmond, Va., studio of Charles R. Rees. His signature appears near the arm of the little girl in a blue-tinted dress. The soldier, with a receding hairline and what appear to be hints of gray in his beard, is uniformed in a dark frock coat with gold gilded collar trim. The thin shoulder straps are decorative rather than an indicator of rank, likely marking him as a militiaman.
A woman dressed in a floral print and a gilded brooch displays a photograph of a soldier standing with a musket at his side. The image appears to be a quarter plate. Her portrait is part of a group of artifacts descended from the estate of Mamie Louise Bauknight (1863-1926) of Walhalla, S.C., and Gastonia, N.C.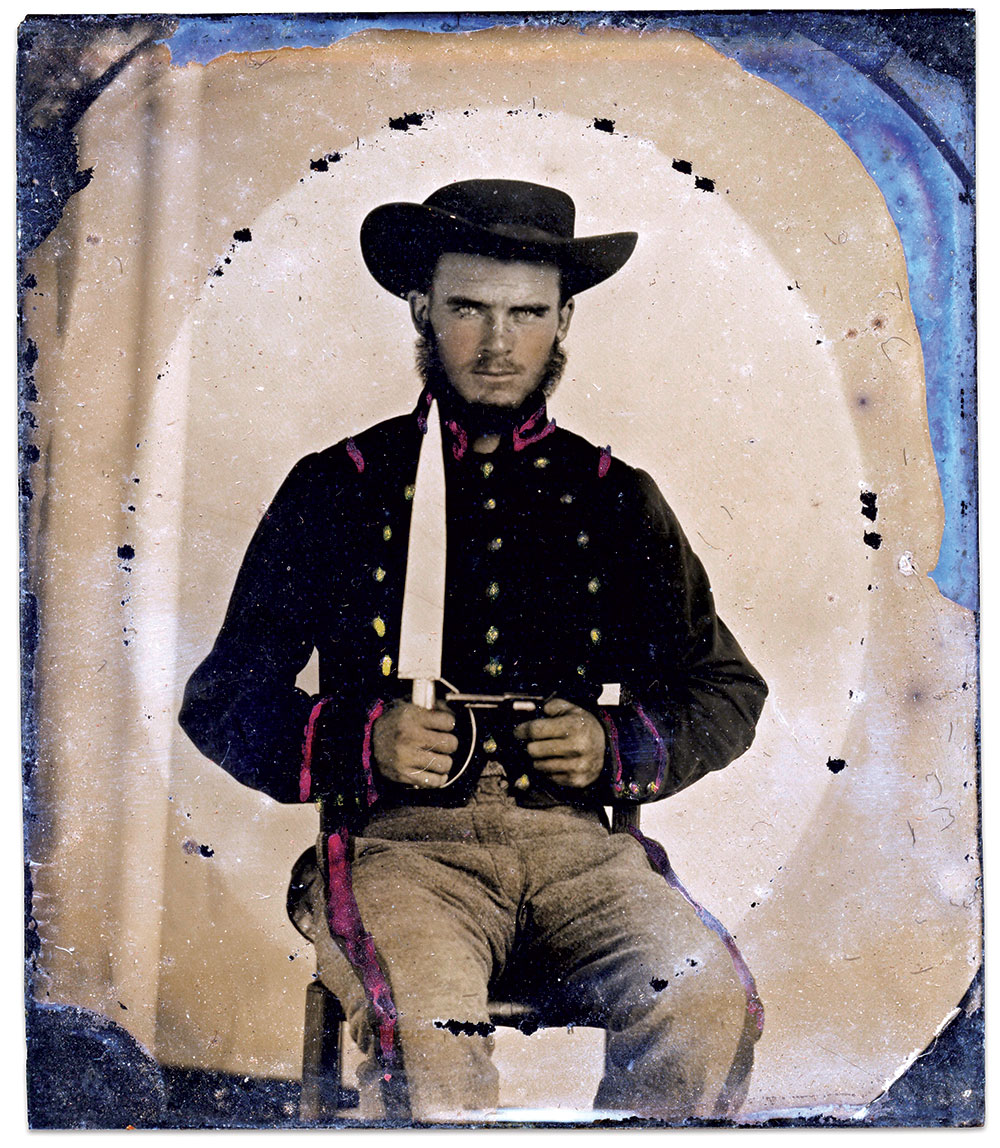 A dark colored jacket with three columns of buttons and red trim on the collar, cuffs and shoulders, and trousers with a thick side stripe is consistent in this pair of portraits. One man wears a hat at a rakish angle and flashes a D-Guard Bowie knife and pocket revolver. The other poses without weapons. The name "M. Shuttleworth" is scratched into the plate's emulsion.
They may be brothers or cousins, the same man pictured at two different times, or comrades who served together in the same militia company. Confederate rolls list only two men, both Alabamians, who could be M. Shuttleworth. Pvt. Morgan Shuttleworth served in Company H of the 36th Infantry. He died in mid-1864 at a hospital in Resaca, Ga., likely from complications of an injury in his right breast. He was about 31. Pvt. Merit Shuttleworth, about two years younger than Morgan, served in Companies D and H of the 20th Infantry.
He survived the war and died in Texas about 1880.
A handful of other men named Shuttleworth served in the Confederate army. They hailed from Alabama, Arkansas, Georgia, Florida, and Louisiana.
The lack of photographic materials in the wartime South is evidenced by the hand-cut paper mat with a thin gold border that frames this portrait of a soldier. He is dressed in a wool jacket with a wonderfully textured weave and trimmed with dark cuffs. A sword or D-Guard Bowie is just visible at his side.
The book upon which he rests his hands is Photography in a Nutshell by Henry Philip Hawkes (1834-1900). A popular handbook for photographers, it was reprinted several times in the latter 19th century. An inscription inside the case behind the image reads, "Fanney Akin — George W. Stephenson — remember me G.W. and I will remember the (sic) — F.A. Akin." (Akin may be Akins.) At least eight Confederate army soldiers with this name are listed on the rolls.
On May 20, 1861, Russell Merriman Cassaday wrote to his cousin Nancy, "I am well at present and I hope these lines may find you all well and doing well. This is perhaps the last news you will hear from me for some time to come. I may see you well on earth again but if I should not I hope we may unite in heaven. I send you my miniature with my uniform and weapons of war we are looking for a call every day." He added, "I am well sunburned too. I haven't shaved for three weeks and don't intend to until the wars are won."
The uniform worn by Cassaday is shown here—the heavy, dark trim and flat-button jacket of the Lafayette Volunteers of Walker County, Ga. A knife and revolver tucked into his belt, and another revolver stuffed into his jacket complete the picture.
Cassaday, who had enlisted a month before he wrote this letter, entered Confederate service with his fellow Volunteers as Company G of the 9th Georgia Infantry. The regiment, part of Gen. Richard H. Anderson's Brigade, fought in numerous engagements with the Army of Northern Virginia. Cassaday suffered two war wounds. The first, about the time of the Second Battle of Manassas in 1862, kept him out of action until early 1864. The second, near Petersburg, Va., in June 1864, effectively ended his active service.
Cassady returned to Lafayette and reunited with his wife, Thomasina Amanda Wall, whom he married in 1863. They had two children before his early death in 1874 at about age 36.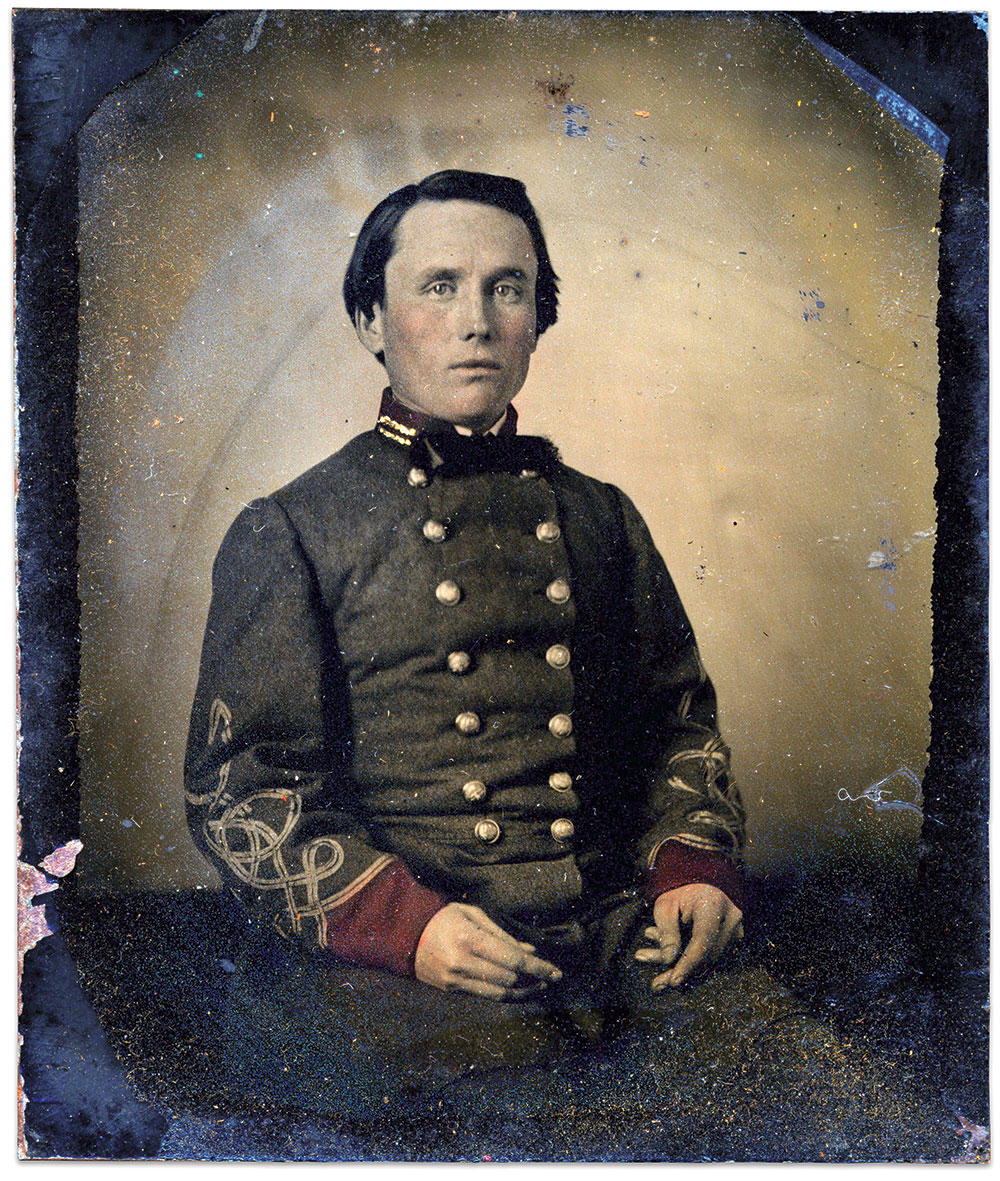 John Thomas Buck's military service records reveal a young officer trusted by his superiors to get guns of all types into the hands of Confederate soldiers. A peacetime druggist in Hopkinsville, Ky., he spent much of the war coordinating the movement of ordnance on the division level.
Buck began his service in late 1861 as an ordnance sergeant in the Army of Mississippi with Brig. Gen. Charles Clark's 1st Division of Maj. Gen. Leonidas Polk's 1st Corps. Buck advanced to first lieutenant of artillery and ordnance by June 1862, reporting to Brig. Gen. James Ronald Chalmers, who commanded the 5th Military District of the Department of Mississippi and East Louisiana. In early 1864, Buck followed Chalmers after he took command of the 1st Division of Nathan Bedford Forrest's Cavalry.
Buck's military service ended in May 1865, when Lt. Richard Taylor surrendered his military department to Maj. Gen. E.R.S. Canby.
Buck is pictured here in a regulation double-breasted officer's frock coat with the collar and cuffs tinted red for the artillery and gilded collar bars designating his first lieutenant's rank.
Buck settled in Jackson, Miss., and married Hadenia Leavell "Hadie" Brown. He returned to his pre-war occupation as a druggist to support her and their son, and later worked as City Clerk and Tax Collector in Jackson, a Baptist newspaper editor and a Savings and Loan Association official for the State of Mississippi. He died at age 66 in 1906.
The distinctive coat worn by this soldier is uniquely trimmed with a red-tinted placket and three columns of gilded buttons, cuffs, and widely spaced stripes on the sleeves. His matching trousers feature a single stripe, also tinted red. He may have served with a Louisiana militia company, as this image was reportedly found in the Pelican State.
His Bowie knife includes a unique feature in the form of a langet, a metal extension attached to the handle that keeps the weapon secure in its scabbard.
A miniature First National Confederate flag is pinned to the lapel of this man in civilian attire. This portrait was reportedly discovered in the Nashville area.
Flowers and feathers distinguish the headgear of these enlisted men, who pose with a similar sword and revolver. If the same, they may have been loaned by the photographer or another source. The flowers on the boy's Hardee hat cover a gold gilded insignia that resembles the crossed sabers of the federal cavalry. The images were discovered in Woodstock, Ga.
The Rock City Guards of Nashville, Tenn., formed as a militia battalion in 1859-1860 in anticipation of war. The battalion initially consisted of 327 men. In May 1861, the Guards joined the 1st Tennessee Infantry, commanded by Col. George Maney. Organizers distributed the Guards in companies A, B and C.
The soldier pictured here, clad in a light-colored overshirt, or battle shirt, wears a dark cap with the distinctive company letter that has been associated with other troops in the Guards.
The 1st participated in early war operations with generals Robert E. Lee and Thomas J. "Stonewall" Jackson, before it joined the Army of Tennessee in early 1862. It went on to participate in numerous engagements, including the battles of Shiloh, Perryville, Stones River, Chickamauga, and the Atlanta Campaign. Gen. Joseph E. Johnston in North Carolina surrendered the regiment in April 1865. By this time, it had been reduced to about 125 men designated the 1st Consolidated Regiment of Tennessee Infantry.
A painting of ivy-entwined columns towering above a river with steamboats and a full-rigged sailing ship is an engaging backdrop for this unidentified soldier with a cockade attached to his lapel. He is dressed in a shell jacket with thin dark piping along seams on either side of the five buttons, slit pocket and bottom edge, and what appears to be two thin stripes along the collar.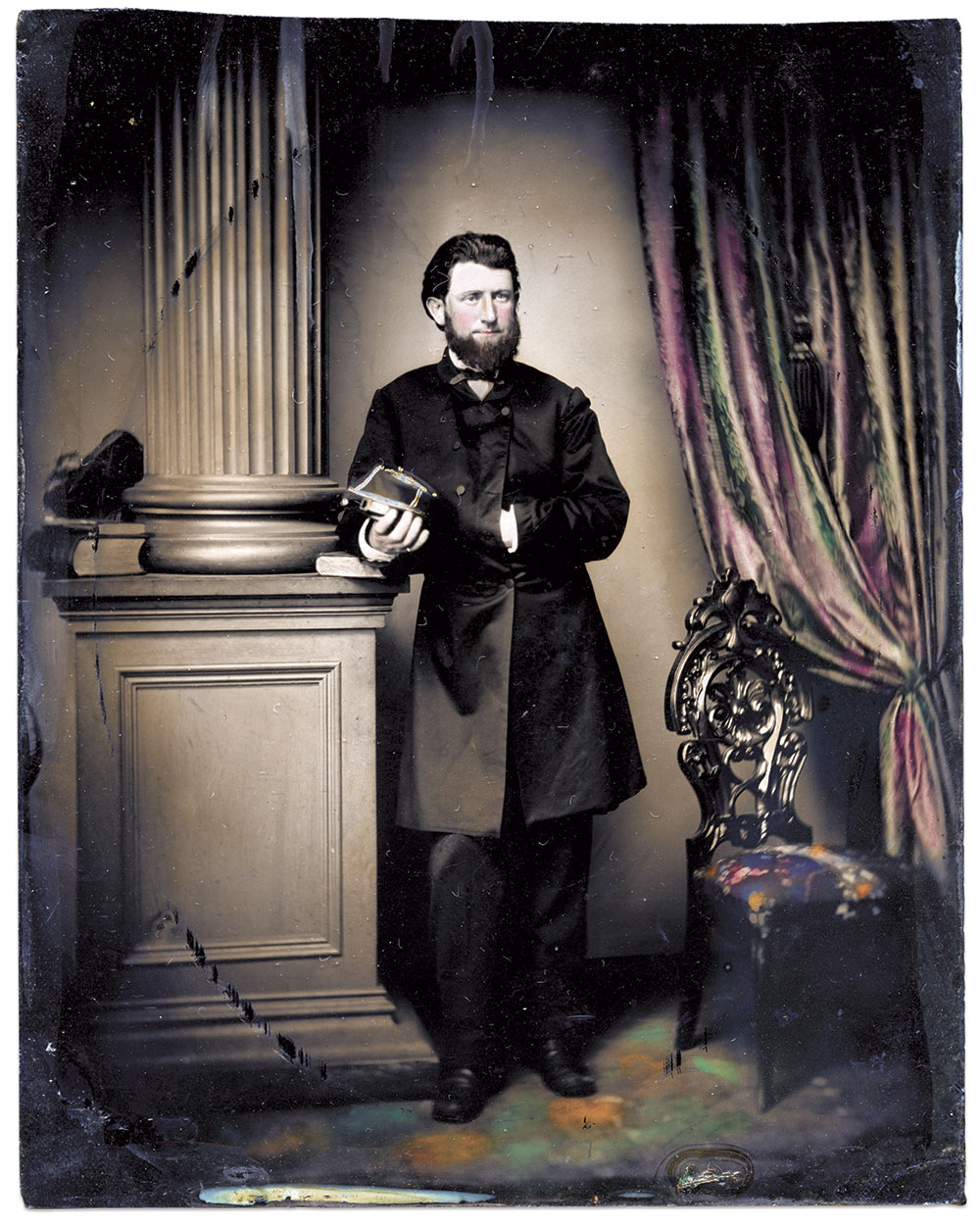 A bearded man in civilian clothes displays his military cap. The trim above the band and sides, and the insignia on the flat top, are gilded in gold. A pencil inscription inside the case, "R. Wilson / Phila," may be a clue to his identity—assuming the case is original to the image.
When the Travis Rifles of Buckingham County, Va., became Company C of the 44th Virginia Infantry in 1861, its number included Henry Branch Nicholas. He had set aside his studies to become a second lieutenant. He is pictured in the uniform of the Rifles, which includes a blue-tinted frock coat with gold gilded epaulettes and a shako with pompon and rifleman's insignia. Nicholas' tenure with the 44th ended with his death at the Battle of Fredericksburg in 1862.
A southern sergeant is dressed in a light-colored blouse with dark-trimmed collar, cuffs and pockets. His trousers feature a blue-tinted wide stripe. His hat and what appears a double-barrel shotgun missing a ramrod speak to his civilian roots.
This cavalryman is armed with a War of 1812 era saber and a holstered Colt Navy revolver worn on an improvised rifleman type belt rig. His six-button shell jacket features a collar with two narrow horizontal strips of dark-colored tape that terminate at side buttons and inverted V-shaped cuffs trimmed with three small buttons. Etched into the black backing behind the plate appears to be the name "Capt. N.C. Langford."
One Confederate soldier matches this name and rank: Noah C. Langford, a pre-war medical student at the University of Nashville. In the summer of 1861, Langford joined the Peck Light Dragoons, a company organized in Jefferson and Knox counties. It became Company E of the 4th Battalion, Tennessee Cavalry commanded by Lt. Col. Benjamin M. Branner. In May 1862, Langford advanced to captain of his company when it reorganized as Company I of the 2nd Tennessee Cavalry commanded by Col. Henry M. Ashby.
The regiment served for the duration of the war, seeing action at Cumberland Gap, Murfreesboro, Chickamauga, Atlanta, Savannah, and the Carolinas. Langford suffered a wound near Waynesboro, Ga., in November 1864 and spent some time in the hospital. His service ended in April 1865 when Gen. Joseph E. Johnston surrendered his army.
Langford returned to Tennessee and eventually became a physician. He died in 1901 at age 67, and is buried at Westview Cemetery in Jefferson City, Tenn.
This pair of portraits of the same soldier surfaced in a 2013 auction. The lot also included a fragment of a wartime note featuring primitive drawings of hands with pointing fingers, trees and other symbols. The letter, dated March 11, 1864, was addressed from F.M. Sconyers to India Sconyers. The note also includes a reference to Gracie's Brigade.
Gracie's Brigade was commanded by Archibald Gracie III, a native of New York City and a West Pointer who settled in Mobile, Ala., as a banker in his father's firm. He cast his lot with his adopted state after it seceded from the Union, and rose from a major of a regiment to brigadier general and brigade command. On Dec. 2, 1864, along the lines at Petersburg, the explosion of an enemy shell instantly killed him.
Gracie's Brigade included Hilliard's 2nd Alabama Infantry Battalion, one of five battalions in Hilliard's Legion, named for Col. Henry W. Hilliard. The soldier in these ambrotypes is dressed in a uniform consistent with other early war images of members of Hilliard's Legion, and other state troops. Among the men listed on the rolls of the 2nd Battalion was Francis M. Sconyers. The 1860 census for Coosa County, Ala., includes a Sconyers family with a boy, Frank, and girl, Indiana. This may be Francis and his sister, India.
Sconyers mustered into the Dr. Kelley Guards, a militia company that joined the 2nd Battalion in June 1862. The following year, it became Company C of the 59th Alabama Infantry. Sconyers received a furlough in 1864 after a stint at Howard's Grove General Hospital in Richmond. His military and personal records end at this time.
Indiana Sconyers married G.W. Woodfin and lived until age 92, dying in 1945.
This gent's distinctive patchwork overshirt, striped shirt and tie, polka dot handkerchief and striped trousers are as wild as they are non-military. A watch key hangs around his neck. The pair of holstered revolvers attached to his gun belt suggests he may be a partisan ranger, outlaw, or simply a citizen showing off his sidearms. His likeness serves as a reminder of similar surviving portraits that are difficult to categorize militarily, but nonetheless fascinating to study.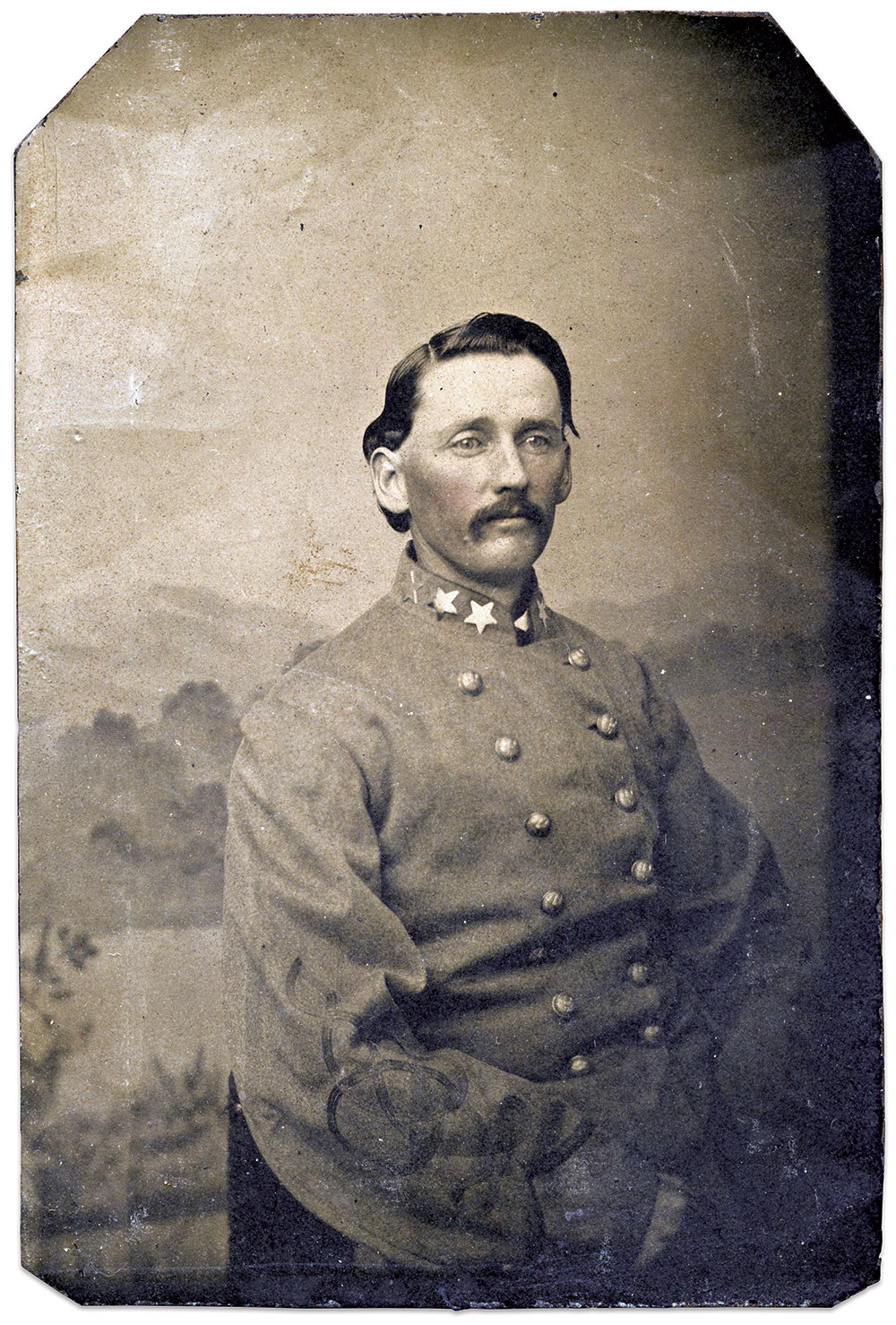 A trio of shining stars stands out on the regulation double-breasted frock coat of Col. Marcellus Pointer. Born in North Carolina and a resident of Holly Springs, Miss., Pointer started the war in 1861 as a private in Company B of the 9th Mississippi Infantry. His term of enlistment ended prior to the Battle of Shiloh, and he returned to his home in Holly Springs by July 1862. There, he met a family acquaintance, Joseph Wheeler, then a rising star in the Confederate army.
Wheeler gave Pointer a first lieutenant's commission and assigned him to the staff of his new command composed of six regiments of Mississippi, Alabama and Arkansas cavalry. Pointer proved an able aide, participating in numerous engagements and operations. He suffered a wound at Wild Cat, Ky., during the retreat following the Battle of Perryville in October 1862. Union forces took him prisoner in December 1863 at Charleston, Tenn., but he escaped his captors.
In 1864, Pointer left Wheeler's staff to become lieutenant colonel, and then colonel, of the 12th Alabama Cavalry. He served in this capacity through the war's end.
Four decades later, Wheeler volunteered as a major general when the U.S. declared war on Spain. He attempted to secure a commission for Pointer, writing "I can conscientiously say that I did not know during the war as valuable an officer of his rank as Col. Marcellus Pointer. I saw him in very many battles display a bold, determined, audacious courage which is very seldom exhibited. He comes nearer having every qualification for a successful brigade commander of cavalry than any man I know."
Wheeler's effort failed and Pointer remained a civilian. At some point Pointer fell on hard times and pawned his cherished wartime relics to stay afloat. He died penniless in New York City in 1909. His remains rest in Elmwood Cemetery at Memphis, Tenn.
A first sergeant's insignia is normally arranged with the chevrons in a V shape with a lozenge at the top. It is flipped on the sleeves of this Richmond Depot Type I shell jacket worn by Joseph Wilson of Bedford County, Va. The piping on the jacket varies from the standard Richmond Depot pattern in two ways: It appears along the top of the collar instead of top and bottom and wraps halfway around the cuff instead of full length. The top of his cap is gilded with the cross cannons of the artillery branch.
Wilson enlisted in Company C of the 20th Battalion Virginia Heavy Artillery in February 1862. His military record provides little detail beyond his service in Battery No. 9 in the Defenses of Richmond, and his capture at Burkeville, Va., on April 6, 1865. He may have fallen into enemy hands after the Battle of Sailor's Creek, fought the same day. He signed the Oath of Allegiance to the federal government at Point Lookout, Md., in June 1865. Details of his postwar life are a mystery. He may be the same Joseph Wilson who died in Bedford County at age 31 in 1877. His grave is marked with a United Daughters of the Confederacy memorial.
The signature of the photographer, Charles R. Rees, appears in the lower left of the image. The dark areas on Wilson's forehead and hands were originally tinted highlights applied by Rees. Time and the elements darkened them.
The belt and non-commissioned officer's eagle buckle suggests this clean-shaven man served in the army. His light-colored trousers may be regulation. This is where his military connection ends. His striped overshirt with checked lapels, green-tinted plaid shirt, a unique watch rope chain to which is attached a bead, a spiral seashell and what may be a fraternal crest raises more questions than answers.
Published in the 1994 book Still More Confederate Faces by Domenick A. Serrano, this soldier is armed with a double-barrel shotgun and holstered pistol attached to a waist belt fastened with a snake buckle. He carries a book in the pocket of his overshirt. The image is reportedly connected to southeast Texas. Considering post-war population movements, he might have fought for another state and settled in Texas after the war.
SPREAD THE WORD: We encourage you to share this story on social media and elsewhere to educate and raise awareness. If you wish to use any image on this page for another purpose, please request permission.
LEARN MORE about Military Images, America's only magazine dedicated to showcasing, interpreting and preserving Civil War portrait photography.
VISIT OUR STORE to subscribe, renew a subscription, and more.