Featuring images collected in collaboration with Editor Dale Niesen of the Facebook group "The Image Collector" and other sources, reviewed by Contributing Editor Chris Nelson.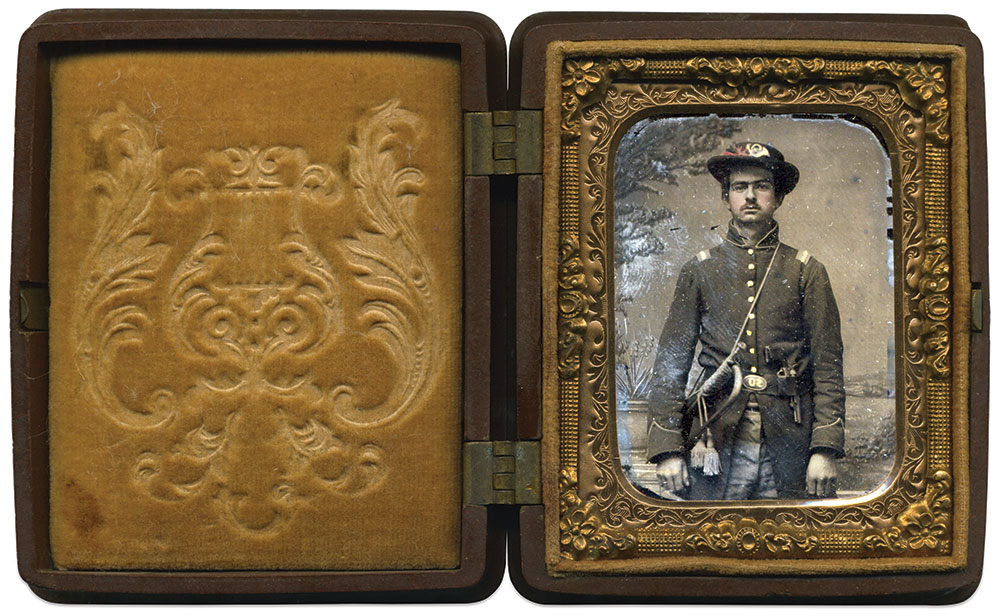 The bugle and shoulder straps pictured here indicate this soldier served as Chief Bugler, a position equal to Drum Major or Principal Musician. His responsibilities included the appearance, training and performance of buglers in the regiment—and a thorough knowledge of the myriad of infantry calls. Tucked into his waist belt fastened by an oval US plate is a .31 caliber Colt Model 1849 Pocket revolver. The regimental number 114 in the center of the infantry horn on his plumed hat indicates he served in one of the more populous Union states: Indiana, Illinois, New York, Ohio or Pennsylvania. The painted backdrop is not known.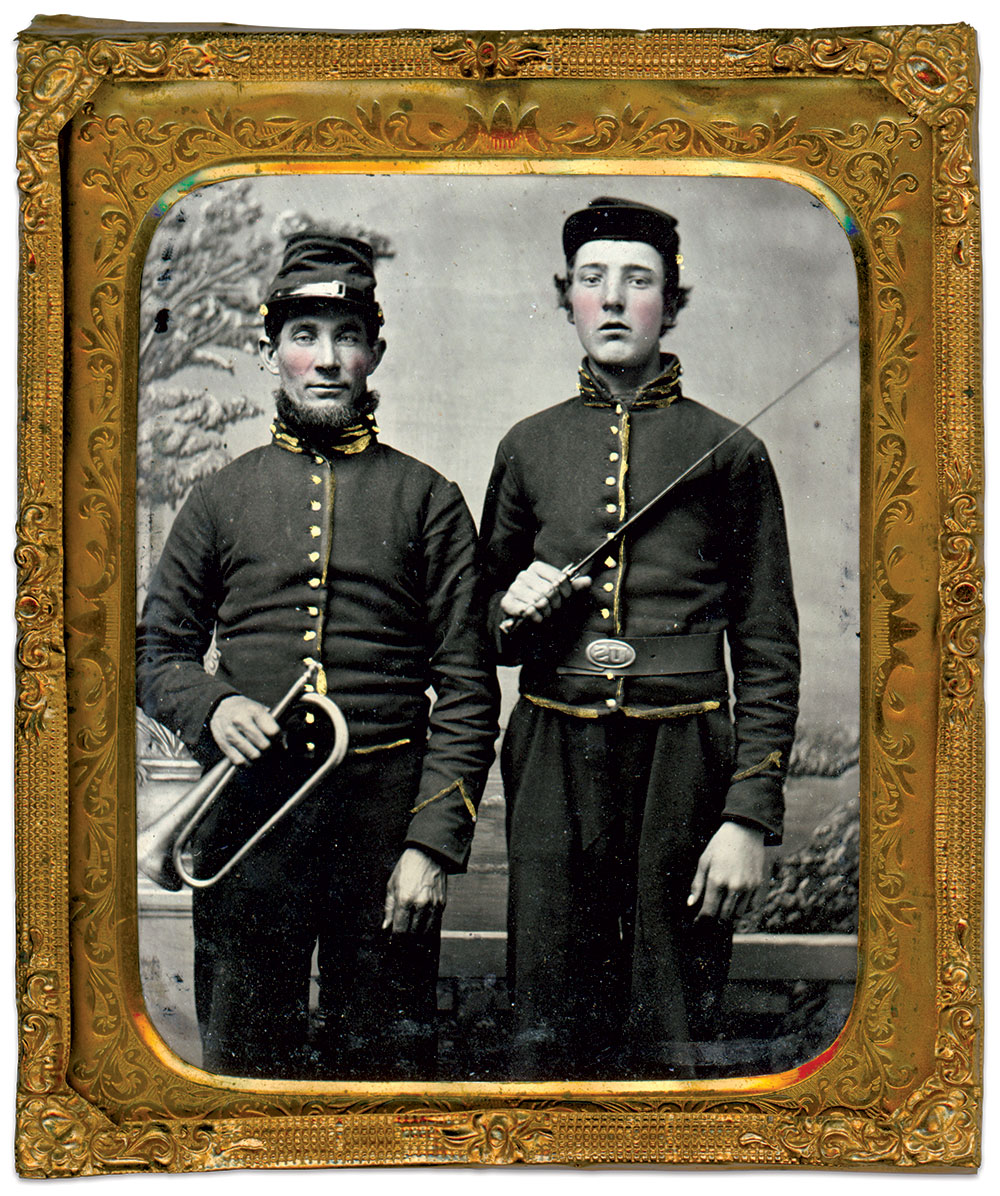 A bugle bearing veteran with whiskers bristling above his cavalry collar stands next to a younger trooper who holds an eagle head militia sword and wears a belt fastened by a small oval Model 1839 buckle. These two items are not consistent with a musician's uniform. The painted canvas behind them pictures trees and shrubs.
---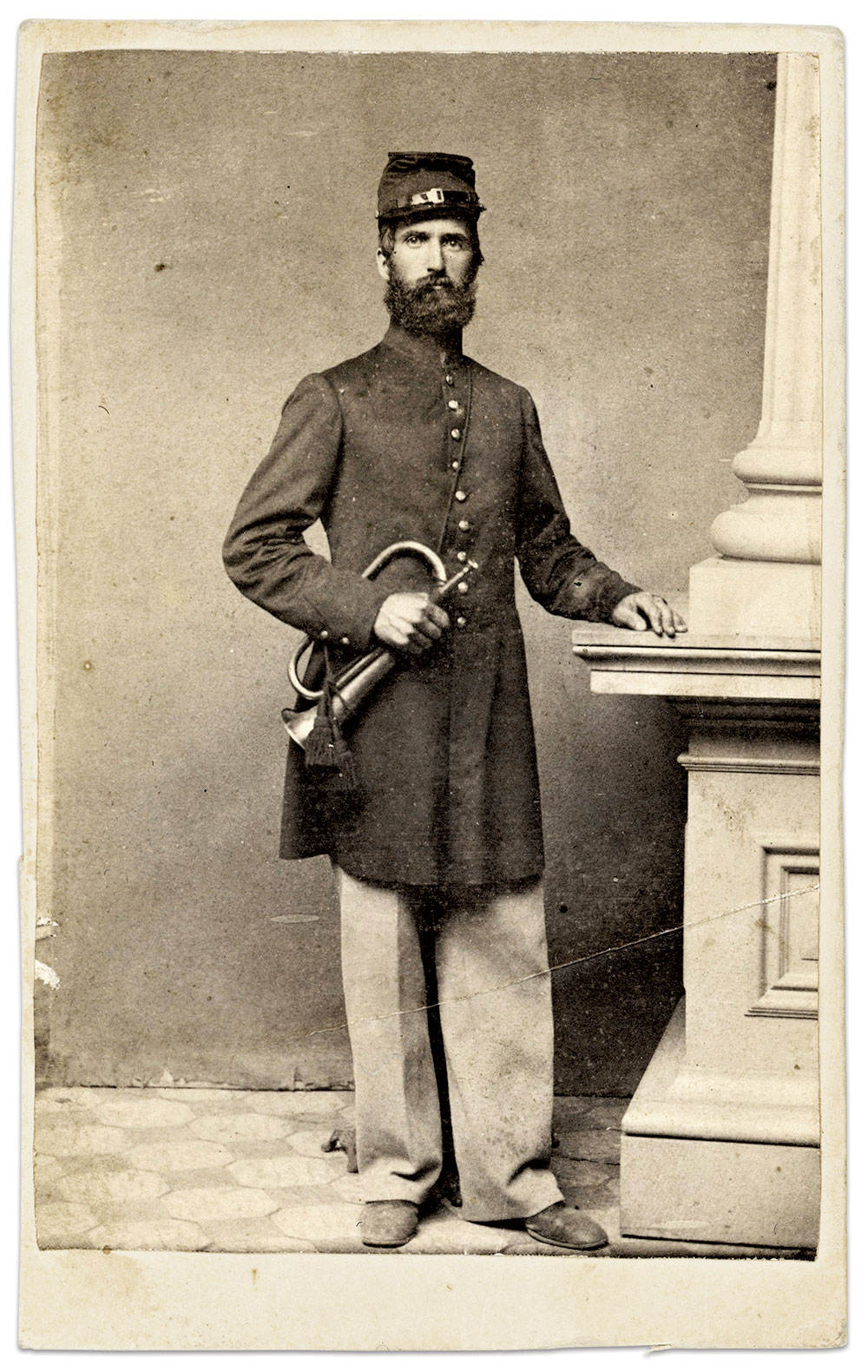 At the September 1862 Battle of Shepherdstown, Va., musician Calvin Morse, Jr., of the 1st U.S. Sharpshooters forded the Potomac River under fire to encourage the men of the routed 118th Pennsylvania Infantry to re-cross into Union lines. Sharpshooters provided covering fire while Morse sounded "attention" and "recall" on his trusty bugle. The effort ultimately failed. Morse, of West Fairlee, Vt., had joined Company F of the 1st a year earlier. Less than two months after Shepherdstown, he advanced to Chief Bugler, but illness forced his discharge soon afterwards. He returned to Vermont and died in 1907 at age 74.
---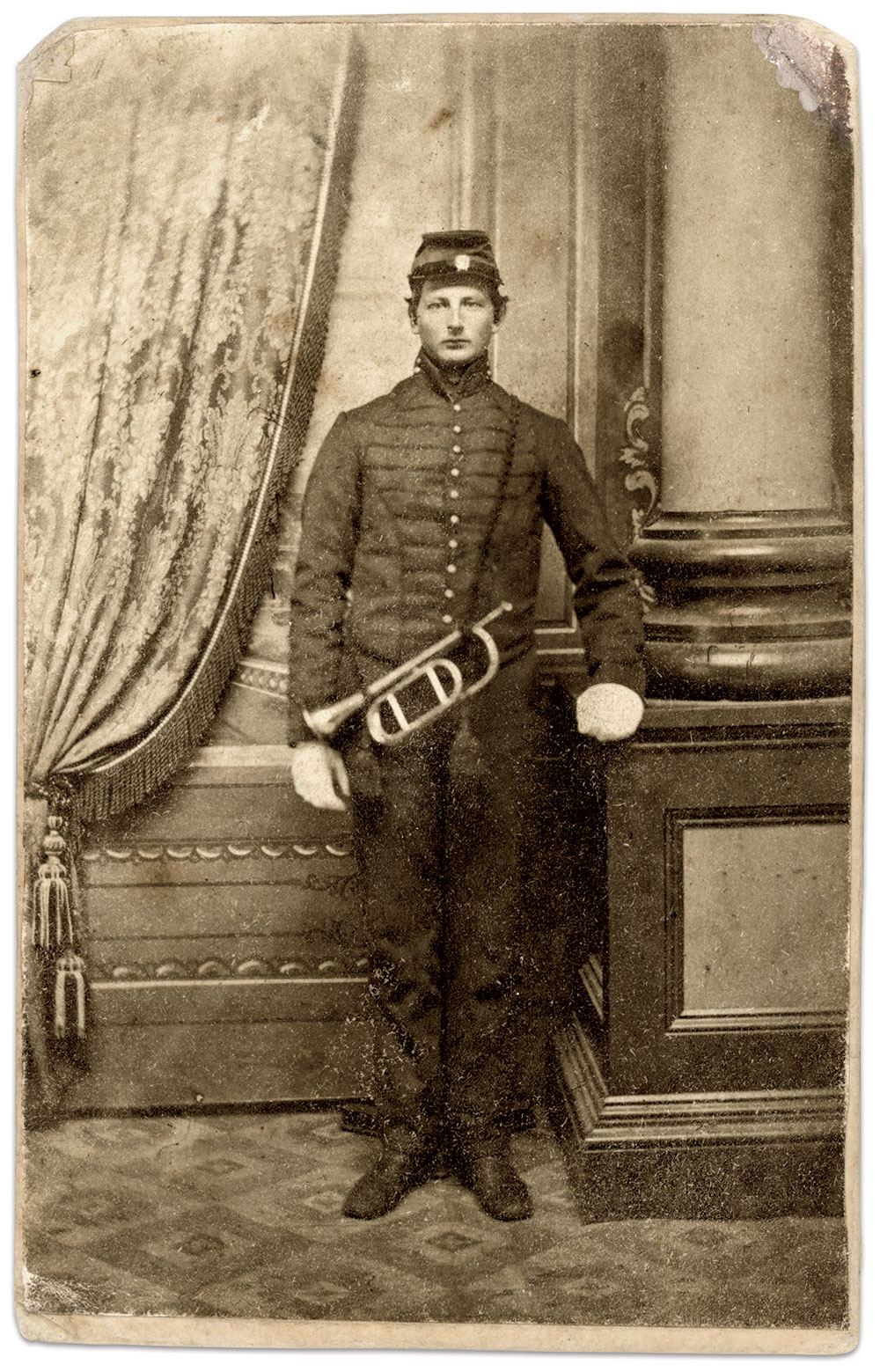 The trumpet attached to a cord hanging around the neck of this cavalryman or light artilleryman is crafted of brass instead of the usually preferred copper for bugles. Note the presence of two stabilizing rods, which were used by makers Klemm & Brothers of Philadelphia. The soldier's dark pants are non-standard rather than the light blue found throughout the Union army.
---
This artfully tinted carte de visite pictures Musician James A. Tomkiel of the 19th U.S. Infantry armed with his bugle and a Model 1840 musician's sword. Born on the Greek Island of Corfu during its period of British rule, Tomkiel immigrated to America, settled in Detroit, and began his military service in March 1866 in the 3rd Battalion of the 19th. He is pictured here at some point between his enlistment and November 1866, when the battalion consolidated into the 22nd U.S. Infantry. Tomkiel died on active duty when he drowned in the shipping canal adjacent Sault Ste. Marie, Mich., in 1874. He was about 30 years old.
---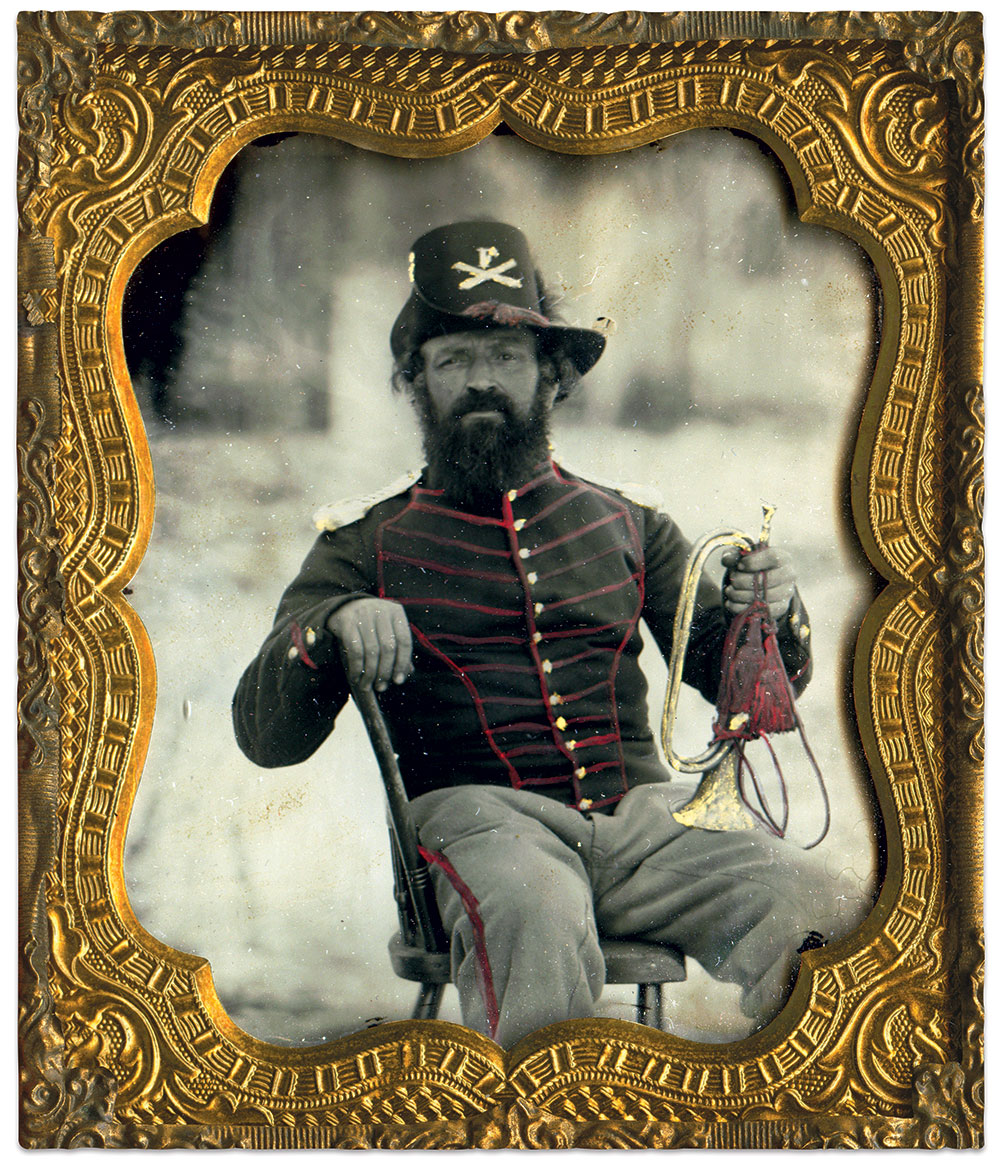 The double-coil mounted troops trumpet resting on the thigh of this artillery musician is the correct instrument for this branch of the service. Seated outdoors, he is dressed by the book.
---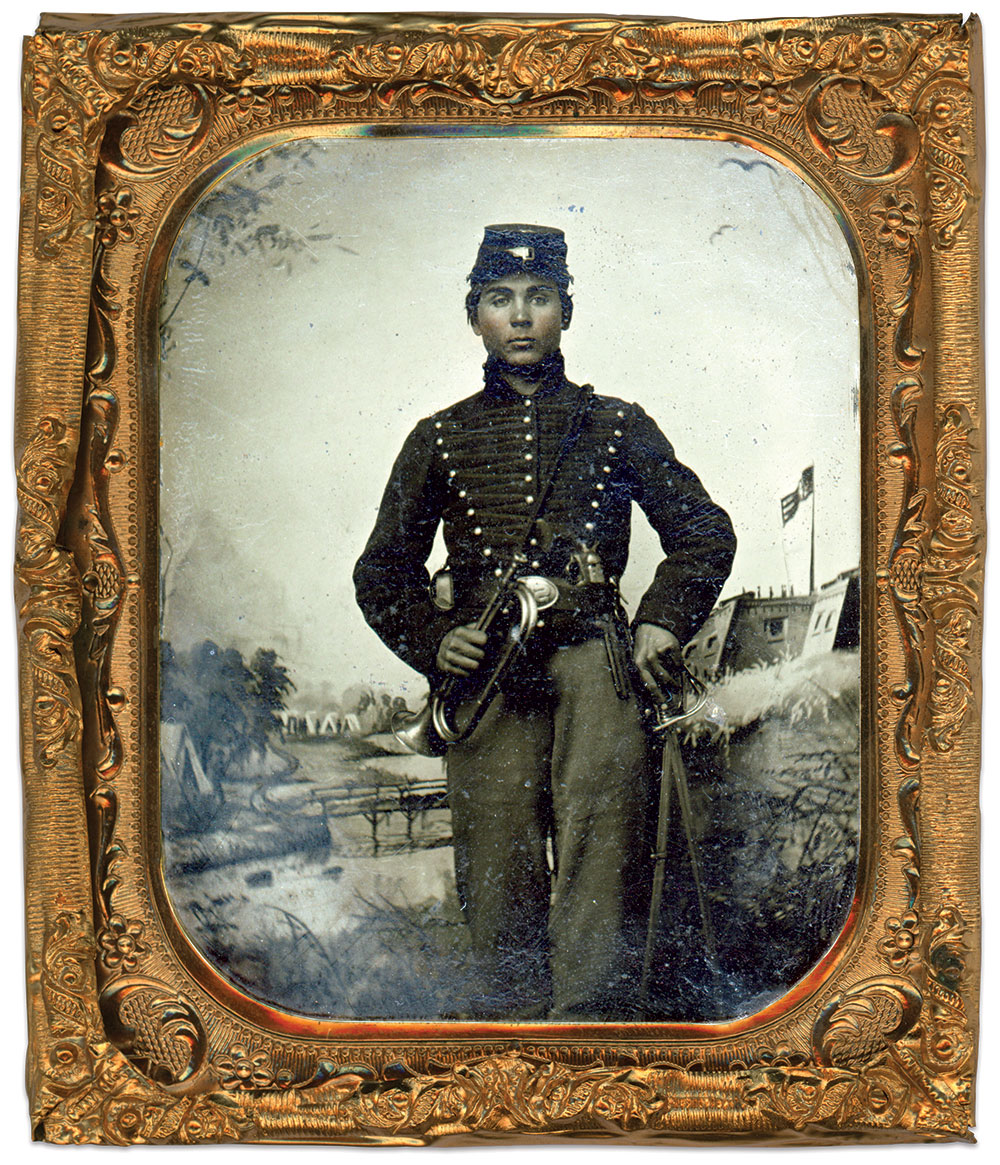 This trooper clad in a uniquely patterned shell jacket is armed with a mounted troops trumpet, Model 1840 cavalry sword and a Model 1851 Colt Navy revolver. His waist belt is turned upside down to compensate for the lateral reversal effect of tintypes—note the position of the cap box and oval buckle. He stands in front of the "Fort on the Hill" backdrop used by photographer Ansel R. Butts in his St. Louis gallery. More than 30 separate trumpet calls are documented for cavalry during the war years.
---
The uniform worn by this trooper, featuring a short jacket with plastron bib and weatherproofed trousers, was very likely designed by him. He is artist Voltaire Combe of the 3rd New York Cavalry. Born Captain Combe in Jordan, N.Y., he began drawing and painting as a child. Inspired by the idea of an artist as a singular being, he developed unique mannerisms and a vocabulary to match.
A sketch of his life notes his military service: "He enlisted when the Civil War broke out, but in the cavalry, not the infantry, buying himself a mettlesome horse and a finely chased sword with a gold and ivory handle, and obviously expecting an officer's rank. He was made a bugler. At least he returned after three years with sketchbooks filled with pictures of himself in the thick of dramatic events."
Combe served three years in the 3rd, mostly in North Carolina and Virginia. He survived the war and became an artist in New York City and Grand Rapids, Mich. He denounced the modern art movement that took hold in the late 19th and early 20th centuries in his essay "Art in America," and remained true to his idea of traditional works until his death in 1916 at age 79.
---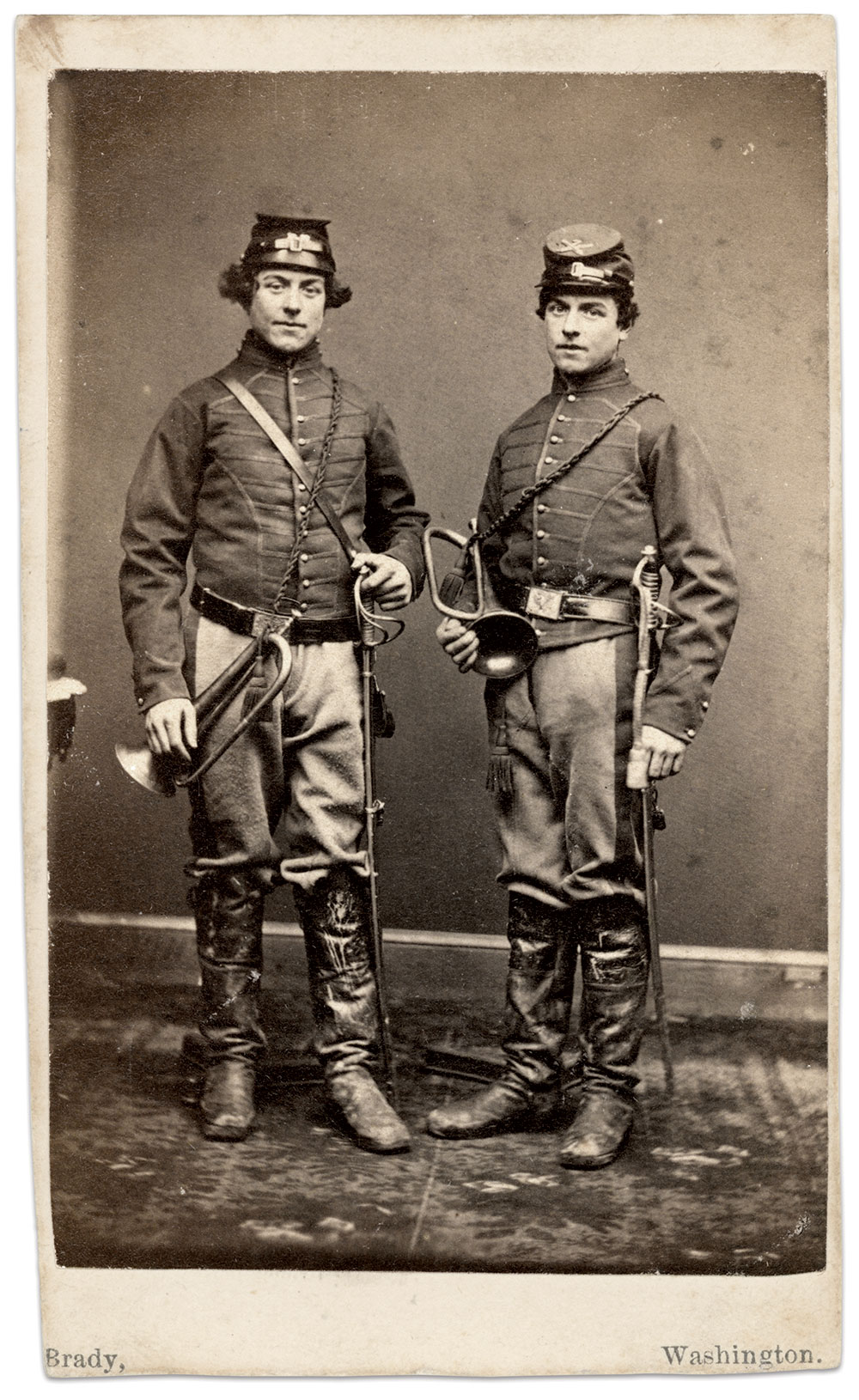 These artillery musicians pose with their bugles and swords in Mathew Brady's Washington, D.C., gallery. Their presence in the nation's capital, and the 7 attached to the cap of the soldier on the right, suggests they served in the 7th Independent Battery, New York Light Artillery. The unit began its military service as a company in the Tenth Legion, 56th New York Volunteers, in late 1861 and became an independent battery the following year.
---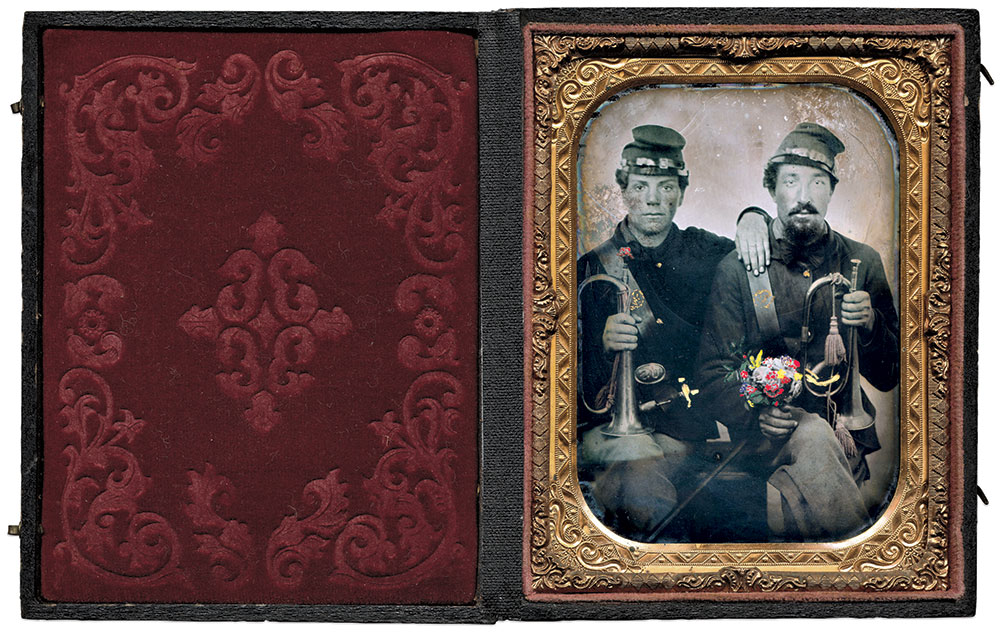 A bouquet of flowers and bugles dominate this portrait of two Union musicians. The beardless soldier uses the mouthpiece of his bugle as a bud vase to hold a flower. He has a fife tucked into his waist belt. His bouquet-holding pard carries a musician's sword. Both men wear leather sword slings, sans breastplates. One can imagine that sweethearts presented the flowers to them as they prepared to leave a Northern hamlet for the seat of war. Their fates are currently unknown.
---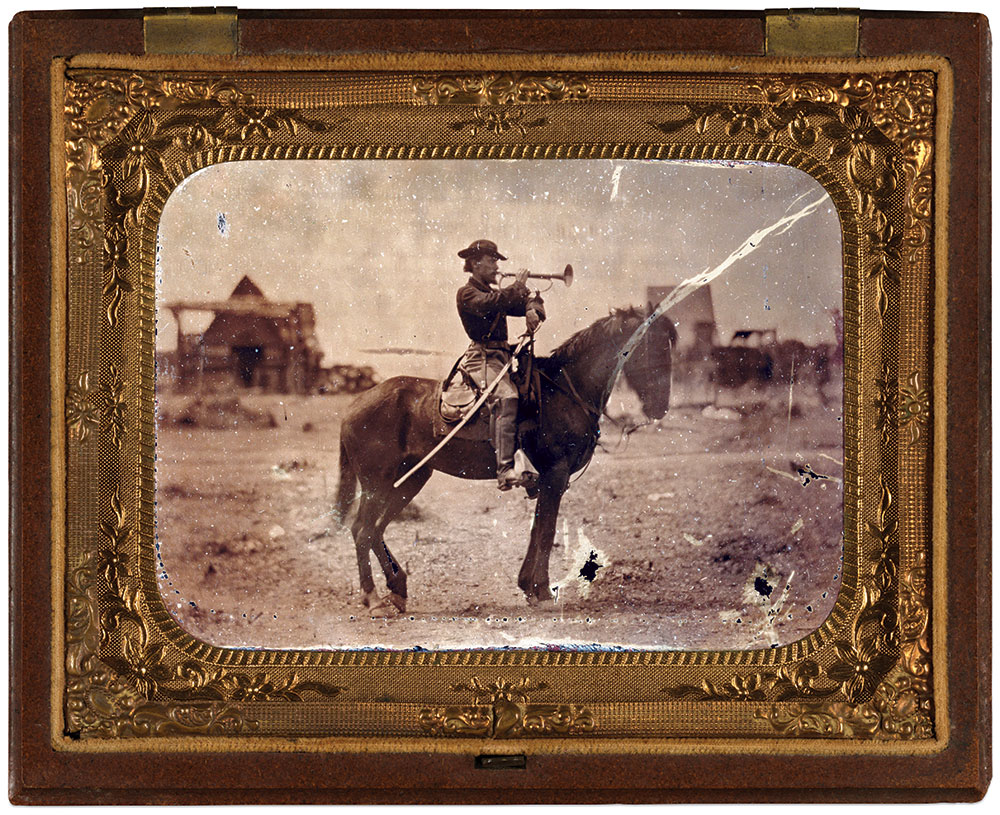 The quintessential Union trooper blowing his bugle while unsheathing his sword is the focus of this tableau showcased in various publications. The cavalryman's trusted horse, with head bowed and hind leg slightly raised, adds to the imagination of a call to combat.
---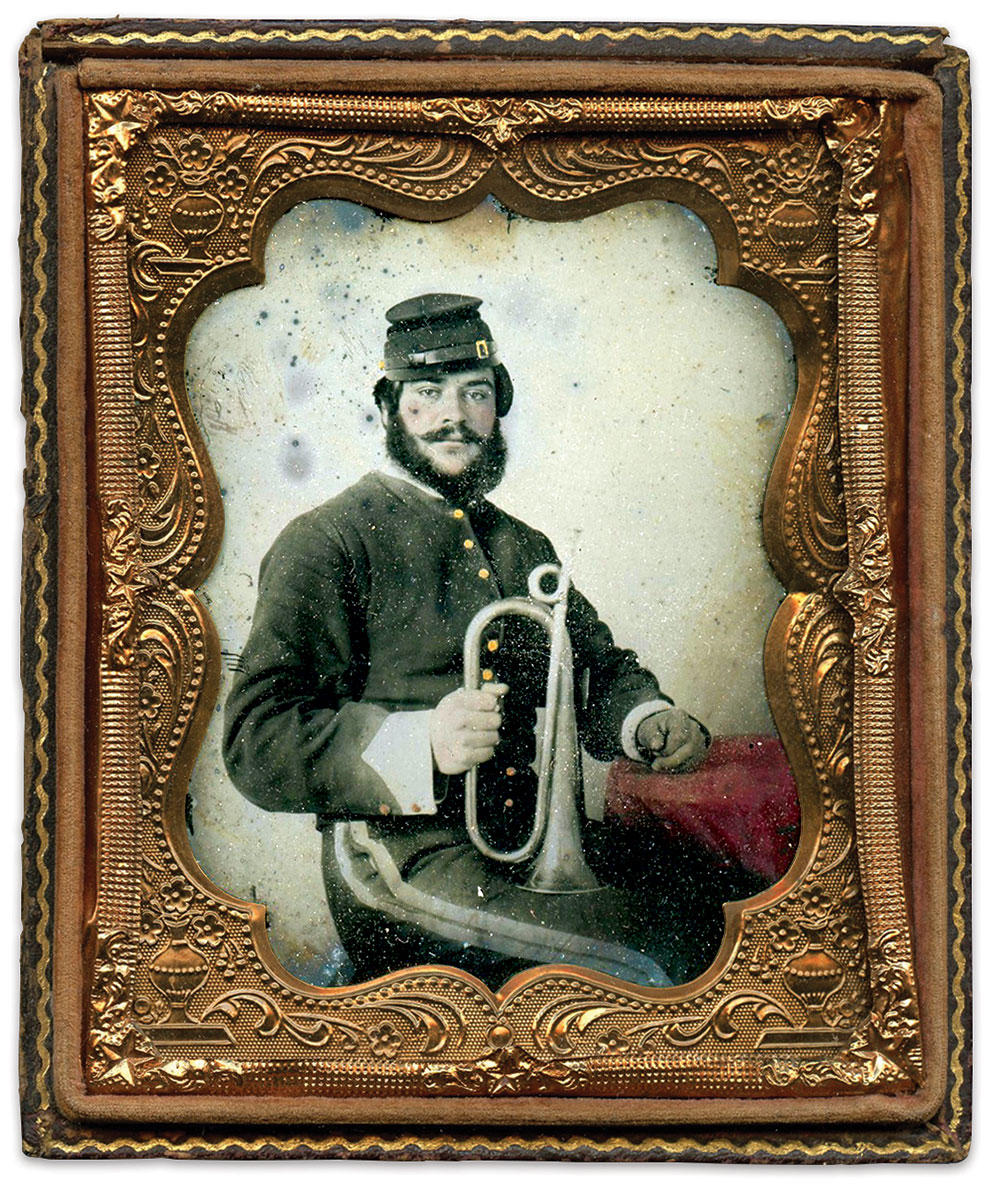 A musician sporting a well-coiffed mustache and beard rests a crook-fitted trumpet on his thigh. The crook, or "pig-tail," near the mouthpiece lowered the instrument's key. Of note is his tailored short jacket with light-colored collar and cuffs, double-striped trousers and privately purchased cap.
---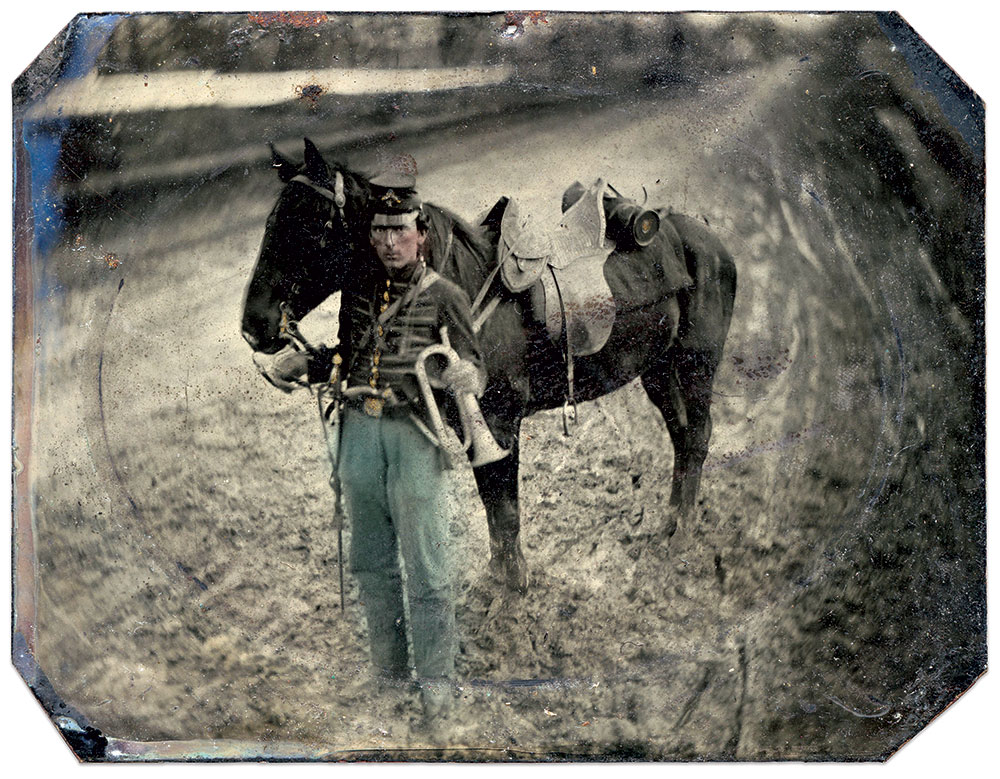 A lone cavalry bugler stands along a desolate stretch of road with his trusted mount. The trooper's McDowell cap and the Grimsley saddle and horse tack point to an early war view. A note penciled on a carte de visite taken by a Nashville photographer of the same trooper identifies him as "Uncle Will Martin, Bugler, part time."
---
A cavalryman stands at attention with a mounted troops trumpet slung around his neck. He is armed with a Model 1860 saber and what appears an empty holster for a revolver. The bucolic scene painted on the backdrop behind him contrasts with his earnest expression and military bearing. He may have served in one of two Delaware cavalry units organized in Wilmington, where this carte de visite was taken. The 1st Cavalry Battalion participated in operations in Delaware, Maryland and Virginia during its three years in uniform. Milligan's Independent Cavalry Company served a 30-day stint in the summer of 1864.
---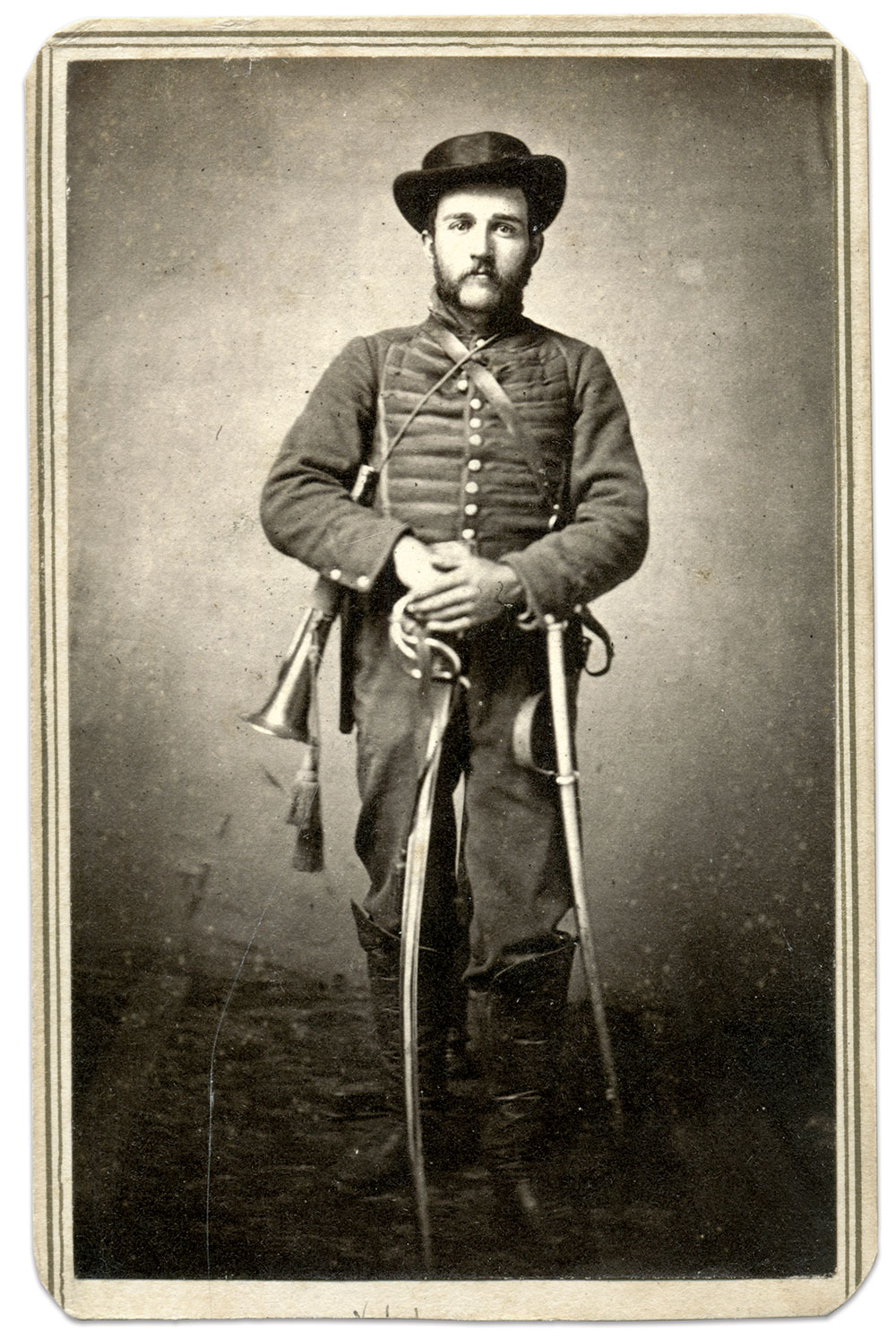 Bugler William H. Stover stands with all the trappings of a cavalry musician in this carte de visite inscribed on the back to his cousin, Mollie. Stover began his war service in Philadelphia, Pa., in Company C of the Keystone State's 2nd Cavalry. The regiment participated in numerous operations during the war, including a December 1862 scout in the vicinity of Occoquan, Va., which ended with the loss of 100 troopers at the hands of Brig. Gen. Wade Hampton's Confederates, the 1864 Overland Campaign, and the surrender at Appomattox. In June 1865, Stover and other veterans joined the 1st Pennsylvania Provisional Cavalry by consolidation and mustered out of the army the following month. Stover lived until 1914.
---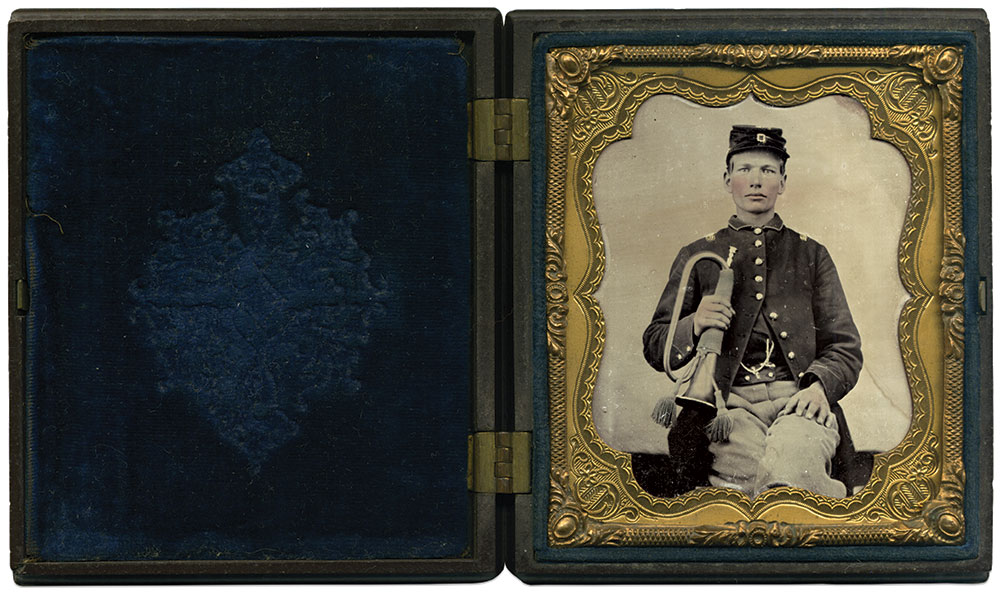 The gold-tinted straps on the shoulders of his frock coat indicate this musician's service as a chief bugler of his regiment. The bugle is wrapped in regulation sky blue-tinted cord, and his vest is non-standard and privately purchased. His name is currently lost in time, which makes it impossible to know what regiment heard the call of his instrument.
---
This musician has turned the bugle hanging around his neck to the front and center of his portrait. His well-tailored uniform features a trimmed velvet collar and cuffs, and a waist sash. The light-toned rectangular shape just above the bugle's bell appears to be the end of a revolver grip.
---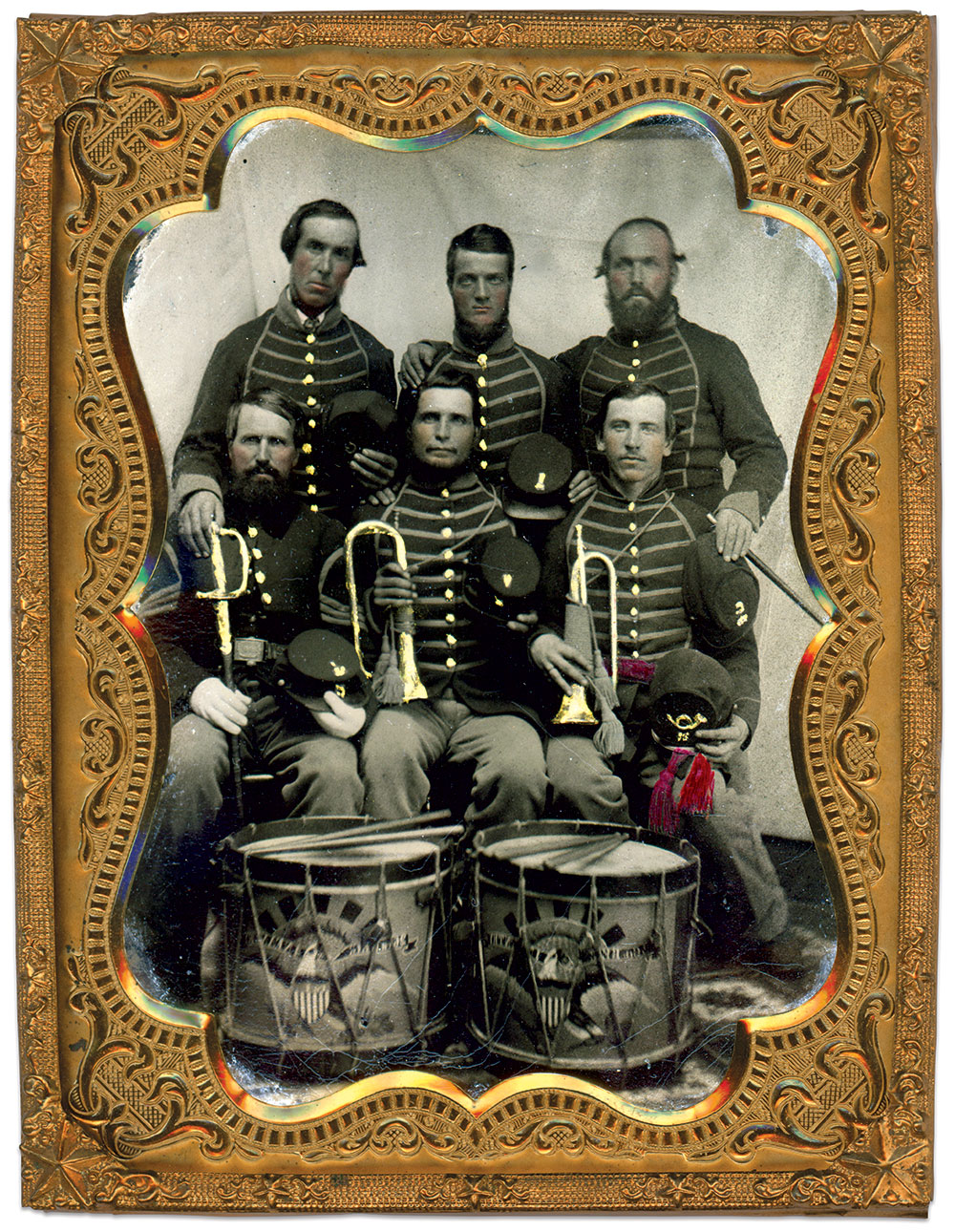 These infantry musicians strike a chummy pose. The drums parked in the foreground belong to the two fellows standing left and center. The third man standing grips his fife. The drum major joins the two buglers. Though the gold tinting obscures the brass on their caps, a close look suggests they served in different companies in the same regiment. More than 50 separate trumpet calls are documented for infantry during the war years.
---
When James A. Joiner enlisted as a musician in Company A of the 6th Ohio Cavalry in late 1861, he entered as a corporal. The rank was perhaps a nod to his previous three-month's service in the Buckeye State's 19th Infantry. Joiner stands here with his bugle, dressed in a private purchase 9-button jacket with corporal's chevrons his on his cuffs—where one would normally expect to see a veteran's stripes. Joiner did not survive the war. Two days after the Aug. 25, 1864, Second Battle of Ream's Station, Va., he suffered an accidental wound and succumbed to his injuries on August 31. He was 26. His wife, Cornelia, who he had married while on leave earlier in the year, survived him.
---
This musician, his name lost in time, has arranged himself to show off his instruments of war. He grips the lower part of the bell tube of his mounted troops trumpet in one hand, curls the fingers of his other hand around the pommel and guard of his Model 1860 cavalry sword, and tucks a Model 1860 Colt revolver into his waist belt. His shell jacket with brass shoulder scales and cap complete the picture.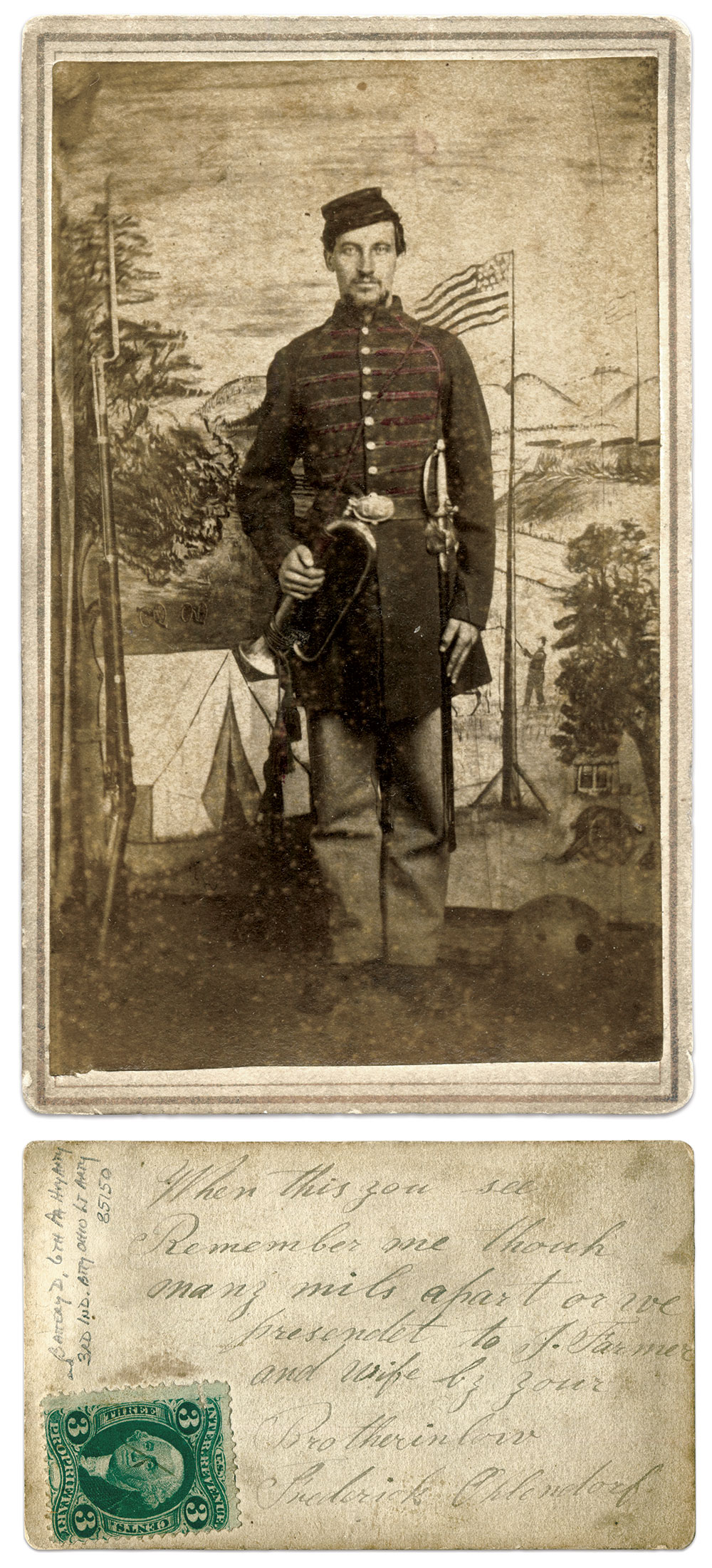 Words of remembrance penned on the back of this portrait speak to the distance that separates loved ones at home from their soldier at war: "When this you see remember me though many miles apart are we. Presented to J. Farmer and wife by your brother-in-law Frederick Ohlendorf." The writer, Frederick Emil Ohlendorf, served in Battery D of the 6th Pennsylvania Heavy Artillery. A native of Hesse, Germany, he had arrived in Philadelphia with his family in the late 1840s or early 1850s. He started his military service in 1862 with the 3rd Ohio Light Artillery, but left with a disability discharge after a month. His return to the army with the 6th was spent in the Defenses of Washington, D.C., and on patrol in Northern Virginia from September 1864 to June 1865. He stands here in front of a backdrop painted with an elaborate camp scene. Also visible is a musket with bayonet attached and a cannon ball. More than 30 separate trumpet calls are documented for artillery during the war years.
Ohlendorf lived in West Virginia and Ohio after the war. He died at age 64 in 1914. He survived his wife, Adeline Farmer Ohlendorf, who passed in 1912.
---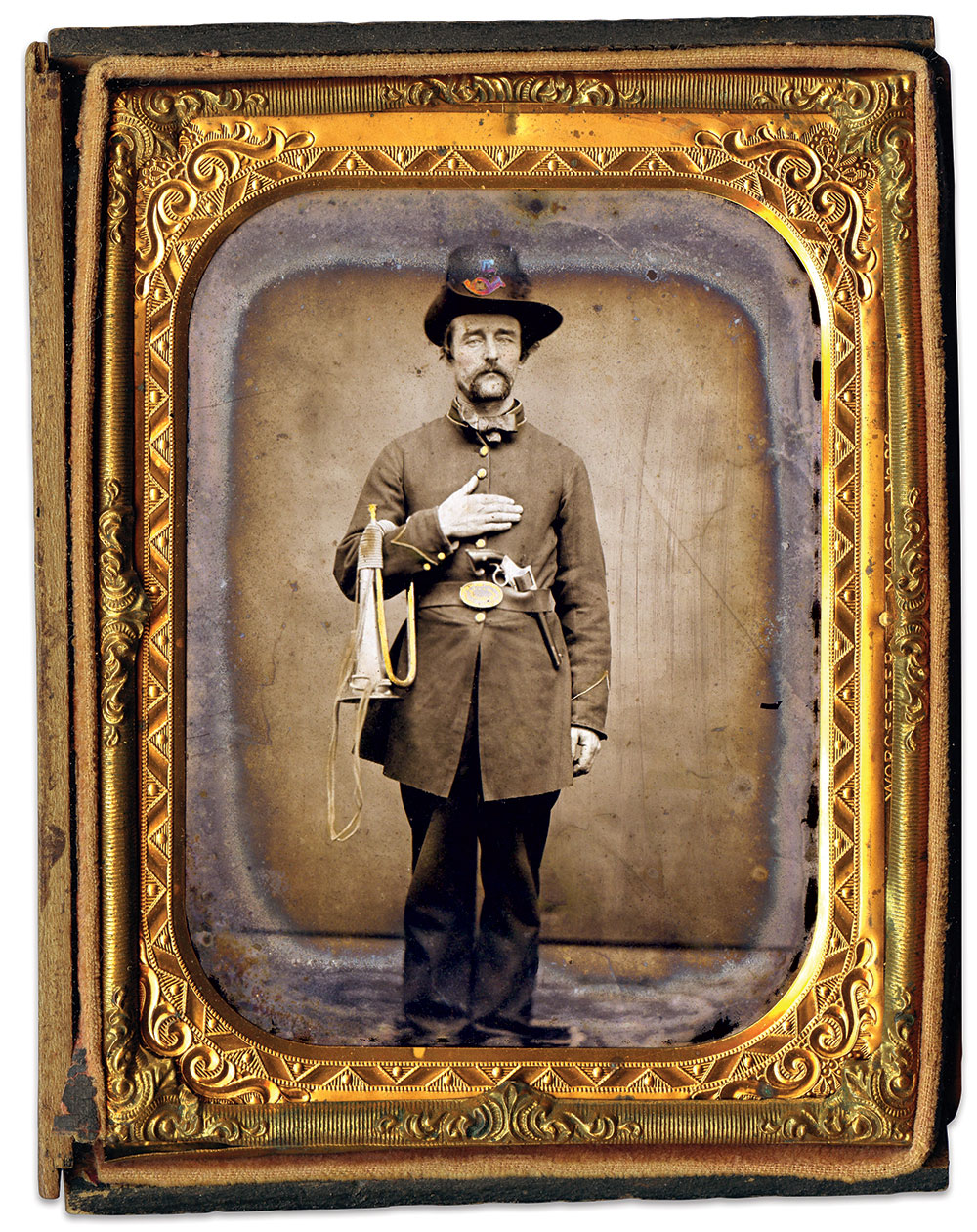 A bugle dangles from the angled arm of this infantryman dressed in a frock coat and Hardee hat common to early war volunteers. Tucked into his belt is a Prescott Rimfire Navy Revolver, a weapon produced in small numbers. The federal government did not contract these revolvers, and so it was likely acquired privately or possibly one of 400 purchased by the state of Kansas in 1862. The belt buckle appears to be an unmarked plate embellished in gold by the photographer or colorist. A bowtie completes the picture of this citizen soldier.
---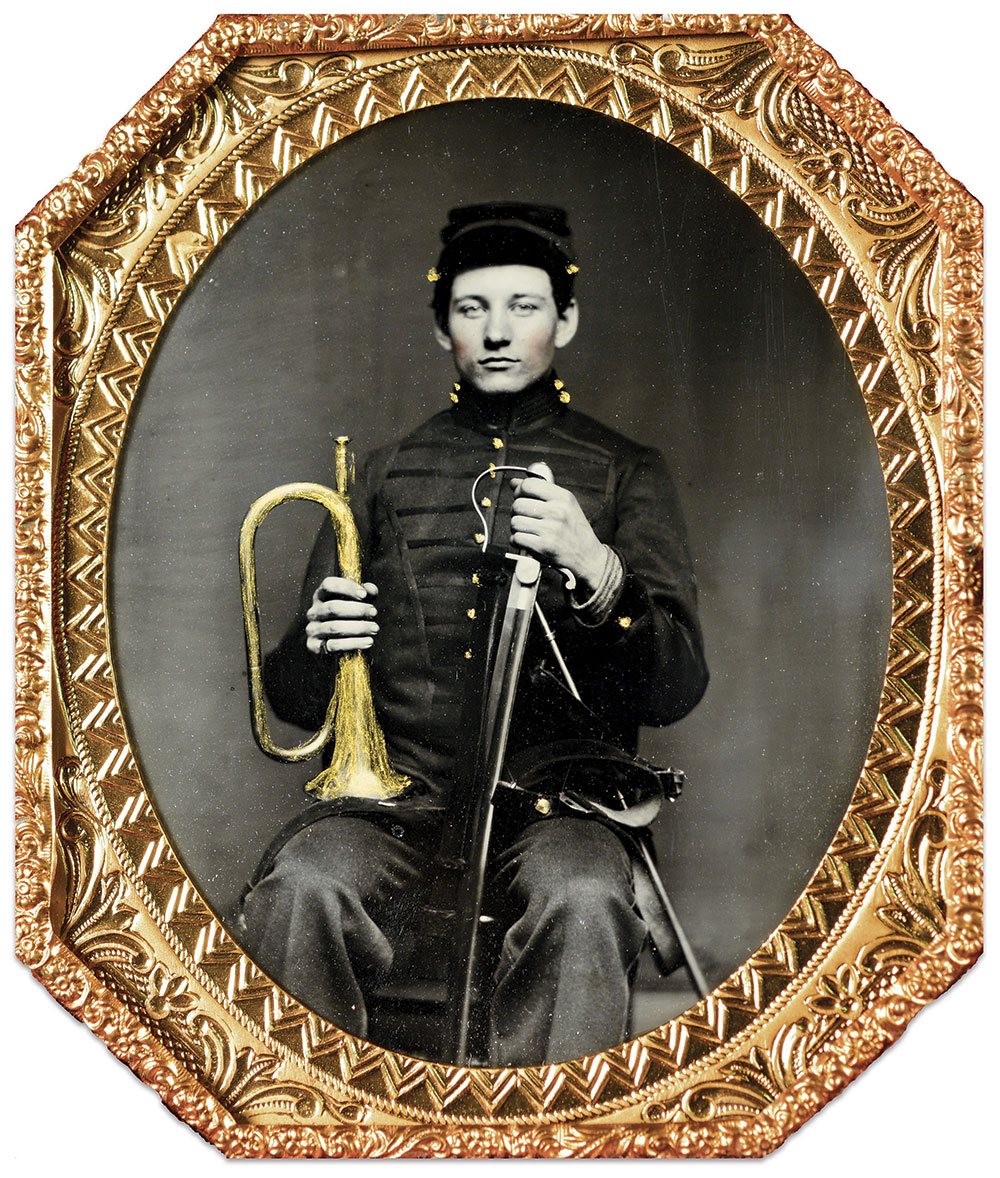 A Union artilleryman wearing an upturned cap and a 12-button shell jacket with musician's herringbone pattern across the chest, holds a copper bugle commonly used by all branches of the military. In his other hand, he grasps a P-guard sword—possibly European in origin. His saber belt, rolled up on one leg instead of around his waist, is barely visible.
---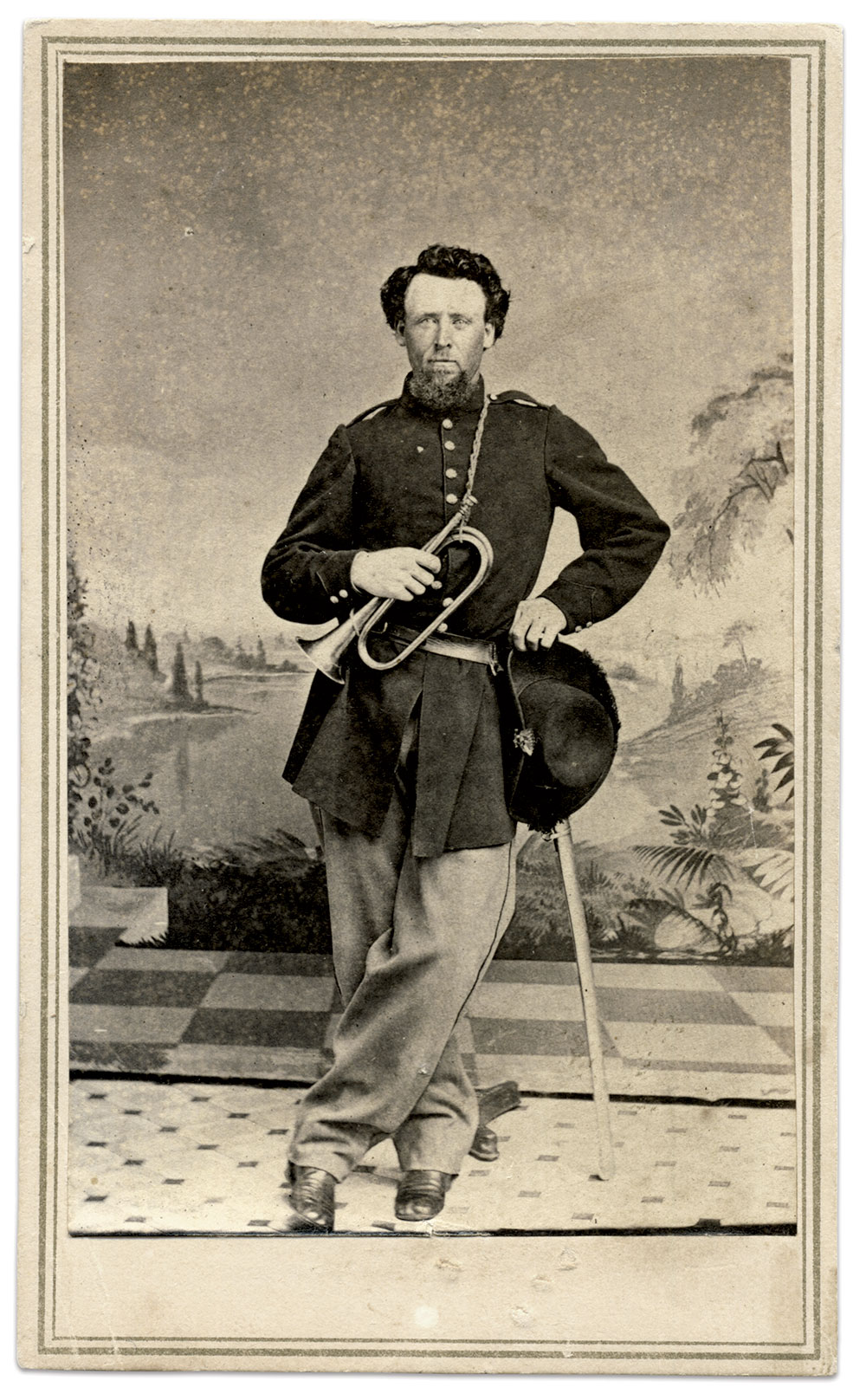 This musician has shifted the bugle hanging from a cord slung around his neck from side to front to make sure viewers can see the entire instrument. Of material culture interest are his frock coat with cloth epaulettes and Hardee hat, which obscure much of his cavalry or artillery sword. The photographer's imprint and tax stamp on the back of the cardstock mount indicate this Union soldier posed in Petaluma, Calif., late in the war or early during the postwar period.
---
Dressed in a non-regulation musician's jacket, this trooper grips the pommel of his Model 1860 cavalry saber. On a small table next to him rests his bugle, a large-belled version descended from the European clarion. These instruments were imported in large numbers from the other side of the Atlantic, and also produced in the United States. Prior to 1879, War Department specifications for signal horns, including bugles and trumpets, were minimal. A variety of types were used during the war.
This trooper may have served in the 1st Rhode Island Cavalry, based upon the location of the photographer's studio in Westerly, R.I., and the number 1 on his cap.
---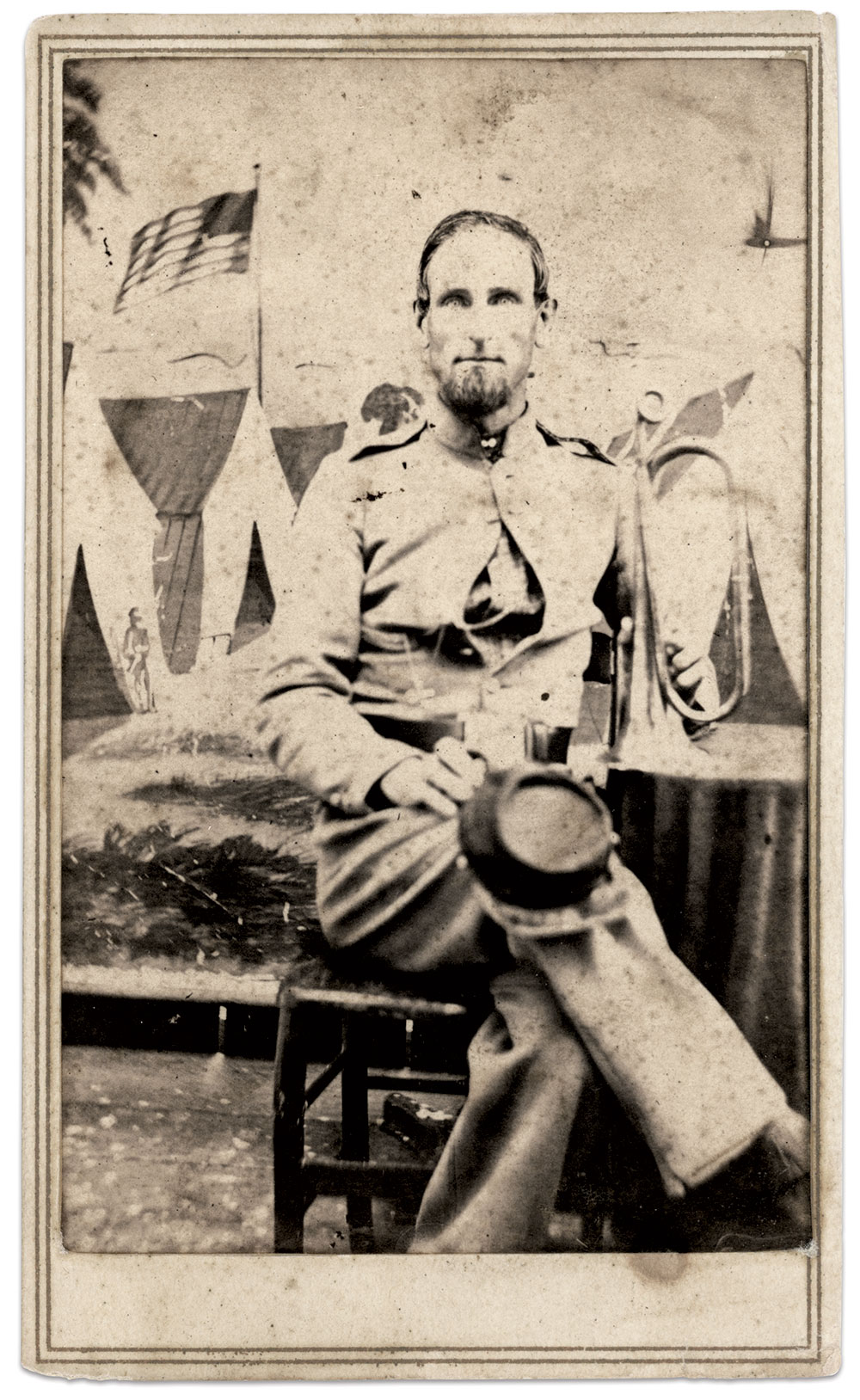 The 15th Veteran Reserve Corps (VRC) spent its enlistment in Illinois guarding property and prisoners at Camp Douglas, and patrolling the surrounding city of Chicago. The regiment's members included bugler Chester Hutchins Eastman, a New Hampshire native who settled in Oregon, Ill., about 100 miles due west of Chicago, before the war. In the summer of 1862, Eastman joined the 74th Illinois Infantry as a corporal in Company G. He transferred to the 15th in 1863, and is pictured here in his VRC uniform and a bugle with a curled crook, or "pig-tail," near the mouthpiece to lower the instrument's key. Eastman survived his military service and died in Boulder, Mont., in 1890 at age 66.
---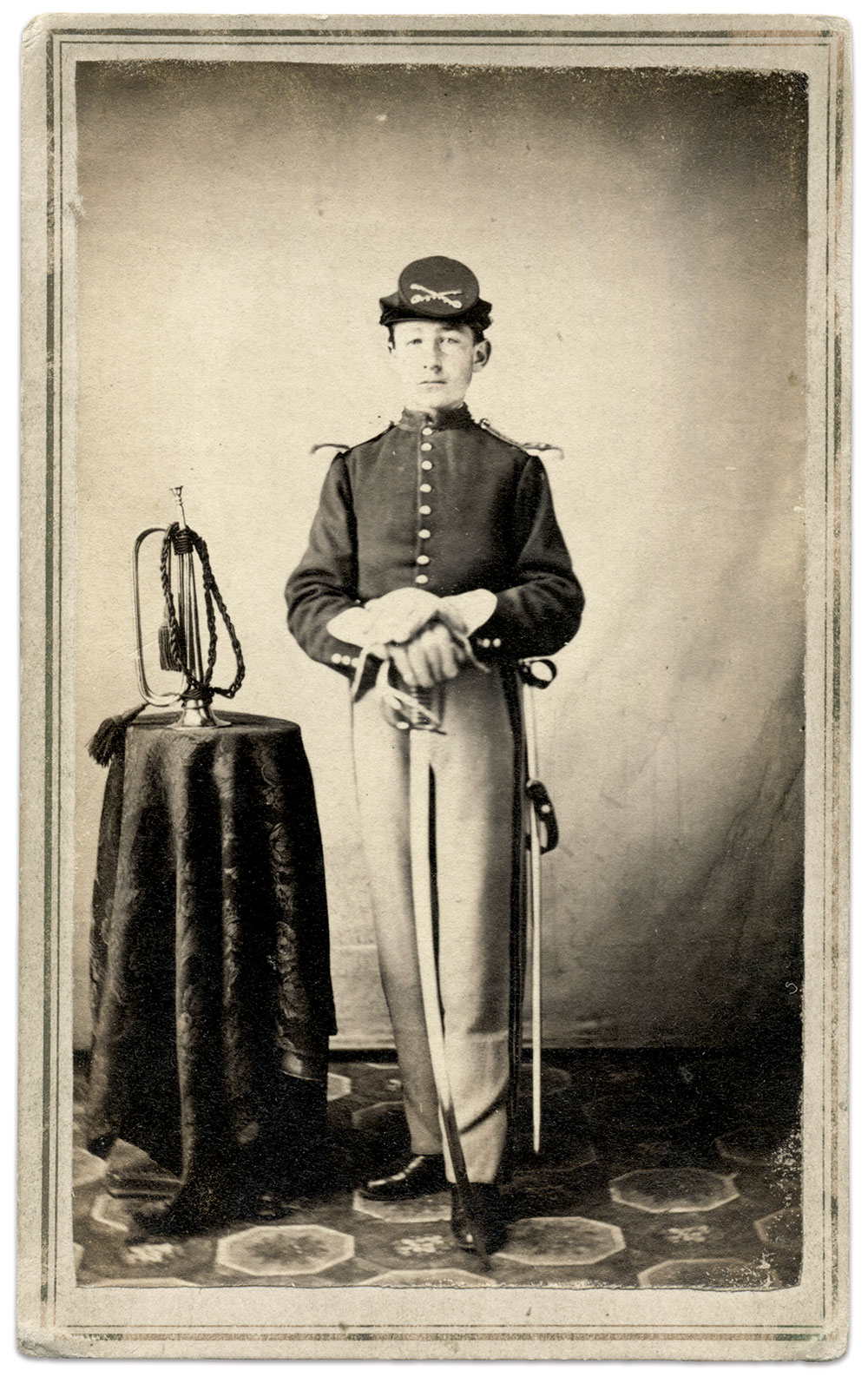 The instrument perched on the table next to this young cavalry musician features the double-coil, which identifies it as mounted troops trumpet. Note the standard shell jacket rather than the musician's uniform with taping across the front. It is easy to imagine that this trooper and others showcased in this gallery wore out their original taped-front jacket or coat, and could not obtain a replacement due to supply and distribution challenges common during the war years. Or perhaps they were never issued the proper musicians' uniforms due to the same issues. This cavalryman is identified on the back in period pencil as Henry Abbott.
---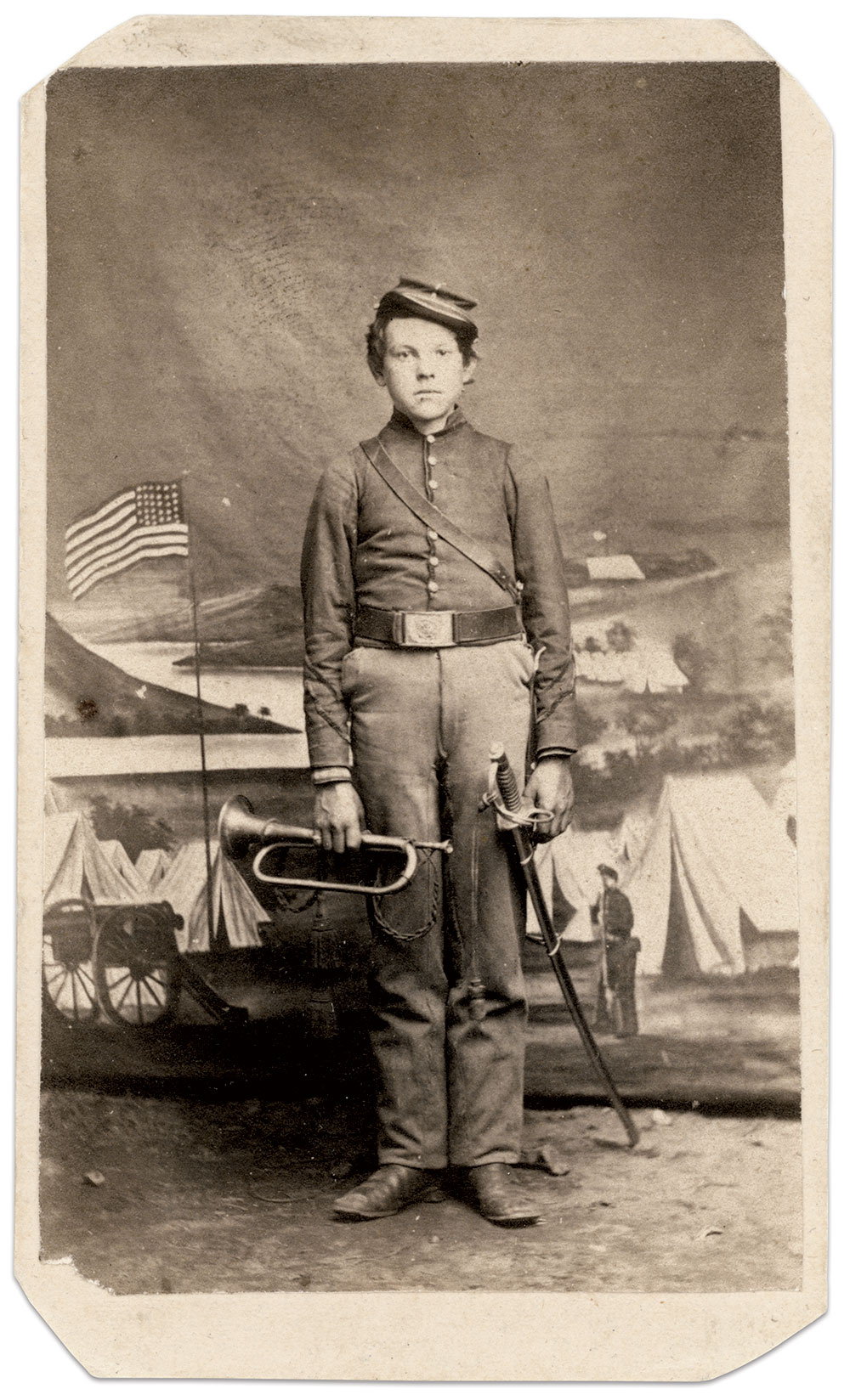 Edward Launt posed for this portrait in front of a patriotically painted backdrop soon after his enlistment in the 2nd New York Mounted Rifles on the last day of 1863. At first glance, it is easy to imagine this boyish bugler at the beginning of his military service. In fact, it was his second time in uniform. His first, a three-month stint as a private in the 128th New York Infantry, ended when he deserted in Baltimore, Md. He had used his real name, Edward G. Garner, to enlist in the 128th. A year later, when he joined the Mounted Rifles, he changed his last name to Launt. He managed to serve his entire enlistment and mustered out in August 1865. Evidence suggests he drifted after the war, picking up jobs as a laborer and eventually becoming an inmate at the Albany County, N.Y., almshouse. He died in 1919 at about age 68. His remains rest in a cemetery in his birthplace, Valatie, N.Y.
---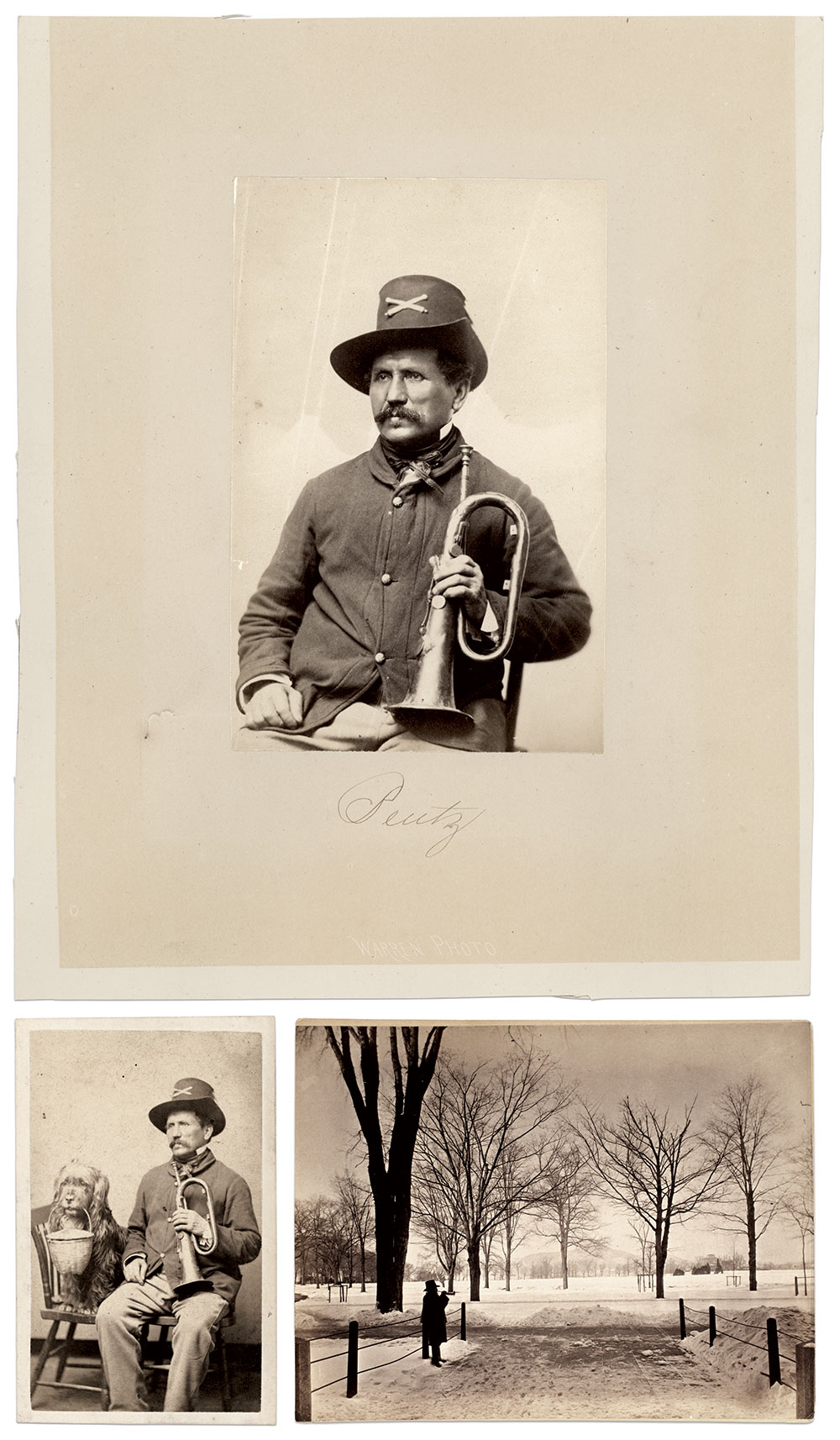 Few buglers in the U.S. military were as beloved as Louis Bentz. Fond of chewing honeycomb and a stiff drink, and often found in the company of his faithful four-pawed companion, Hans, the German-born Bentz joined the army as a musician during the administration of President Andrew Jackson. He served as chief bugler at West Point for four decades, and became a favorite with cadets.
Cadet Morris Schaff, Class of 1862, fondly remembered the musician in The Spirit of Old West Point: "Old Bentz, the bugler, the notes of whose bugle, calling us to recitations, still float in my memory. Oh, how much his bugle-calls meant in those days! Thundering guns have long since died away; professors, instructors, superintendents, and commandants, once so overwhelmingly forceful, are resting mute on the distant ridges of our memory; while Bentz's uplifted bugle still glitters, and its notes vibrate softly clear across the lengthening years. May sunlight and moonlight fall lovingly where the sturdy old soldier lies!"
Bentz, who died in 1874, rests on the grounds of West Point beneath a handsome monument funded by cadets.
---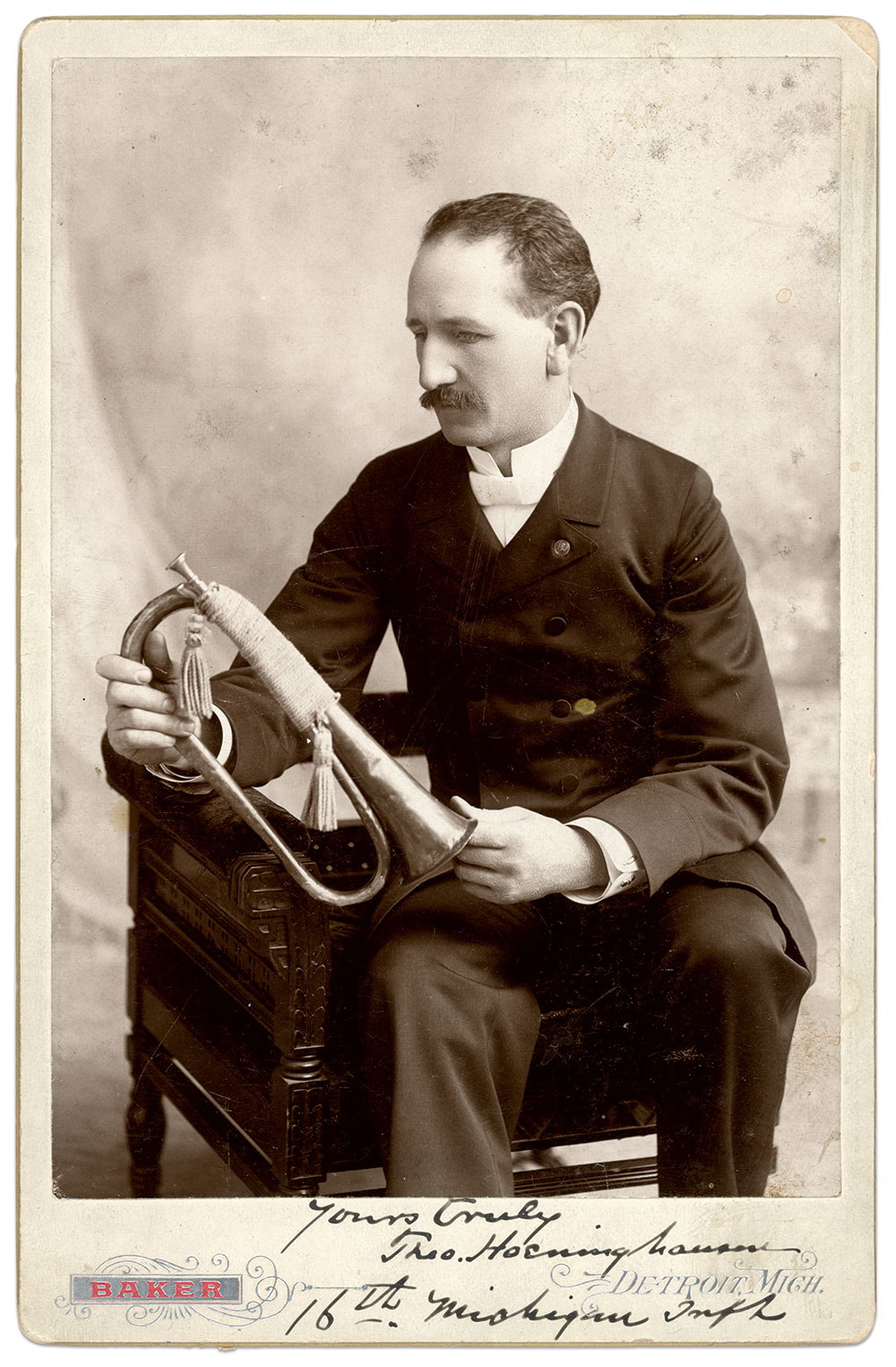 A veteran of the late Civil War poses with an old friend years after his military service ended. He is Theodore Hoeninghausen, a Prussian immigrant who came to the United States with his family in the early 1850s and settled in Detroit. In early 1864, Hoeninghausen, about 15 years old, left school and joined the army as a musician in Company E of his home state's 16th Infantry, a veteran regiment with an enviable combat record that included the defense of Little Round Top at Gettysburg. According to a post-war account, Hoeninghausen played the unique bugle call of the Third Brigade of the Fifth Corps, to which the 16th belonged, at Appomattox. The original commander of the Third Brigade, Maj. Gen. Daniel Butterfield, is credited as the brainchild for numerous bugle calls, including "Taps."
After the war, Hoeninghausen became an active member of the Grand Army of the Republic and a successful Detroit merchant until his death in 1902 at age 54. Comrades from the old 16th fondly remembered him as "The Little German Boy Bugler."
---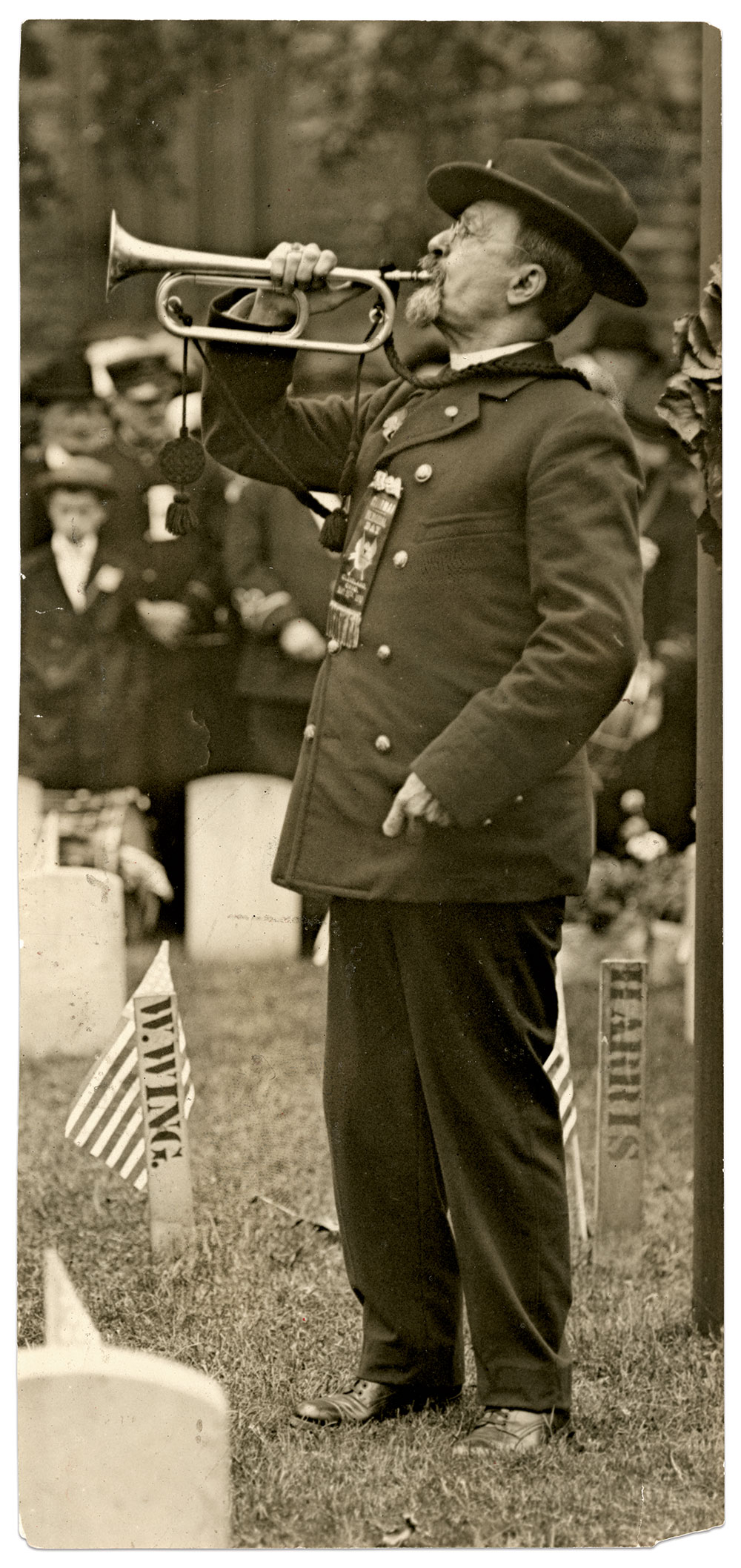 Though the war had ended almost a half-century earlier, this Grand Army of the Republic veteran demonstrates he can call a curious crowd of onlookers at a cemetery on Memorial Day, May 30, 1910. The ribbon he wears is stamped with the date, "Civil War Memorial Day," and "Cleveland, Ohio." The bugle he blows is an army Model 1892.
General references: Carter, "The Origins of the Model 1892 Bugle (M1892 Field Trumpet)," TapsBugler.com, April 13, 2019; Villanueva, "Buglers in the Civil War," TapsBugler.com, Jan. 15, 2017.
Headline quote: "Never or Now" by Oliver Wendell Holmes (1809–1894).
SPREAD THE WORD: We encourage you to share this story on social media and elsewhere to educate and raise awareness. If you wish to use any image on this page for another purpose, please request permission.
LEARN MORE about Military Images, America's only magazine dedicated to showcasing, interpreting and preserving Civil War portrait photography.
VISIT OUR STORE to subscribe, renew a subscription, and more.