By Frank Graves
This bearded Union infantryman, dressed in standard issue frock coat and cap, grips a Colt Model 1860 Army revolver. A close study of the sidearm reveals a fluted cylinder, an uncommon variation on one of the most popular revolvers of the Civil War.
As infantry soldiers were not issued handguns or allowed to carry them, a family member or friend may have gifted it to him. If so, when he and his regiment left for the South, the revolver probably did not make the trip. There is also a chance that it was lent to him by a comrade who visited the studio with him or belonged to the photographer who made the tintype.The photographer, Massachusetts-born Allen B. Farrar (1829-1899), enlisted in the 14th Maine Infantry in December 1861. His service ended in April 1862 with a disability discharge. This soldier likely posed sometime after Farrar's return and before August 1864, when the federal government levied a tax in the form of revenue stamps on photographs to help pay for the war. Most fluted Colts are pictured in early war portraits, which suggest that this enlisted man posed soon after the end of Farrar's relatively brief service.
As a collector of American percussion firearms, I am particularly interested in his revolver. For those of us who collect Colts, the fluted cylinder variation of the Model 1860 Army is very desirable because relatively few of this early variant was manufactured.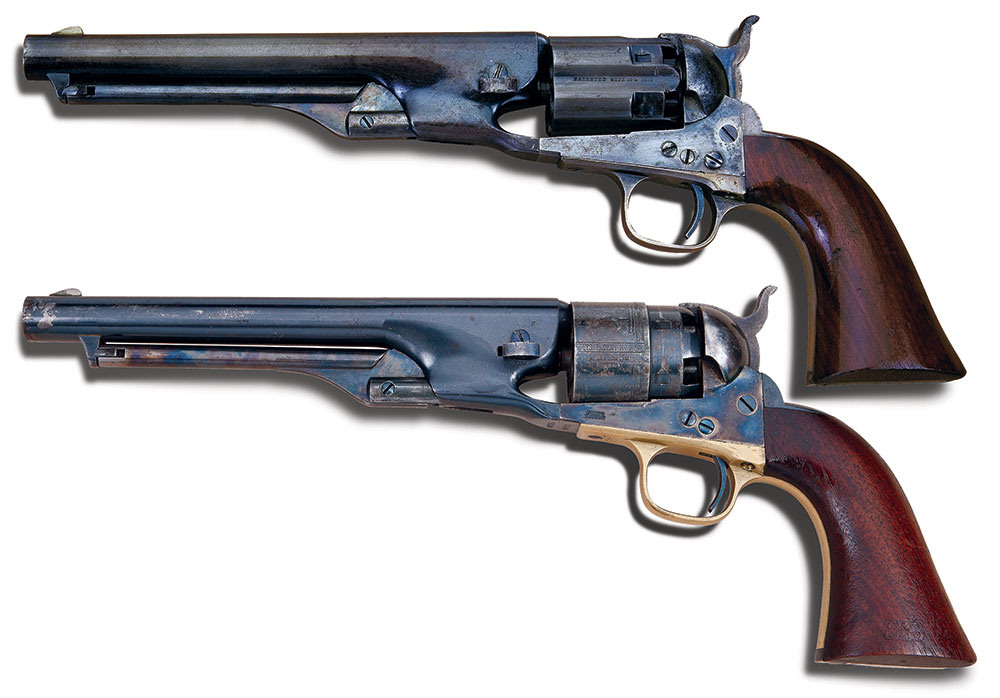 Colt produced approximately 186,000 of the Model 1860 Army, also known as the New Model Army revolver, between 1860 and 1873. Of this number, according to The Colt Model 1860 Army Revolver by Charles W. Pate, the Union Army purchased a little more than 133,600. This is the highest number by any one manufacturer purchased by the War Department. It is more than the combined total of the runners-up, the Remington Army, the Starr Army and the Whitney Navy. The Confederate army also carried Colts, which it gained by various means in unknown quantities.
Pate notes that only about 5,000 to 6,300 fluted cylinder model revolvers were manufactured in the early 1860s.
The fluted cylinder variant is significant because of its technical rarity. They were fitted with a detachable shoulder stock, also known as the attachable breech, which was intended to function as a carbine. But shoulder stocks were cumbersome and not particularly popular. Many of the stocks were separated from the revolver and disappeared. Surviving examples are quite rare today.
The most common Colt Model 1860 Army is non-fluted. Collectors refer to them as them as having rebated cylinders. They feature a scene engraved around the larger diameter portion, applied by Colt at the time of manufacture. The scene commemorates the 1843 Battle of Campeche, a naval engagement that pitted Mexican warships against the Republics of Texas and Yucatan. The Republics won.
Frank Graves has collected American percussion firearms for 57 years and armed images for about 40 of those years. He is a past President of the Texas Gun Collectors Association and member of the American Society of Arms Collectors Association, where he has served as director.
SPREAD THE WORD: We encourage you to share this story on social media and elsewhere to educate and raise awareness. If you wish to use any image on this page for another purpose, please request permission.
LEARN MORE about Military Images, America's only magazine dedicated to showcasing, interpreting and preserving Civil War portrait photography.
VISIT OUR STORE to subscribe, renew a subscription, and more.